The dean of Shelby County League basketball coaches again goes about his yearly job of building a winning program without stars and fanfare.  And if he sneaks up on a few people…fine.  That's just how he likes it.
Jackson Center –  Scott Elchert took my call last week with some reservation.  Always a willing interview, he nonetheless approached the prospects of some pre-season profile with some hesitancy.
"You know, I just had a talk with the kids about not bringing any undo attention to ourselves,"  he said.  "Let me give it some thought."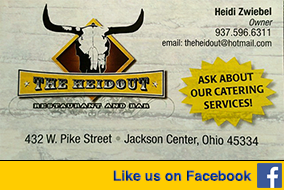 But a creature of habit is a creature of habit.  Within moments we were into it…the importance of a coaching figure in the life of a teenage boy, and the impact of competition – of overcoming obstacles on a 94-foot court as an overture to overcoming the obstacles of life.  And how hard knocks when you have the support system of coaches and teammates teach you a life-long appreciation for quality relationships – the relationships that last.
If you had to print a 70-word description of why Scott Elchert has been so important to the Jackson Center community over the past thirty years…you'd do well to copy and paste the previous paragraph.
It goes beyond the fact of basketball for a man now entering his 30th year in Jackson Center, and 20th as head coach of the Tigers, split between two tenures.  A product of Upper Sandusky, Ohio, Elchert is the dean of Shelby County League coaches for his years of service.  A commanding figure on the court, he long ago found a home in Jackson Center, where his demanding principles of hard work and commitment to good life habits have become accepted, and appreciated.

He's won 328 varsity basketball games, give or take a couple.  And, he has twice taken Jackson Center to the Division IV Final Four of the OHSAA tournament, where he lost to a much bigger and talented Berlin Hiland team in the 2012 championship game.  In 2016 Elchert and the Tigers were knocked out in the semi-final round, by Lincolnview.
His attention to defense and sound basketball principles in a basketball-rich conference are legendary, and respected by every opposing coach you can name over the span of those 328 wins.  There are no 'easy' outs when you play Jackson Center, because as one said last winter, "Even if they shoot poorly they find a way to stay in the game with their defense.  They give themselves a chance."
That pretty much defines Elchert's coaching philosophy – that and when he's had superior talent…he's never taken it for granted.
"That rim is only 18 inches wide,"  he once told me, when he did have talent on his 2012 state runner-up team – Alex Meyer and Andy Hoying, et. al.  "And some nights the ball's not going to go in, so you'd better find another way to win."
And through all of his success – the wins and the twenty seasons – there's one more characteristic of Scott Elchert that's hard for anyone with reasonable hearing and eyesight to miss.  He's demanding, and he's demonstrative.  His piercing gaze tells you he's all in, all the time, regardless of the challenge.  And if you don't do it right, everyone sitting in the first ten rows of seats is going to hear about it.
"You know, Scott is special because of his commitment to the school and the community,"  says district superintendent Bill Reichert.  "There's a lot you can say about him, and it needs to be said the right way.  Scott's impact goes far beyond basketball, and it's all the same – the commitment he has for the kids who play and the kids he teaches in class.  He's a breath of fresh air in a time when everyone is so worried about being politically correct, and Scott knows how to walk that line.  He demands discipline, but to be quite honest, when you run a disciplined classroom, and a disciplined practice, there's so much more that gets done.  And that describes Scott.
"He has impact because the kids understand and respect him.  And I think the community respects him because historically we've lost a lot of what he represents.  It's not always popular, or pretty, but his principles help put kids on a better life path.  And in some ways he's a throwback – we do it this way, because it's the right way.  That's Scott Elchert."
He's never won a state championship, but he'd like to, and that, plus his commitment to teaching basketball, is what has Elchert enthusiastic about coaching, and another campaign.
"I think coaching high school basketball is a great way of teaching young men how to prepare for life,"  he said last week.  "I tell them…we're not here to build NBA players.  Let's not kid ourselves.  But in the process we can also help build better fathers, and husbands, and better employees…all those things.  And, we're talking about Division IV basketball, and you're dealing with kids whose passion may be something other than basketball – soccer, or baseball, or just helping out on the family farm.  So we have a couple hours a day to teach basketball, and life skills beyond basketball.  That's why you do it at this level."
If he never actually wins a state title, Scott Elchert is thankful to have had the opportunity at least twice.  And his tournament path during the 2012 and 2016 campaigns brought a fever of excitement to the Jackson Center community reminiscent of Jackson's lone boys championship run back in 1985, under then coach Jerry Harmon.
"As a coach that's the pinnacle experience, when you can make it to the Final Four,"  says Elchert.  "It's a great reward for the kids and the community.  The excitement is simply incredible.
"Of course I'd like to make it back there and win a state championship because I like to think that I'm as competitive as anyone you can find.  But that doesn't, and won't, define what coaching is to me.  It's having the opportunity to work with kids throughout the year, and our goal as a staff has always been with every group…to find a way to compete on a nightly basis.  In those two particular years we had some great talent, and great chemistry, and great support from the community.  We were fortunate to get there."

If you talk to his players from years past, almost without exception they point to Elchert and the lessons he instilled as instruments to their success beyond Jackson Center and basketball.  The rim in life, like basketball, is only 18 inches wide, metaphorically, and sometimes you have to find another way.
"That means a lot to me,"  Elchert admits.  "The rapport that I've had with my players over the years is so important, especially once they've graduated.  I've always tried to maintain contact, and I want them to know that if they played in our program they're still important, and we bring them back to practice against us as often as we can.  They still have a lot to contribute to the growth of the kids playing now."
His attention to detail, and his success, has naturally brought Elchert and Jackson Center basketball the kind of attention he seeks to avoid.  You cannot win 300 games and do it anonymously.
And if his ways are a bit old-school, apolitical, and out of step with that which is popular, the community and administration at Jackson simply points to fruits of his principles…wins on the court, in the classroom, and in life.
Scott Elchert is a breath of fresh air in a world desperate for direction – for better husbands, better fathers…and better men.