As always, there are inconsistencies with the final selections for the national championship playoff.  But look at the bright side, all you ticked-off Buckeye fans.  You get to see them play sooner, and at a decent hour.
I know that anything's possible in athletic competition.  That's why I never use the term upset – because I don't believe there is such a thing.  A surprise win, sure.  But if someone believes he's really good enough to beat a favored opponent, and then does it…why is that an upset?
But enough with semantics.
The final four for this year are Alabama, Clemson, Notre Dame and Oklahoma.  And I'm fine with it.
After watching them all year – and after watching Alabama come from two touchdowns down against Georgia on Saturday to win – I wouldn't pick Ohio State to beat Alabama if they played for twenty four hours.
And, I don't think they match up any better against Clemson, either.  And football at that level is a game of matchups.
Notre Dame?  You gotta hand it to the Irish because in my mind they played the toughest teams they could schedule, back when the schedule was actually made (about a decade ago) – USC, Stanford, Michigan, and the best of the ACC, and they finished without a loss.
Oklahoma?  Eh, I don't know that they're any better than Ohio State, in terms of matchup.  But I had a pretty good year picking football games this fall, and I'm not that upset that Oklahoma's in and the Buckeyes are not.  And here's why.
One, it saves you AND me a month of speculation and conversation about whether the committee got it right – and all that talk about how they match up, of whether Urban's coming back, blah, blah, blah.  It's done.  It's over.  And now there's no worry about being disappointed – no letdown – if the Buckeyes lose in the title game.  They had a great season, a great record, Big Ten champs, and they're rewarded with the best New Year's Day bowl game of them all.
Two, they play in the Rose Bowl on New Year's Day, which means you're the Rose Bowl champs if you win.  That may seem silly to you, but it's really cool to me and they play against a team (Washington) that's in the top ten.  I like it.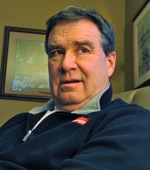 Three, the Rose Bowl is played at 5 pm (our time) in the afternoon, which means you can watch the game at a decent hour, it's over by 8:30, and you get a good night's sleep.  There's none of that late start stuff because of TV, like they do with the National Championship game, where you might have to go to bed before it's over if you have to get up and work the next morning.
There's three pretty good reasons for feeling good that they're NOT in the Championship Final, and if your feelings are hurt because they're not, does it really matter?  Get it over with, and let's play basketball.
They've won eight national championships, and I don't think they're gonna' beat Alabama, and there'll be no letdown about the one that got away when it wasn't a good prospect in the first place.  The point is, OSU did not prove (apparently) that they were one of the four best teams – the struggling wins and that one ugly loss at Purdue.
Now you pretty much have to agree.  They got a pretty good deal.