Close the book on football this year with the unlikely outcome of not one area school having won a title in any division.  Now the question becomes…can any area school break through in basketball, boys or girls?
"Would you have imagined that none of those area schools around you would win a title in football?"  someone asked Saturday as Sonny Fulks and Tim Boeckman packed up to leave Canton for the trip home.
Uh, well…yes, we did imagine that, actually.   And we wrote about it early and often – that area football this year lacked the flavor, and perhaps in the end…the savor of years past.
There's no question that even the MAC this year lacked some of the dominant components of years past.
They admitted in Minster that they were retooling behind a young cast.
They admitted in St. Henry that theirs was, too, a work in progress.
It was obvious throughout the year that Coldwater and Marion lacked the size and power of Coldwater and Marion teams past.
And don't forget Anna…a team that many even now are eyeing as a 2019 candidate for better things, better than a first-round ouster after a four-hour bus ride.  The Rockets will reload for next year behind running back Riley Huelskamp and quarterback Bart Bixler.
But those same Anna Rockets are also, for the present, being talked about in terms of boys basketball, too, with Huelskamp, Bixler, and a cast of returning talent from last spring armed and ready to take the Shelby County League title, and titles beyond.
And in Jackson Center, Russia, and Loramie, coaches Scott Elchert, Dave Borchers, and Corey Britton are scheming ways to defuse the Rockets' advantage of size, skill, and experience.
"They have what it takes to make a very deep run,"  said Jackson Center coach Scott Elchert over the summer.  "Anna's loaded."
In the always-basketball strong Cross County Conference, the question is as to who will emerge behind perennial favorites Bethel and Miami East?
In Troy, will Ray Zawadzki's Troy Christian Eagles be strong again after the graduation loss of 6'8″ center James Anderson?
And in the usually-football-rich MAC…even they are talking about the possibilities of better basketball fortunes than football this year.
Defending champ Marion Local is big, talented, and confident while returning the core cast of last year's Division IV title, including forward Nathan Bruns, a commit to play college basketball at Findlay.  However, they're also holding their breath to see if a knee injured by Bruns in the Division VI title game in football will be sound, as well.  And because of their late start, expect Marion to take a few weeks to hit their stride.
But in St. Henry, it won't take that long as Eric Rosenbeck's Redskins opened already with impressive win over Spencerville.
At Minster, coach Mike McClurg has the most size of any area roster, anchored by senior center Jarod Schulze (6'9″).  And, he's complemented by at least four who saw significant starting time last spring.  So yes, Minster definitely has plans to play deep into next February's Division IV tournament.
And you never look beyond, or take a night off against Fort Recovery, Versailles, Coldwater, Delphos St. John…or New Knoxville, with new coach Mike Piatt.
In the GWOC North, Sidney got an enormous boost with the return of senior Andre Gordon, a Virginia Tech recruit, who dropped 30 points in the 'Jackets' opening win over Tipp City.
On the girls side…more of the same as Division IV champ Minster returns another powerful lineup built around sophomore guard talent Ivy Wolf and center Courtney Prenger, a Xavier University recruit.  The Wildcats get the favorites nod in the MAC, but it won't be easy.  Versailles returns size and experience form their D-III state runners-up team last year, Fort Recovery is big and talented again, New Bremen brings back three starters, and St. Henry will be improved.
In the Shelby County League, all eyes are on the fast start through the first week by two-time state champion Fort Loramie and coach Carla Siegel.  The Redskins are well-fortified with young talent and are the odds-on favorite to capture another SCL crown.
And the Cross County Conference has its own claim to Division IV muscle with Covington, and senior Sammi Whiteman, who scored 28 and 26 points respectively in the Buccs opening two wins over Houston and Tri-County North.
And of course it remains to be seen how the bigger schools along I-75 will be – Butler, Tipp, Troy, Piqua, and Sidney – and especially Tipp, who is the perennial class of the GWOC North.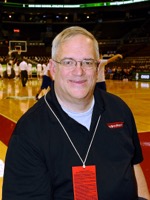 Titles?  That remains to be seen.  While it's the same as football, it's also different because the hoop's only 18 inches wide and serves as everyone's best defense on certain nights.  But ask Minster and Marion Local, who won the Division IV titles last spring in boys and girls – sometimes you have to be lucky, too.
But for a time – the next four months – we're all lucky to just to watch.  And you can read about it each week on This Week In Basketball, sponsored principally by the Buschur Home Improvement Company, of Dayton.  Personally, I'm anxious to see how it all plays out.