From the state tournament…high anticipation for possible history in the making, and a touch of sadness as Press Pros descends upon Canton with one empty chair.
Canton – We have arrived – a slightly smaller Press Pros crew for this weekend's OHSAA state football championships than usual.  In fact, just Tim Boeckman and yours truly are here by ourselves to anchor coverage of 46th annual (since 1972).
Missing this weekend – Associate Editor Julie Wright, who's home with a cold and a date with the Dayton Flyers on Friday…and our friend and colleague Stan Wilker, who just one year ago this weekend declared that the Marion Local Flyers would be back in Canton this year to tie the all-time record for tournament wins (eleven), currently held by Cleveland St. Ignatius.
"I don't know who they'll play, or if they'll win,"  said Stan as we made the trip home on route 30 last year.  "But I know Tim Goodwin, and I know the Marion kids, and they know what's at stake.  They'll give it a shot."
Well, the Flyers are here, but fate was not so kind to Stan, who passed away this past June, and we'll miss him stalking the sidelines tomorrow – the empty chair at the table tonight, symbolically.  For years we've celebrated the tournament by a rather embarrassing, sumptious feed the night before at Benders, across the street from the McKinley Grand Hotel.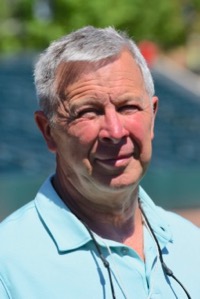 But this year we'll celebrate Stan and his fondness for football and the Flyers,  as we did on the trip up.  He loved the Beach Boys and the music of Peter Cetera and Chicago, and we blared both in his honor all the way across route 30.
Tim Boeckman, by the way, knows more than a little about being in Canton and Massillon, having brought the St. Henry Redskins six times when he was head coach…and he won four state titles in those six years.
"The ones I remember the most are probably the first time we won in 1990, with Bobby Hoying, Jeff Hartings, and that group…and the game in 1996 when we lost to Mogadore in triple overtime.  The score was 61-58 and I remember there was an official from Toledo that made three offensive pass interference calls against us, and an interference call he didn't make in overtime that would have probably sealed the game for us.  However, this all happened after we blew a 35-3 lead, so what goes around comes around."
A lot of new faces will grace this year's tournament, and by far the biggest intrigue surrounds Marion Local's rematch with Kirtland in the Division VI title game played played on Friday at 10 am.
"It's too bad that you have to play a game of that magnitude at 10 am in the morning,"  says Boeckman.  "In fact, it sucks because there might still be frost on the field from the night before (temperatures are projected to be in the 20s here on Thursday night)."

Marion enters the game with a 13-1 record, while Kirtland has swept through the season and the tournament unscathed at 14-0, and the Hornets, three-time champions previously, are highly-favored to win their fourth in the rematch with Marion.
In fact, a friend from Lake County shared with me last week that atoning for last year's 34-11 loss to Marion is more coveted at Kirtland than everlasting life, itself.
The local media in northwest Ohio appears to favor the Hornets.  In a poll of seven writers in Thursday's Canton papers, six of the seven favor Kirtland.  The reason?  Kirtland did not give up a rushing touchdown this year until week thirteen…and behind a massive offensive line their feature running back, Joey Toric, has run for almost 5,000 yards in his career, including 62 touchdowns.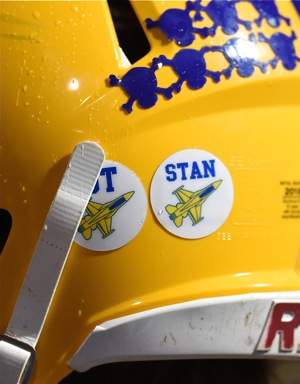 In others games of local southwest interest, Kettering Alter (13-1) plays on Friday, matching up with Kenston (13-1) in Division III at 3 pm.  And in the 8 pm finale Colerain (14-0) meets Lakewood St. Edward (10-3) for the Division I title.  Alter will be seeking its third title all-time, since last winning back-to-back in 2008 and '09.  The Knights' only loss of the season, ironically, came on opening night against Kettering Fairmont, coached by former Covington coach, Dave Miller.
The weather predictors have smiled on Friday's games, but Saturday is another story.  They're calling for rain (80% chance) all day Saturday and unbeaten Cincinnati Wyoming will play Girard in the tournament finale at 8 pm for the Div. IV crown.
So, in a matter of about 18 hours we'll see if Marion makes, or ties, history, an almost-perfect finish to a year that's been anything but perfect.
We'll see if Good Vibrations has any good karma with it.  Either way, this one's for you Stan, and assistant coach Dan Thobe, who passed just two weeks ago…because we wish you both were here.
That would be perfect!