There's a lesson to observe for those who believe that the glass should always be half full in writing about games, and kids, and sports. Want proof? Read what they're writing in Michigan after Saturday's Ohio State game.
There is something here that must be brought to your attention, if you're a sports fan – something that every person who's ever been critical of sports reporting must read and at least acknowledge, if not understand.
It's something for every critic who writes to say that there's no place for writing about the negative. That photos of missed touchdown catches, and free throws, and errors in baseball should never be published.
This is for those who would maintain that if you don't have something nice to say…then don't say anything at all.  That's what my grandmother used to say.
Yes, this column is for those who write and say that an individual already feels bad enough without someone mentioning it in a story with a photo to emphasize the point.
And, it's for those who really believe that when your team wins ten of its twelve games…that's good enough. They did the best they can.
I'm also writing to those naive enough to believe that if their children are ever blessed to play at the next higher level of sports – that they get that coveted scholarship to play at Ohio State, or even Ohio Northern – the word of the day should always be 'Kumbaya, Kumbaya." Just be positive.  That's how it was at home.
Now, if you believe this, take a few moments to read – consider that sports, and outcomes, outside the friendly confines of the GWOC, the CBC, the CCC, Shelby County League, and the MAC constitute a whole 'nuther world. As I've written before…where careers teeter on success, of winning where there is no alternative to winning, there's no such thing as justifying a loss, or a 10-2 season, by saying, "Well, they did the best they could."
And as the poignant example of this reality in life beyond high school sports, consider what was being written this weekend in the Detroit Free Press after Michigan was humiliated by Ohio State in 'The Game' Saturday, 62-39.
And by the way, if you're one of those people who secretly harbor contempt for the University of Michigan just because they're the University of Michigan – that have an old ragged T-shirt from college days hidden in your drawer that reads, 'M–k Fichigan', uh, well….really?
But, this was what Detroit Free Press columnist Jeff Seidel wrote for Sunday's edition following Saturday's massacre: "Harbaugh, Michigan's Season A Failure"!
What? A failure? They went 10-2. They did the best they could.
"It was a failure across the board. A failure to reach the next level. A failure to grab what was sitting there, just waiting to be taken. They blew it. To me, this season should be viewed as a failure," wrote Seidel.
And, there was a photo of Michigan quarterback Shea Patterson that ran with the story, clutching his face mask in frustration and disgrace…just to emphasize the point.
Enough from the hometown paper? Oh no…think again.
Another wrote, "U-M overrated, dominated by Ohio State."
Another headline stated, "Harbaugh failed this season, simple as that."
Still another, "Harbaugh not doing enough with his recruits", or, "Harbaugh allergic to the big stage", or, "Harbaugh can't deliver when it matters."
Now I ask you…can you imagine waking up on Saturday morning and reading that about your local coach in the Sidney, Troy, Piqua, or Celina newspapers?
But that's life at the next level when there's more on the line than someone's feelings. And all that paraphernalia you buy to promote your team of choice is complicit in supporting a culture of expectation with major college sports – a culture that frankly 'IS' above and beyond what's both real and reasonable for the sake of winning, or not winning, a football game.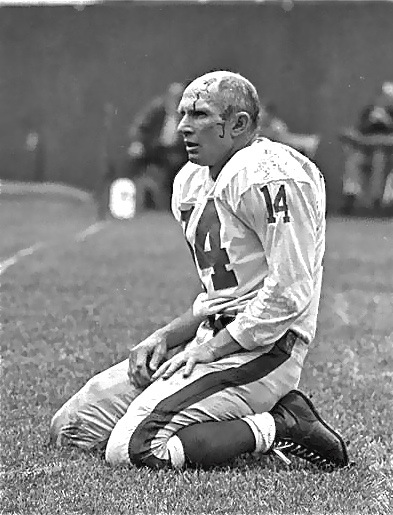 And, it's also hard-core journalism…a fact that goes back as far as reporting itself.
There is no more iconic example than the photo taken by a Pittsburgh Post-Gazette photographer in 1964, a photo of aging quarterback Y.A. Tittle, of the New York Giants. Here's Tittle, on his knees, dazed and bloodied after a hit, in full view for the nation to see and appreciate for being the height of the moment. Some were horrified by it, but the photo itself won every journalism award imaginable.  Tittle actually won great acclaim for being the subject of that picture, and later admitted, "But it was the end of my road."
But you run that photo today of a high school or college player and the sheriff will be knocking on your door.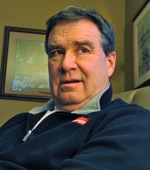 The point of all this is simply…we grow too comfortable and protective when we refuse to accept that there's a life beyond hometown, America – where there is no patience for just doing the best you can. Jobs and careers are on the line, and someone must always be accountable.
And from a journalistic view, if a million people witnessed it first-hand, you're no journalist if you don't report what everyone else has already seen. That's how the other half lives. And that's how they write.
And if I'm writing to you, remember. Jim Harbaugh has a mother, a wife, and kids, too. Kumbaya!