McComb quarterback Tanner Schroeder turned out to be a good thing, and for the sake of the Fort Loramie Redskins…too much of a good thing in a season-ending loss in the state semi-final game.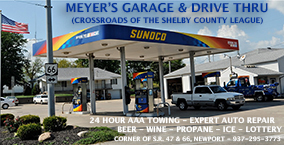 Wapakoneta – With sincerity and respect for what they accomplished, the Fort Loramie Redskins deserve better than the average blow-by-blow replay of what went wrong in Saturday night's 28-14 loss to McComb (13-1) in the Division VII state semi-final game.
One, they'd never been this far before, and frankly no one imagined at season's beginning that they would while playing out of the Cross County Conference.  The knock, you know…that you've got to play good teams to beat good teams.  But Loramie did beat good teams on their way to a 12-2 record and their first-ever appearance in the state Final Four.
But more, you've got to get some breaks to go along with skill and effort, and that didn't happen for Loramie Saturday night…save for an interception on the McComb six yard line in the third quarter that looked like a sure touchdown waiting to happen.  But no.  Three plays later quarterback Collin Moore got T-boned on a keeper play and coughed the ball back to McComb on the same six yard line.  Opportunity lost!
You've got to play clean football, and three interceptions that killed drives helped nail the lid on the Redskins' coffin.
You got to have your share of good field position, too, and the Redskins seemed to spend the night starting drives from the shadow of their own goal line.
And, part of the luck you need is to not run into an opposing player so hot as to single-handedly beat you.  And Saturday night they ran headlong into a guy named Tanner Schroeder.  Schroeder, whose reputation preceded him, turned out to be better than billed – too much of a good thing.  He carried the ball 41 times, ran for touchdowns of 80 and 24 yards, threw for touchdowns of 60 and 52 yards, and had three interceptions of Collin Moore passes playing in the Panthers' secondary.
And when public address announcer Mike Miller announced late in the fourth quarter that the McComb athletic director was requested to come to the press box…Schroeder (pronounced Shrader) turned his head and took a step in that direction, as if he could handle that responsibility as well.
It all started well enough…a five yard run by Devin Wehrman at 3:57 of the first quarter to put Loramie ahead 7-0.
But almost instantly, just 15 seconds later on the ensuing possession, Schroeder hit teammate Rob O'Dell with a 70 yard TD bomb to tie the game at 7-7.
And after forcing Loramie to punt on their next possession, Schroeder took the ball on the first play from scrimmage and raced 80 yards with it to put the Panthers up 14-7 – this with 1:27 remaining in the first quarter.
Loramie's defense stiffened until the 8:55 mark of the second quarter when Schroeder struck again, over the top to O'Dell for 56 yards and another touchdown…21-7, McComb.
You could make the case that the game might have been decided on Loramie's first possession of the third quarter, when after intercepting Schroeder's attempt at a jump pass on the six yard line the Redskins were unable to score and turned it back over to McComb.  And give Loramie credit…for hanging tough defensively until Collin Moore hooked up with Mark Seger with 9:33 left in the third…a 45 yard play that pulled the 'Skins to within 21-14.
But on their next possession Schroeder righted the ship, drove the Panthers right down the field and into the end zone on his second touchdown run of the game, 24 yards, and that, as they say…was that.  Requiem for the Redskins and the best season in their football history that spans coaches John McCumber, Matt Burgbacher, Whit Parks, and now…Spencer Wells.
Wells, one of the classiest young coaches in Ohio football, spoke eloquently of his team's effort outside his locker room door.
"I'm honored to have coached this team," he said with a disappointed smile.  "What they did this year…they made history.  We asked them to leave a legacy and our twelve seniors no doubt did that.  We'd never been to this point, and that's a credit to our seniors.
"And tonight…I'm proud of our guys because they fought their tails off.  McComb is an outstanding football team, they made plays, but our guys just fought their tails off.   McComb just made a few more plays [than we did] tonight."
And tails on, or off, Loramie got single-handedly whipped by Tanner Schroeder, who was equally appreciative of the Fort Loramie effort.
"They're a good football team,"  he said before leaving the field.  "They run hard, they hit hard, and they have speed.  They were a good opponent."
"He's just such a physical runner,"  said Wells of Schroeder.  "The most physical runner that we've seen all year.  Our guys battled, but we put our defense in too many tough situations.  We had a couple of penalties that hurt when we had them pinned third and long, and the turnovers…but credit to them.  They're an outstanding team with great coaches and we'll be rootin' for them next week."
And so it ends for an outstanding group of seniors, a memorable year that captivated a community in the manner of teams of destiny past – from the Dan Hegemier era in basketball, Bill Sturwold in baseball, John Rodgers in volleyball, and Carla Siegel's two titles in women's basketball.  Spencer Wells came that close in just one season to adding his own legacy to that trophy case that stands just outside the gymnasium.
"Like I said, it's just been an honor to have coached this team, and how the players literally bought in from day one,"  added Wells, deferring any suggestion of self achievement.  "I just can't get over their effort tonight, how they fought and left it all on the field.  They did everything I asked, and I know that moving forward they're going to continue to do that."
And for the record…another bright young name emerges from this process, gaining recognition and a place on the candidate list for future coaching positions.  Spencer Wells, in just one year, has elbowed his way into those conversations.
So requiem for a season, perhaps.  But just the beginning for Wells and the Redskins!