Some followup thoughts on our recent Saturday column about Gettysburg, celebrations of history, and appreciation for the value of observation.  Bottom line…if there's a problem to solve check and see if someone hasn't already done it.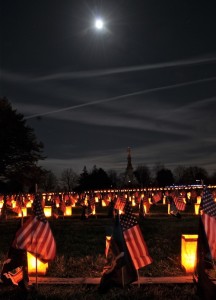 On a cold, snowy Monday morning – a slow sports Monday, no less – some time to rummage through weekend mail and make an observation about the column posted Saturday evening about the 'Remembrance Day' celebration I attended in Gettysburg, Pennsylvania.
As one might expect, there are always a couple of messages questioning why Americans still honor the Confederate cause of the 19th century, or have some justification for showing the Stars and Bars, the flag of that army so prevalent at Gettysburg this past weekend.  And yes, there was one missive from a frequent and familiar drum banger from Dayton with liberal leanings decrying that I mention Gettysburg at all.  "When is enough, enough?"  she asks.  "Why do you need to remind your readers of the negative periods of history, instead of the positive?"
Well, to answer her..it's because history does not distinguish between the two.  And as Lincoln said, "You cannot escape it."  Nor, should you try.  There is none so ignorant as to pretend that it never happened, as some now suggest…because then you cannot learn from previous mistakes.  And from my vision, and experience, America has always learned much from the ups and downs of our past.
I first visited Civil War sites with my parents as a youth…because I'm a descendent of three Civil War survivors – all from the Union army.  My folks thought it was important, and, as my father frequently observed, that I learn something about the lessons paid forward from the sacrifice and death of some 600,000 Americans that fought to preserve American union.  Dad was a math teacher, of course, and never talked about the politics of the war.  He just made the point, as he made about other issues…about not making the same mistakes twice.
To that end I've always made it a point to go see for myself…the focal points of our American history.  I've been to just about every Civil War battlefield, and have become knowledgeable through reading and study.  I've been to Little Big Horn, another of the darker moments of our past, because it would be very hard to accept today what Union General Philip Sheridan once claimed, "That the only good Indian is a dead Indian."  That's absurd, but you had to know Phil Sheridan.  And when you look into the history of the American tribes, their cultures and values were far ahead of the migrating masses moving westward that took their land, destroyed their resources, and sought, as Custer did, to eradicate them.
So yes, I've made it a point to learn for myself, and teach my children, something about our history and why we do what we do.  I've made it a point of teaching them the value of observation.  And there is no greater example on American soil than the three days of the great Gettysburg battle, July 1, 2, and 3, of 1863.  And to the point I made in Saturday's column…perhaps the greatest lesson in visiting Adams County, Pennsylvania is to see how much the people of that area have learned about their own history.
Some would claim that they've done it for the sake of retail, but more evident to me, it's allowed them to appreciate the different views of culture, then and now.  It's called tolerance, and there were thousands of people there over the weekend who descended from the Confederate culture, as there were thousands with Union backgrounds…and they all got along perfectly.  The talk was about appreciation for the past, while celebrating the present and how the sacrifice and bloodshed 155 years ago has allowed for modern-day unity.  "There had to be a price paid,"  one speaker noted on Saturday morning.  "And aren't you thankful it wasn't you?"
Of course, I go to Gettysburg for another reason, as well.  For nearly twenty years I've served as the photo editor of Gettysburg Magazine, published by the University of Nebraska Press.  And many of the scenes I've shared from past trips have ultimately graced the covers of that publication, and I can say without hesitation…that the landscape of battle at Gettysburg is among the most beautiful of any you'll find in America.  In large part that's why President Dwight Eisenhower chose it to be his home after he left the White House in 1960.  He once claimed that there's no more beautiful spot to found in all fifty states, to both the eye, and for its symbolic value.  I cannot disagree.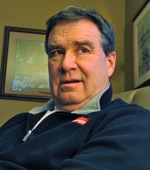 To another who questioned…I really have no "axe to grind" politically, except to note that history doesn't lie.  Both parties of national leadership have failed to take the time necessary to see for themselves that people who have knowledge of their past have adjusted accordingly without the wasteful expense of bureaucracy – of throwing money at our problems.  You really don't have to have a political persuasion to understand that.  Because, there was a time after the great wars of this country when people learned to co-exist, prosper, and live in mutual appreciation without any money at all.  And we called that generation of 'the depression'…the greatest generation of all!
To conclude, I go to Gettysburg for the same reason that many of us go to church.  It's good to be reminded that we are what we are, and we have what we have because someone, one day, paid the price.
And the greatest benefit…is seeing it for yourself!