Carter Mescher's 82-yard kickoff return started a string of 20 unanswered points as the Redskins bounced Convoy Crestview out of the playoffs, 48-20, on Saturday.
Lima – The talk suggesting Fort Loramie's football program was a threat to Minster was quelled with a Week 1 loss to the defending Division VII state champions.
The Redskins' chances of qualifying for the D-VII state semifinals were kept to a murmur. Well, outside of Fort Loramie anyway. But Fort Loramie was determined to make some noise in the postseason. And Saturday night at Spartan Stadium in Lima it reached its crescendo.
Fort Loramie senior Carter Mescher picked up the second-half kickoff on his own 18-yard line. He sprinted left, picked up a block and accelerated through a hole to go untouched for the 82-yard touchdown. As he did the Redskins' faithful let Allen County know something big just happened at Spartan Stadium.
Those that stayed behind in Shelby County might have heard it, too.
"It's insane when you're running," Mescher said of his touchdown that broke a 14-14 tie. "You just hear all your fans from Fort Loramie – a small town, a village if you want to call it that – and it sounds unbelievable.
"I saw a hole on the left side. That was my opportunity to hit it. I made one guy miss on an arm tackle and I had to go."
Fort Loramie scored 20 unanswered points to start the third quarter and rode that wave of momentum to a 48-20 victory against Convoy Crestview for their first D-VII, Region 28 championship in school history.
Just like Saturday night, the Redskins (12-1) did everything right after that 34-14 loss to Minster to open the season. They won the Cross County Conference. They climbed to No. 4 in the Division VII state poll. They earned the No. 1 seed entering the D-VII, Region 28 playoffs. As the Redskins picked up wins – nine straight to end the regular season – the buzz started to build.
Still, it was said the regional championship – and likely the state title, too – was Minster's and Convoy Crestview's to lose. And in the past two weeks that's exactly what happened.
Convoy Crestview (11-2) eliminated Minster 28-14 last week. And this week it was Crestview's turn.
"People were doubting us, counting us out," senior CJ Billing said. "We're always the underdogs. We love that. We'll be the underdogs every single game. We come to fight every game."
They were in one early against Convoy. The Knights ran 17 plays in the first quarter and 16 were in Fort Loramie territory. A Redskins' defense that held its last three opponents scoreless blanked the Knights on those three drives that ended on Fort Loramie's 23, 19 and 9 yard lines.
That scoreless streak ended with 8:11 left in the second quarter when Crestview quarterback Drew Kline weaved his way to a 22-yard touchdown. The Knights, who prefer 2-point conversion attempts to kicking, led 8-0.
Fort Loramie, meanwhile, struggled on its first three drives with an interception and two punts for a total of 14 yards. They quadrupled that total on its next drive. Mescher took a hand off on a sweep right and didn't stop until he found the end zone for a 60-yard score.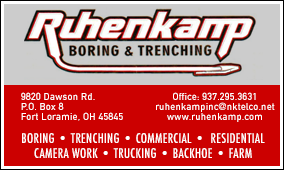 Loramie and Crestview traded scores again – the Redskins scoring on quarterback Collin Moore's 7-yard run and Crestview on a 3-yard run – to go into halftime tied 14-14. The Redskins had a chance to take the lead but missed wide left on a 32-yard field goal attempt.
"I was just thinking since we missed that field goal at the end of the first half, coach tells us to win the next play," said Mescher who finished with 83 yards rushing on three carries. "I was thinking I have to help my teammates out and get some momentum. Just make a good play."
Loramie tacked on a few more for good measure. Moore's 21-yard run put the Redskins up 28-14 with 7:17 left in the third quarter. His 54-yard run made it 34-14 just two minutes later.
Moore rushed for 124 yards and four touchdowns on 19 carries. The Redskins rushed for 268 yards on 36 carries overall and finished with 304 yards in total offense.
While Fort Loramie was running wild, Crestview and Kline were left scrambling. Fort Loramie's defensive line of senior tackle Collin Detrick, senior defensive end Nathan Raterman, junior nose tackle Blake Holthaus and defense end Billing – as well as senior linebacker Devin Wehrman, junior Noah Guillozet and sophomore Max Hoying – pressured Kline most of the game.
Kline rushed for 152 yards on 15 carries and completed 11-of-25 passes for 116 more. But the Redskins defense came up big during the Knights' last three drives with a fumble recovery and interceptions by Nick Brandewie and a sensational one-handed grab by Wehrman.
"We held tough and all 11 of us played together," Billing said. "They've got some good players over there. We played as a team on defense. … We made a statement tonight. Coach (Spencer) Wells is for real."
Loramie tacked on a pair of fourth-quarter scores when Moore took a hit a the 2-yard line, spun and stepped into the end zone for the 41-20 lead. His 1-yard TD pass to Ben Barhorst made it 48-20 with 5:49 left in the game.
"That's the best team we played all year," said Wells with a special nod to defensive coordinator Brad Frilling. "His guys have done an awesome job on that side. That was no easy task for our defense. They limited the big play for the most part. They made them earn it."
Fort Loramie advances to the D-VII state semifinals 7 p.m. Saturday against McComb (12-1) at Harman Field in Wapakoneta. Cuyahoga Heights (11-2) and Glouster Trimble (12-1) play in the other semifinal.
"It's the first time. It's crazy," Billing said. "We have to keep going. Never stop. This feels great. I don't even know what I'm feeling right now. It's awesome."
Fort Loramie has qualified for the playoffs nine of the past 10 seasons, missing in 2016.
"All year people were like what about Minster and Crestview," Mescher said. "We didn't get a lot of respect. I hope we got some respect tonight. We've got more to come."