Buckeyes get gashed for big plays again at Maryland … Except for turnovers, Haskins and Dobbins were nearly unstoppable in 52-51 win … Late two-point conversion fails for Terps as Ohio State improves to 10-1.
If you're an Ohio State superfan, if you're dialed in at max intensity, follow every play and can feel your mood being altered with every swing in every game, then — and I'm sorry to break this to you — the Buckeyes' 2018 season has probably taken a few years off your life.
The Maryland game alone had to have whitened at least a few patches of hair in Buckeye Land over the course of four hours.
I don't want to join the media horde calling for defensive coordinator Greg Schiano's head. What he pulled off at Rutgers, getting that program to No. 3 in the country at one point, is one of the greatest coaching feats in college football history. He parlayed that into an NFL job. He's no hack.
And since we don't want to see him unemployed, how about Ohio State trading Schiano for current Rutgers coach and former Buckeye defensive coordinator Chris Ash, who's sure to be fired? Anyone watching the horror show on that side of the ball would have to agree it can't get any worse.
Good golly, Miss Molly, the defensive showing against Maryland was the low point of the seven-year Urban Meyer era and, throwing out that lost 2011 season with an interim coach, you'd have to go back to some early John Cooper years to find something comparable.
How ironic then that the unit kept the Terps out of the end zone when it mattered most on a go-for-broke, two-point conversion for a 52-51 win.
But that defensive stop comes with an asterisk. The receiver was open, and the Buckeyes kept their season alive only because of a wide throw by the quarterback.
The 10-1 and 10th-ranked (for now) Buckeyes play 10-1 and fourth-rated Michigan for the Big Ten East crown, but it's the biggest mismatch in the rivalry since Brady Hoke or Rich-Rod were roaming the sidelines for the Wolverines. Those two teams aren't playing even remotely close to the same level.
The Buckeyes gave up an 81-yard TD run on the second snap of the game. So much for eliminating big plays.
The Terps shifted their line to the right, the defense shifted with them, and they handed off to Anthony McFarland, who ran outside to the left and was never touched.
They pooched the kickoff, and Johnnie Dixon never fielded it, thinking it was going out of bounds. Maryland pounced on it at the Ohio State 21-yard line.
But the Terps tried a trick play and fumbled on the first snap, giving the ball back to the Buckeyes. Disaster averted.
At least until the next series.
Brandon White, who had been playing so well and seemed to have solidified the one troubling safety spot, missed a tackle in the hole, and McFarland raced untouched after that for a 75-yard TD.
The Buckeyes have allowed five rushing plays of 70 yards or more this year. That's the most in the nation. They only gave up one in the previous two years combined.
Credit an alert Twitter observer for this nugget: Alabama has only surrendered one rushing play that long in 12 seasons under Nick Saban.
McFarland set a freshman rushing record at Maryland with 214 yards — IN THE FIRST QUARTER. (Sorry for yelling.)
By halftime, he had 231 on 11 carries. The team had 281 on the ground with an 11.2 average and 337 overall.
But for all the first-half follies where they stumbled around like Otis Campbell on the "Andy Griffith Show," the Buckeyes still had a chance to tie the game at halftime.
On first-and-goal at the Maryland 7-yard line with 40 seconds left, J.K. Dobbins fumbled at the goal line. Good-bye, momentum-shift.
Dwayne Haskins then threw a pick-six on the second play of the second half to give Maryland a 31-17 lead.
I know they're all wearing Ohio State uniforms, but, really, WHO ARE THESE GUYS!?!
Can't help but interject at this point that the Buckeyes probably were destined for a season like this with all that transpired in preseason camp. The drama of having to listen to the media trash their coach daily, and not having him around to set the tone before the year — or on the sidelines for the first three games — is a lot to overcome.
Meyer made some missteps to get to that point, no doubt. But to expect him to get more involved than he did in someone else's screwy marriage was always unfair, contrary to what the Self-Appointed Domestic Violence Police in the media would have you believe, and dropping the hammer on him with that lengthy suspension was unwarranted.
So given all that drama and instability, you've got to massively credit Haskins and his mates for not caving against the Terps when they seemed so close to tapping out. They dug deep against another motivated foe on the road — on Senior Day — and found a way to prevail.
Even when Maryland took a 45-38 lead with 1:41 to go after recovering its own fumble on third down for a score.
Even when nothing short of a TD in the final 101 seconds would do — and the Terps KNEW all they had to do was keep the Buckeyes out of the end zone.
Even when they had to convert on fourth-and-1 in OT — a difficult proposition for the Buckeyes these days.
And even when the Terps' first play on their OT possesssion was a crushing 24-yard run to the 1-yard line.
The Buckeyes gave up 535 yards, including 298 to McFarland on 21 carries, and let a .500 team average 8.3 yards per play (a record for an Ohio State opponent). And they surely would've been tagged with an "L" if the offense hadn't been so potent, at least when they weren't handling the ball as if it were a wet bar of soap.
Haskins went 28-of-38 for 405 yards and three TDs. There have been five 400-yard games in Ohio State history, and the redshirt sophomore has four of them.
He's now set single-season program records for TD passes (36) and yards (3,685) with at least two games to go.
And he finally — finally — showed a willingness to run hard and take a hit. The Buckeyes called more zone-read plays than they have all year combined, and Haskins flashed some wheels by picking up 59 yards on 15 attempts with three TDs.
That helped free up Dobbins to gain 203 yards on 37 lugs, and the Buckeyes needed every centimeter.
A rushing attack with a QB option won't be enough alone to beat the Wolverines, but it certainly is a twist Jim Harbaugh and his staff couldn't have seen coming.
PRE-SNAP PENALTIES: The Buckeyes seemingly lead the civilized world in false-start flags and other infractions that sabotage drives.
They're 110th out of 130 FBS teams in penalties per game, which doesn't say much for their discipline.
They had one each on their first two possessions, the second of which turned a third-and-2 play into third-and-7.
No damage that time. Haskins scrambled for a first down. But even on that play, Isaiah Prince jumped a second early and got away with it.
They had 10 penalties for 79 yards against the Terps. The guilty parties don't deserve their post-game hoagies.
LINE PLAY LACKING: The Buckeyes had a promising drive going while trailing 14-3. Tate Martell tried to convert a third-and-2 at the Maryland 25 and was stopped one yard short.
Haskins re-entered the game, handed off to Dobbins, and he was mangled one yard short of the first down when center Michael Jordan was submarined and clogged the hole. Drive ended.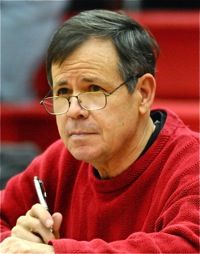 Starting left tackle Thayer Munford was hurt midway through the first quarter and replaced by Josh Alabi, who isn't ready. Dobbins was caught in the backfield on a sweep to that side because Alibi came off the line, took a couple of steps toward the defense and blocked … well, nobody. Had a nice jog, though.
When the Buckeyes had first-and-goal with a half-yard to go late in the first half, the line was knocked backward. Dobbins scored only because he leapt on the pile and extended the ball over the goal line. Barely.
Poor line play been a problem all year. And until the defensive meltdown against Maryland, I'd say it was easily the biggest reason the Buckeyes have dropped off so much this year.
Maybe they can find an offensive line coach in the offseason unemployment line, too.