Flyers figure out some second half defense, overcome halftime deficit, and rally to win and push their record to 3-0.
DAYTON — Josh Cunningham celebrated his return from the medical table/athletic trainer's office to the University of Dayton basketball team's starting lineup Friday night.
And he was a glossy addition as he made 9 of his 10 shots, scored 20 points, snagged eight rebounds and was named Player of the Game.
Those numbers aided and abetted UD's 91-80 victory over a stout and stubborn Purdue Fort Wayne team that rained 'threes' on the Flyers, especially in the first half, shooting mostly from beyond the international date-line.
As good as Cunningham was, though, he wasn't the best active basketball player in UD Arena — and that player wasn't even active this night. She was sitting in the stands.
She? Yeah, she. It was Cunningham's girlfriend, who just happens to be A'ja Wilson, the overall No. 1 draft pick in the WNBA this year, selected by the new Las Vegas Aces out of the University of South Carolina.
"She critiques me a lot and she is going to talk about my free throws," said Cunningham, who was 2 for 6 from the line. "We never play against each other because we're both so busy. It's tough seeing each other but we make do."
Cunningham more than made do with his 28 minutes after sitting out the first two games with a hand injury.
"For sure, it killed me sitting out the first two games but it felt great just being back out there with my brothers," he said. "I want to be out there with them at all times, but being on the bench supporting them is fun, too. It was great being out there between the lines, too."
Before he crossed those lines, Trey Landers, the team's locker room leader, pulled Cunningham aside and said, "We need you big boy to give us some big ups. You have to go in there and dominate the game."
He was more than needed inside the painted lines. If the Flyers expected this one to be a pre-Thanksgiving dinner, with Mastodons as the meal, they were mistaken.

Purdue Fort Wayne's Mastadons already had lost games at UCLA by 25 and at Ohio State by 46. But the Mastodons buried 10 '3s' in the first half on 17 attempts and led the Flyers, 47-42. These Mastadons turned out to be Mammoths.
That forced coach Anthony Grant and the Flyers to tweak the defense, as in, "How about chasing those guys standing outside the arc."
The Mastodons made only three in the second half, trying 12, because the Flyers stuck to their faces like Halloween masks, chasing them away from three-point line as if carrying pre-historic clubs.
Still, the Flyers trailed, 64-58, with 13 1/2 minutes left. That's when UD finally turned up the intensity and burst to a 20-4 explosion to push it to a 78-68 lead.
And there were some major contributors other than Cunningham.
Ryan Mikesell, normally a starter, incurred some foot issues during practice this week and it was decided to limit his minutes. And he didn't start.
He hit a '3, made one of two free throws and completed a conventional three-point play in a short span to help the Flyers come back from the 64-58 deficit to 64-all, with his three-point play tying the game. The St. Henry native played just 13 minutes but scored 10 points.
Trey Landers, self-admittedly AWOL in the first half with only four points, knocked down 11 in the second half. Eight of those points came from when the Flyers led 67-65, expanding the lead to 78-68 with his last basket that came on a behind-the-back pass from Jhery Matos. Matos came off the bench to contribute seven points, four assists and some nose-to-nose defense when it was needed.
"Matos did a great job, came off the bench and gave us a defensive spark in the second half," said Landers. "I was in a drought in the first half and I had to flush myself. But Jhery did a good job of picking the team up with his energy. He scored a couple of big buckets and ran their guys off the three-point line."
When it was mentioned that fans don't see too many behind-the-back passes like the one Matos threw, Landers laughed and said, "What's crazy is that he said he didn't even see me, he just heard me yell his name. Credit to him. What a great pass."
Purdue Fort Wayne's best player, 6-foot-5 guard John Konchar, a three-time all-Summit League performer, was the only Division I player in the nation last year with 450 points, 250 rebounds, 300 assists and 200 steals.
He began the game averaging 17 points, eight rebounds and 4 1/2 assists. And he quickly scored nine points in the first seven minutes to give the Mastodons a 22-18 lead.
He finished with 11, just two more points in the final 33 minutes. That's because Jordan Davis, with help from Mikesell and Matos, became his personal escorts all over the floor.
"They hit 10 three-pointers in the first half and coach (Grant) emphasized the three-point line for defense," said Landers. "We did a good job on switching on screens and we had to change the game plan."
After two easy walk-away victories over North Florida and Coppin State, the Flyers faced some adversity in this one, albeit unexpected, before pushing their record to 3-and-0.
"It was good for us to face some adversity," said Landers. "That was the first time and we did a good job of coming together and bouncing back."
Said Grant, "Fort Wayne put on a shooting clinic in the first half and some of it was really good offense by them and some of it was bad defense by us. They hit 10 threes in the first half, so we were fortunate to be down only two possessions at the half.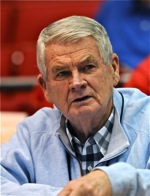 "We were much better defensively in the second half, not quite where I'd like us to be," he added. "But I thought our guys did a good job of making adjustments and slowing down some of the success they had in the first half."
And his message after the game was:
"I told the guys it was the first adversity we faced this year. For us, as a yFloung team, three games into the season, it was good that we got to go through that and I was proud we stuck together, continued to battle and got tougher as the game went on. We like to learn as we go, but I like to learn through winning."
They have learned their way to 3-and-0, but the road ahead is full of pot holes, beginning next week when they play in The Bahamas in a tough field, beginning with their first game against Butler.