In a match-up of tradition-rich programs, Marion Local added to its legendary football status with another trip to the state semifinals … beating Coldwater 40-19 and avenging a Week 10 loss.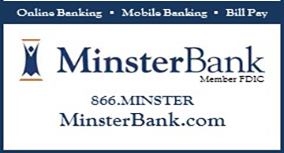 Sidney – Keeping the Marion Local Flyers' offense off the field was a talking point for the Coldwater Cavaliers. And if Cavs coach Chip Otten could figure that one out then the rest of the state would like to have a chat with him, too.
When it comes to the Ohio high school football playoffs getting Marion off the field is a tough out. The Flyers proved that again Friday night in the Division VI, Region 24 championship. Marion reached the state semifinals for the eight straight season – and 17th overall – by holding off Coldwater 40-19 at Sidney Memorial Stadium.
The MAC showdown featured the two winningest teams in Ohio High School Athletic Association postseason history. Marion Local added to its state record with its 75th playoff victory. Coldwater left Sidney sitting at 73 wins, good for No. 2 all-time.
That's nothing for the Cavaliers (10-3) to hang their helmets about, especially for a team that wondered if it would even qualify for the playoffs this season. They did, advancing for the 22nd straight season to tie Cleveland St. Ignatius (1988-2009) for the state record for consecutive appearances.
And they gave it a heck of a run. But the Flyers (12-1) know a thing or two about winning in the postseason as well. And it took barely three minutes into the game before they demonstrated it Friday.
After forcing Coldwater to punt after a three-and-out, Marion needed just four plays to take a 7-0 lead. Senior quarterback Nathan Bruns dropped back and hit senior Nick Tangeman for a 38-yard touchdown strike just two minutes, 43 seconds into the game.
Tangeman, who went in motion toward the Coldwater side of the field, found himself alone near the 10-yard line when his defender slipped. No one was within seven yards of Tangeman when he caught the pass in stride and sprinted to the end zone for the 7-0 lead.
"I heard the crowd on the Coldwater side kind of react," Tangeman said. "I didn't feel that anyone was around me and that's why the were oohing and stuff. I thought don't drop this and you're in the end zone."
Tangeman caught nine passes for 169 yards and two touchdowns as the Cavs' defense grounded the running game but couldn't do the same with the Flyers' passing attack. Bruns completed 15 of 22 passes for 287 yards and three touchdowns. He also threw an interception.
"They were staying a little bit off in coverage. It's nice we could pitch and catch out there," Bruns said. "Nick made some great plays out there."
Marion scored on its first three possessions, all passes. Bruns hit Tangeman in the corner of the end zone for a 19-yard TD with 1:54 left in the first quarter. After Marion's Peyton Otte ended Coldwater's next drive with an interception, he hauled in Bruns' 45-yard pass one play later for the 21-0 lead 14 seconds later.
"They have good skill guys and their quarterback had a good night. They made a lot of big plays," Otten said. "That's a good team and if you give up too many big plays – which we did – it kills you when you don't get them off the field."
Coldwater came up with a big play of its own … and nearly had one nine seconds later. The Cavs pulled within 21-6 on Jake Hemmelgarn's 7-yard TD pass to Ben Wenning with 1:09 left before halftime.
On Marion's next possession, Bruns hit a receiver over the middle and a Cavs' defender popped the ball loose on a bang-bang play. As one official appeared to signal fumble and the Cavs' ball, another ruled the pass incomplete. The incomplete pass call stood.
"The (early) lead was really important," said Tangeman, whose Flyers' beat Coldwater 33-0 last year's regional final. "We wanted to get them down a little bit. We didn't want to give them any hope to come back. They kind of did, but we finished the game off."
Marion extended the lead to 27-6 on Bruns' 14-yard TD run. And just when it appeared the game was approaching a running clock, Coldwater turned back time with a rally.
Hemmelgarn found Noah Miller at the side of the end zone with a Flyers' defender in as good of coverage as you can get without pass interference. Miller extended to grab the ball over his head all while backpedaling to get two feet inbounds.
Coldwater, now trailing 27-13, recovered an onside kick on the Flyers' 42. The drive ended when Wenning bulled his way into the end zone for the 1-yard run, cutting deficit to 27-19 with 6:47 left in the game.
That's as close as the Cavs got.
Marion scored four plays later – a drive highlighted by a 29-yard pass to Tangeman – when Darrin Hays scored from 2-yards out with 5:08 remaining.
"Their skill guys are really, really good," Otten said. "That combination of skill guys on the turf and their quarterback – I know he's going to play basketball in college, but he's a college-type of quarterback – we had a hard time getting pressure on him. It's tough to get them off the field."
Marion's defense then forced a turnover on downs when Coldwater's pass on fourth-and-5 from the Flyers' 48 fell incomplete.
Brandon Fleck's 16-yard TD run with 1:59 left sealed the win.
"That was the talk all week in the locker room. Get our revenge on them," Bruns said. "It's Coldwater. It's a big rivalry for us and we all understand that."
Between them Marion (10) and Coldwater (6) have combined for 16 state championships. Marion, which has won two straight and six in the past seven seasons, advances to the state semifinals against Attica Seneca East 7 p.m. Friday. The neutral site will be announced by the OHSAA on Sunday.
"There's a lot of respect. I don't think I'd rather play anyone else other than Coldwater," Tangeman said. "It's a huge game. Great environment. And on turf you can actually run around and not fall down all the time."
And that played a key role Friday. In Coldwater's 26-20 double-overtime win against Marion in Week 10 bad weather left the field, as Marion coach Tim Goodwin described it, greasy.
Friday on Memorial Stadium's turf the Flyers were on solid footing.
"Once we got going we moved the ball decent. If you dig yourself a hole like that against Marion it's going to be hard to get out of it," Otten said. "Credit to them. They kept making plays and didn't back off. We really stopped the run pretty much all night. We couldn't stop the pass."
Marion finished with 441 yards in total offense (154 rushing, 287 passing) and held Coldwater to 244 (66 rushing and 178 passing).
The Cavs were 2-for-11 on third-down conversions but 3-for-5 on fourth down.
"I thought our defense played pretty well. We made them work for everything," Goodwin said. "We didn't give them anything, which is huge against Coldwater."
Hemmelgarn completed 22 of 36 passes for 144 yards and two touchdowns.
The state semifinal appearance is No. 17 overall for Marion, moving the Flyers into a tie for third place with Youngstown Cardinal Mooney and Mogadore. Only Newark Catholic (25) and Steubenville (18) have more.
Coldwater is tied for seventh with 15.
"It's not as much fun playing league teams (in the postseason) because you sincerely want them to do well," Goodwin said of the MAC advancing one team to the state semifinals. "For years and years Marion and Coldwater have both been making the state final and it was a lot of fun just that synergy between us."
Now Marion Local is the lone team that remains to carry the MAC banner in a rare season of one conference team at state.
"The expectations are really high. That puts some pressure on you," Tangeman said. "But I feel like we've been here before and we act like it."