The Buckeyes got impressive shooting from C.J. Jackson, lock-tight defense from freshman Luther Muhammad, and hit the century mark for a blowout win over Purdue-Fort Wayne.
Columbus – Ohio State players got so close to coach Chris Holtmann after the game that they were smothering him singing Happy Birthday – belting out the tune with more gusto than adherence to any sort of rhythm.
Then they asked why they had to find out about his big day over the public address system like every other ticket purchasing fan inside The Schott on Sunday afternoon.
"I said, 'What do you want me to do? Announce it on Twitter?''' Holtmann said.
Holtmann said it's a good thing the Buckeyes' specialty is harmony on the basketball court because they were way off key.
Indiana University-Purdue University Fort Wayne hit six three-pointers and took down seven offensive rebounds in the first half to make the slim crowd get a tad uncomfortable.
All that changed in the second half when Ohio State, led by senior point guard C.J. Jackson and freshmen guards Luther Muhammad and Duane Washington Jr., got into rhythm at both ends of the court to come away with a 107-61 slam dunk of a victory.
The second 20 minutes looked like another exhibition game, beginning with Jackson hitting treys on three straight possessions to expand the lead to 14 points before a lot of fans had returned from the concession stands. IPFW was 0-for-11 from three-point range in the half.
Jackson led the Buckeyes with 25 points. He also had six rebounds and five assists. Muhammad totaled 12 points and two assists and held Mastodons scoring machine John Konchar to 13 points. Washington had 20 points on 6-for-9 from behind the three-point arc.
Freshman center-forward Jaedon LeDee went for 16 points, seven rebounds and four blocked shots, but most of his numbers were put up after the score got out of hand.
Jackson sounded like a coach in waiting talking about how Ohio State went from being up 41-34 at halftime to leading 62-41 with 12:25 left to play after Muhammad came up with a steal and layup.
"We wanted to make smart decisions defensively and that kind of led to our offense,'' he said. "We kind of had some silly turnovers in the first half, including myself. We have to take it day by day, and obviously today was a good day for us. We have to get better tomorrow. That first half wasn't good enough. Had we not played better it would have been a dogfight.''
It didn't take Holtmann long to led the media know that triple figures in scoring was a phenomenon.
"We're not as good as we were in the second half,'' he said. "There are a lot of areas where we need to be better. They beat us to a lot of loose balls.''
But he also prefaced his post-game news conference by saying "there were a lot of good things.''
"This team understands that, 'Listen, it's way too early in the season to have any idea where we are at or make any statement of where we're at,''' Holtmann said. "We're just trying to get better every day with the practice that's in front of us. Who knows at this point? It's such a long year. After Cincinnati I was concerned how we would come back and respond. I thought we had good attention to detail.''
He certainly was worried about this game even before his team defeated Cincinnati in the opener. IPFW came into the season having played in five straight post-season tournaments. One of the wins in an 18-15 season last year was 92-72 at Indiana.
Holtmann was so uptight the morning of game day that he forced his 47-year-old legs to run as hard as they could for 5 miles in order to shake some of the anxiousness.

But the Mastodons have 10 new faces on their roster and were pushed around 96-71 on opening night at UCLA.
IPFW coach Jon Coffman predicts big things for Ohio State primarily because of its defense and willingness to play for one another.
"You guys are going to see some really good basketball this year,'' he said. "Chris has those guys playing really good defense. They are going to be a really good team. They have a group of really committed young men who want to keep the other team from scoring. They just keep coming at you. They throw a little too much adversity at you.''
Jackson said there is nothing complicated about what the Buckeyes did.
"It's pride on the defensive end,'' he said. "It's working as one.''
It must be noted that Coffman owes Holtmann a lot for getting him hooked up with IPFW. In the spring of 2011, he was an assistant on a Colgate staff that was fired after the team went 7-23.
So there was Coffman with a pregnant wife, 3-year-old son and no income other than severance pay.
Holtmann came to the rescue by dropping Coffman's name to IPFW coach Tony Jasick. He then served as an assistant for three years before taking over when Jasick left for the Jacksonville job. His teams have gone 16-15, 23-8, 20-13 and 18-15, including an NIT berth the second season.
It figured the Mastodons would hang close to the Buckeyes only if Konchar, a redshirt senior guard, kept firing in threes. He has scored 1,491 points in his career. This season, he hit up UCLA for 25. Last season, he got Indiana for 16.
But Muhammad, a 6-foot-3 trash-talker with long arms from Jersey City, New Jersey, limited him to 13 points in 6-for-15 shooting. He was 1-for-4 from three-point range.
"He is who we recruited,'' Holtmann said of Muhammad. "We fell in love with the kid when we recruited him. He's willing to take on the challenge. That's why we chased him every day like we did. We know that was going to be important for us. He was terrific and important on (Konchar). He just moved his feet and made him work.''
Muhammad has chased opponents all over the place in starting the exhibition game against North Carolina-Pembroke, the opener against UC and now IPFW.
One can see him get a lot of joy out of not only stopping an opponent, but getting him agitated to where his game is thrown off the tracks.
"Yes, I love defense,'' he said. "Everyone who plays basketball loves to score, but what is scoring if your guy also is scoring? It's better when you score and get a stop. If you score 20 and your man is scoring 20, you really aren't scoring. That's what I grew up on.
Muhammad wants to take important shots and wants to be assigned the hot shot shooters. Of course, there will be those freshman moments. But he does not play eyes wide open.
"That's credit to my teammates – everyone on the team,'' he said. "They allow us to be ourselves and just play. They coach us through every play and every decision we make. I thank my teammates for that.''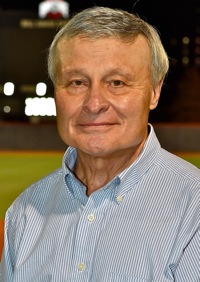 And just how did he hinder Konchar?
"It's a big job, a big role, and you have to lock in,'' he said. "You have to know what his strengths are and what his weaknesses are. He's a great player at the end of the day. You just have to stay attached to him and pay attention to detail and play your role.''
Buckeyes fans will look at LeDee's numbers and think he could be a budding George Reese or Terence Dials.
Holtmann was more excited by what he saw in the first half when LeDee played all of 3 minutes, 20 seconds and scored one point.
"The second half is the second half,'' he said. "I think his play in the first half is what I thought was what was good for him. There were short minutes that he gave us when he didn't turn it over, he didn't have any offensive fouls, he rebounded, he defended with activity, and finished a couple of plays. Those minutes in the first half are critical for him."