Collin Moore was electric, and the defense pitched a shutout. Loramie makes a statement about its football pedigree with regional semi-final win over Lehman.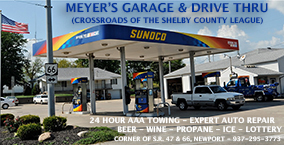 Piqua – Without question the Fort Loramie Redskins are overlooked in terms of their place in Ohio Division VII football.
Playing as a member of the Cross County Conference, the Redskins easily claimed that league's title this year but without the respect they probably deserve. People simply don't think of the CCC in terms of state football relevancy.
But Saturday night the Redskins and first-year coach Spencer Wells took another step towards making a case for themselves – a 35-0 shellacking of the Lehman Cavaliers (8-4) to advance to next week's Region 28 regional finals. To quote some vintage Conway Twitty…they've never been this far before.
They did Saturday as they've done it all year, now boasting an 11-1 record. Quarterback Collin Moore and running back Carter Mescher gained the yards and scored on the ground; they passed enough to Mason Kemper and Mark Seger to keep the Cavaliers' defense honest; and defensively, they harrassed one of the area's best quarterbacks (Lehman's Elliott Gilardi) as to make him inconsequential.
"I thought we executed well, and our defense was very sound," said Wells afterwards. "Because Gilardi is a very good quarterback and they do a lot of good scheme with him.
"Offensively, we controlled the line of scrimmage and were physical. That was a big goal for us this week, and it's a goal for us every week."
They're not known for football success at Loramie. It's traditionally been a basketball and baseball schools, owning state titles in both boys and girls hoops, and three baseball crowns since 2007, including last year's Division IV championship.
But these are days when Spencer Wells and the fresh culture of football are making an impression, not only on the competitive legacy of Fort Loramie, but on rival area football programs, as well. On a night when backyard rival Minster lost to Convoy Crestview, Loramie now reigns this week as the best team on route 66 left in the tournament.
Next week's matchup with Crestview in the regional final will mark the farthest they've ever advanced in post-season football. So, any question as to their readiness?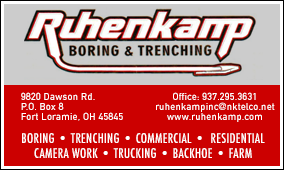 "We've talked about it, and this has to be our best week of preparation so far," said Wells. "It has to be our best week as coaches, as players…everybody in our football family. I have no doubt that we'll have a great week and be ready to go next Saturday."
And Collin Moore, who scored a pair of touchdowns in Saturday's win over Lehman, could not agree more.
"Our offensive line made it easy for us tonight," the 'Skins signal caller said. "They opened some big holes tonight. But the year has been awesome. We started off slow in Week One when we lost to Minster, but that was an eye-opener over what our season could be about. Now we've come together as a brotherhood, it's all been fine, and we're winning games."
In a wide-open division across Ohio people had better take Loramie seriously.  Talented on both sides of the ball, and with competitive depth at most positions, they really believe they can play with anyone in Division VII, and anywhere.
"I think we can play with anyone we have to," Moore adds. "If we stick to our roles, and play as a brotherhood, I think we can play with anybody."
And they'll get that chance next week, with no doubt a large contingent of Loramie football alumni there to watch it. Crestview, who beat Minster 28-14 on Saturday, messed up the chance for rematch drama, but that's easily overlooked for the sake of the chance to take one more step.
"The talent in Division VII is really spread out (across the state)," adds Wells. "But there's some really good ones out there and now we get the chance to roll with it this week.  We'd better be ready."
And the irony of it now…is braggin' rights. No one foresaw this coming in August, and especially after their losing to Minster. But now Minster is out, Loramie hasn't lost since, and the door is wide open for making new history. Cue the Conway Twitty.
They've never been this far before.