Friday Division VI slugfest between Coldwater and St. Henry was so evenly played that it came down to a missed point after touchdown…and that was enough to send Coldwater on to next week's regional final.
Sidney – It was expected to be good, and it was.
It was expected to be evenly played…and it was.
On a freezing night with 20 mile per hour wind and occasional snow flurries it was expected to be determined by the team that could run the football best.  And ultimately, even that was pretty even.  Coldwater finished with 210 yards rushing, and St. Henry had 253.
Turnovers?  Well, the old cliche' says that the team that doesn't turn it over usually wins.  And even that was pretty even, albeit St. Henry frittered away opportunities with a pair of fumbles lost and an interception.  Coldwater had no fumbles, but did have a pair of Jake Hemmelgarn passes picked off.
And then they say sometimes that when everything else is equal that special teams play will determine the outcome.  And in the end of Coldwater's 20-19 win over St. Henry in the Division VI regional semi-final, that was exactly what determined the outcome – a missed extra point.
And fact of the matter, both teams had one – Coldwater had a PAT blocked after scoring the game's first touchdown in the first quarter.  But it was St. Henry kicker Ethan Thieman's miss after the Redskins had scored what looked to be the tying touchdown with 4:14 remaining in the fourth quarter that turned out to be the difference.  20 points for Coldwater, and 19 for St. Henry!

But Coldwater pulled the game's biggest surprise when coach Chip Otten came out running the football.  A team that had passed all year – a team not known for its physical line play – came out and beat St. Henry at its own game in the first half.  Mitch Niekamp ran 25 times for 159 yards in the game, and promptly moved Coldwater down the field in the second quarter, enabling quarterback Jake Hemmelgarn to score the game's first touchdown from four yards out with 10:53 left.  Blake Dippold's extra point was blocked, and the Cavaliers led 6-0.
Three minutes later, St. Henry's Zach Niekamp answered, from three yards out, but Ethan Thieman chili-dipped the PAT attempt into the teeth of that 20 mph wind and it came up a yard short of the cross bar.  Scored tied…6-6!
On Coldwater's ensuing drive Mitch Niekamp scored from three yards out, after moving the ball steadily downfield, and this time Dippold's extra point gave Coldwater what amounted to a halftime lead of 13-7.
But the other Niekamp, Zach, eventually tied the game for St. Henry with 4:37 left in the third quarter on a 15-yard run, and this time Thieman's kick was true.  13 -13!
Then, after getting good field position on kickoff, Hemmelgarn moved Coldwater inside the red zone…and connected with Jacob Wenning on a pretty, twisting catch in the corner of the end zone with 1:10 left in the third to put the Cavaliers ahead, 20-13.

The wind strengthened, and the intermittent snow that had flurried throughout the game became heavier as the fourth quarter began, and with it St. Henry again moved the ball steadily downfield.  But they were stopped on the Coldwater 21 yard line when on third down Zach Niekamp slipped and fell with wide open running space;  and on fourth and one he was stopped for no gain.
Coldwater took it over on downs, but was forced to punt, and this time St. Hank DID cash in…with 4:21 remaining in the quarter and the game when Niekamp scored his third touchdown of the game on a two yard run.  The question then was…go for the tie with the extra point, or go for the lead with a two-point conversion?  St. Henry coach Brad Luthman went for the extra point, and Thieman drilled it solidly…but directly into the right upright.  They ricochet through sometimes, but so square was Thieman's kick that it clanked directly back towards the line of scrimmage.  A groan went up from the St. Henry crowd over the howling wind.  To borrow from the old ABC sports ad…it was the agony of da' 'feet'.
"We had played defense so well in the second half that I thought there was no need to press things with 4:12 left,"  said Luthman afterwards.  "So, we decided to kick," – believing they'd get the ball back.
And in fact they did, with 2:13 second remaining.  But this time the drive stalled as Coldwater's run defense stiffened, denying Niekamp that one last surge upfield;  and on third down from midfield quarterback Sam Lefeld's pass attempt was intercepted by the Cavaliers' Cole Frilling after the intended receiver slipped and fell down.
"I couldn't believe it…I looked up and the ball was coming and I said to myself…don't drop it"  said Frilling.  "Don't overthink it, just catch it and get down."  There was exactly one minute remaining on the clock.  Coldwater took over, ran out time on the clock, and the Redskins' season.
"Great football game,"  said Coldwater's Chip Otten.  "And when you get in the playoffs and play good teams this is how it's going to be.  It was hard-nosed, they were a physical team, and we had some warriors for us tonight.  Ben Wenning and Mitch Niekamp, and Mitch was on a mission with his running in the first half, and that was important because we really couldn't throw it much."
A month ago when they lost to the same St. Henry team they weren't able to run, so what was the difference?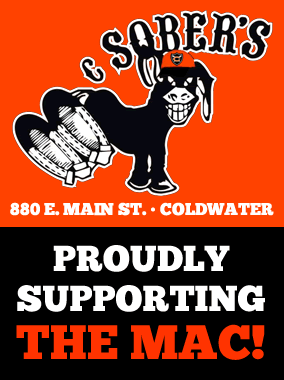 "We changed our running game up a bit,"  added Otten.  "Just a few little blocking schemes that helped us early, we used about four or five different runs that helped keep us out of third and long situations.  For the most part we were able to keep moving forward throughout the game.  I was a little surprised when they didn't go for the lead with the two-point conversion in the fourth quarter, but those are tough decisions on a head coach, whether to go for it or not, and they probably thought they were moving the ball in the second half and stopping us better.  I'm guessing they believed they'd either get the ball again or get the game into overtime."
Some numbers:  Coldwater won it with 263 total yards (210 rushing and 53 passing), while St. Henry lost it with 328 total yards (253 rushing and 75 passing).  Zach Niekamp led all rushers with 31 attempts for 166 yards, exactly seven more yards than Mitch Niekamp had for Coldwater.  It was that close.
Outside the St. Henry locker room Brad Luthman smiled as he put some perspective on his team's season.
"I love my team.  I love my seniors and what they did this year.  I think when you consider who we graduated last year people are going to say that you can't get better.  But that's what these seniors did this year.  We had some great accomplishments.  We ended their (Coldwater's) 21-year win streak (against St. Henry), and in the end I said all year that we'd be tough to beat if we played a clean game.  But we didn't play a clean game tonight.  We had three turnovers and umpteen penalties (actually 5, for 72 yards)."
As about the decision over the possible two-point conversion, Luthman didn't hesitate.
"Because we were playing good defense in the second half I thought we didn't need to press things with four minutes remaining.  And the second thing…my career at Versailles ended, and Coach Hetrick's career ended, on an extra point, so you would have I knew enough to go for two points.
"But hats off to Chip and his staff, because in a couple of weeks' time they put a plan together to come out and run the ball down our throats in the first half.  We didn't have an answer for it, and we haven't had many teams do that to us the whole year.  Hats off to 'em…#41 (Mitch Niekamp) is a nice player."
It was close, yes.  And it was meaningful…even emotional.  Neighboring schools separated by just five miles on state route 118, braggin' rights mean a lot.  And when St. Henry finally did break that 21 year losing streak at the hands of Coldwater last month they fired off fireworks at game's end to commemorate the moment.  So of course, at the conclusion of this game someone from the Coldwater student section shouted, "Where's the fireworks?"

But what it really means is…Coldwater, the leading candidate for being the over-achieving team in this year's playoffs, lives to play another week, and another game, with another familiar opponent.  Marion Local, who beat Lima Central Catholic Friday, is next up.  And the only loss on the Flyers' record this year came three weeks ago against Coldwater.
Hard-nosed?  Physical?  This is how it's going to be, as Chip Otten expressed.  No surprises next week when two good football teams meet in a bitter-sweet scenario that didn't used to be.  When Coldwater was Division V and Marion was Division VI you pretty much counted on both teams getting out of the region.  But not anymore.  Somehow it was better back then, with more to anticipate,  but that's another discussion for another column.
Now, all that's to be anticipated is another great football game with that which the MAC has come to stand for at stake.  Coldwater vs. Marion.
While in St. Henry…the agony of da' 'feet'!