In straight sets 18-10 Versailles dispatched a 25-2 team to advance to the Division III Finals on Saturday and proved that the power seat of state volleyball is to be found in west-central Ohio.
Fairborn –  The Versailles Tigers beat Tuscarawas Valley in straight sets Thursday evening in the Division III state semi-final round at the Nutter Center…and in doing said a lot about the power seat of Ohio high school volleyball.
One, that a team with an 18-10 record could literally dismantle another regional winner that entered Final Four play with a 25-2 record.
And two, that a case could be made for a league such as the Midwest Athletic Conference (the MAC) having no less than four teams that on a given weekend could do the same.  So, if an 18-10 team could win in the manner that Versailles did Thursday, can it not be said that proportionately the best volleyball in Ohio lies within the five county area of west-central Ohio comprising the MAC and the Shelby County League?
In straight sets the Tigers took down Tuscarawas by scores of 25-6, 25-21, and 25-18…and did so with size, power, and efficiency.  Versailles averaged a 69% offensive percentage (hits in bounds) for the match, while their dominance in size and athleticism was hard to overlook.
"We're a young team with just two seniors,"  said Tuscarawa coach Marianne Humphrey, in her second tenure as the Trojans' coach.  "But we don't play many teams with the size and ability of Versailles.  We knew about their the league, and the league that we play in (The Inter Valley Conference) doesn't compare in terms of competition."
And that league rendered a pair of teams Thursday (New Bremen and Versailles) that will for the second year in a row compete for two of the state's volleyball titles on Saturday.  New Bremen knocked off Monroeville earlier in the day in Division IV, and Versailles will now seek its third volleyball title in in five years when it meets Independence for the Division III crown.  Independence defeated Defiance Tinora in Thursday's first Division III semi-final match.
"We were consistent today, and our blocking made a big difference,"  said Versailles coach Kenzie Bruggeman.
And indeed, Versailles' size advantage at the net with Liz Ording, Lindsey Winner, and Brooke Stonebraker gave the undersized Trojans from Tuscarawas County fits.
"And when we don't miss serves…we're a very different team.  That was our focus all week,"  added Bruggeman.  And to her point, at one point in the opening set junior Lindsey Winner served ten consecutive points  to make the outcome academic.  The Tigers would take that set by 19 points!
But offensive efficiency aside, their advantage at the net was dominating.  Versailles tripled the number of rejected shots, 11 to 3.
"We knew we were going to be able to put up a great block,"  said Bruggeman.  "So we wanted to find a way to be as consistent on offense as possible.  How can we put the ball in play?  That was the focus, and I thought it was well-executed today."
It was so well executed that there was little to talk about in the post-game press conference, at least from Tuscarawas' sake.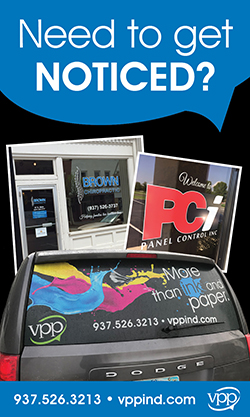 "We're young," said Humphrey.  "At one time we had two freshmen, two sophomores, and two seniors on the court.  That being said, Versailles has several seniors, they come in with a lot more experience, and at this level of play that makes a difference.  We knew about #20 (Liz Ording), but we didn't know about #25 (Lindsey Winner).  We actually practiced against the block this week and prepared the best we could, but it was overwhelming for freshmen and sophomores to come into a venue like this and play an opponent like that.  They played very well."
Very well, indeed.  And ironic for a team that was in such desperate straights for direction just six weeks ago, and in the midst of a mid-season slump that offered little or no hope at all of them getting this far – of defending their Division III title of a year ago.
"It's a mentality, really,"  said Bruggeman, trying to describe not only the turnaround, but the consistency of their late-season momentum.  "But we never stopped believing.  It took us a while to find the right combinations, and to impress upon the girls that we're not satisfied with the successes that we had.  Even today, when we won the first game 25-6, I told them that there was still two more games to win.
"Plus, when you think about the day in and day out games that we play…it's crazy when you play New Bremen, St. Henry, Coldwater, and Fort Recovery you're going to be exploited, and if you have weakness they're going to be exploited in a MAC game, and I'm sure that's where we've gotten most of our growth from."
Thursday's loss snapped a string of 17 consecutive wins for Tuscarawas, but against who?  Magnolia Sandy Valley is a far cry from St. Henry and Fort Recovery…and East Canton cannot be compared to the challenge of facing New Bremen on a Thursday night.
And no surprise for Humphrey and the Trojans, who for the second year in a row lost to Versailles in the semi-final round.
And for the sake of the record, 18-10 had to stand as a surprise to the uninformed, as to how a team that at month ago stood at 10-10 could have come so far, so fast – and take down a 25-2 team with workman-like precision.
"I can't get over how blessed I am as a coach to be in such a competitive community,"  said Bruggeman later.  "Even the non-conference games we play against Russia and Anna is such an elevated level of competition.  When you can do that week in and week out it just makes you better.  It's fun, and it makes all the girls that more competitive.  It's humbling to be a part of that because we get to play against all those amazing teams."
What's amazing is…they played one of the four best teams (by region) in the state of Ohio Thursday and the Versailles Tigers, at 18-10, simply pushed that team aside.

And yes, Independence, out of Cuyahoga County, of the Chagrin Valley Conference, will have a chance to make their own statement on Saturday (1 pm).  But with the momentum that Versailles has, along with the obvious motivation of adding another title to the MAC's already burgeoning list…if you're a betting man you have to like the chances of two more titles coming back to Darke and Auglaize County this weekend for the second year in a row.
Anything else is possible, of course.  But from the looks of what we saw Thursday…just not probable.  And then, of course, as well as they played…Kenzie Bruggeman and the Tigers are not satisfied.  They still have three more games to win!