If you noticed, Week 1 of the high school football playoffs gave some evidence that for the sake of quality the process is too big…and too many teams that won't remember their weekend experience fondly.
OK, let's have some fun with this, those of you who've called the suggestion laughable in the past.  But let's consider the argument again.

Tell me, the die-hards who can't get enough of a good thing…tell me your argument again that eight high school football teams in the region is the right number, and how more is better, how the experience should be shared by more, because the memory of being in the playoffs will last for a lifetime.
But before you do that, consider these local scores from last week:
In Division VI…Marion Local beat Spencerville 55-7…St. Henry beat Mechanicsburg 37-7…and Coldwater beat Deer Park 49-14.
In Division VII…Loramie beat New Miami 41-0…Crestview beat Miami Valley Christian 57-30…and Minster beat Riverside 51-6.
In Division II…Troy beat Harrison 48-7.
That's seven games locally, that all had a winning margin of 27 points or more, and still, a regular reader of this site came to me at the Minster game on Saturday night and said, "I can't wait to hear what you say next week…about how there's too many teams in the playoffs, and why the regions should go back to four teams."
Well, I'm just sayin'….that when you look at scores from around the state there were eighteen more games on Saturday night with a margin of 27 points or more…and seven more in Division VI from Friday in the other three Division VI regions.  So you do the math and you'll find that that's at least 32 games, state-wide, that all had first-round margins of four touchdowns or more.  I have no way of discerning how many games finished with running clocks, but I'll share this.  In the two games I attended people were glad it was there.
But convince me, when 40% of the games in D-VI and D-VII (state-wide) end with non-competitive first round scores, if perhaps we don't have about four teams per region too many.
Or, to narrow things down, do we need the seventh division in high school football, because in the top five divisions there weren't nearly that many lopsided scores.  In fact, when you look at Division I through V the average margin of victory over the weekend was just over two touchdowns.  Which may tell us…there isn't enough balance across the state to justify seven divisions.  Maybe this is the proof that there's not enough competitive, or balance,  for "competitive balance".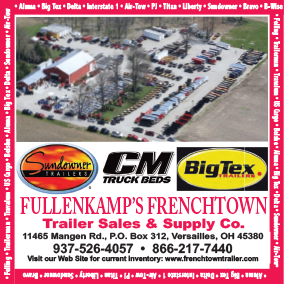 Maybe it means if some schools want to play football they should offer seven, or eight-man football.  And former official, Steve Partington, did call Sunday from Florida to say, after reading the weekend scores, "It won't be five years until there is seven-man football in Ohio."  And seven-man football would make sense for small schools in counties like Darke and Shelby that would like to play, but would struggle to play with eleven.
Of course my friend in Minster mentioned that if the regions were cut back to four teams it would have excluded some of the MAC teams from the tournament in years past.  And yes, there would be some schools that don't get in with winning records, but that's always been the case.
And yes, the Troy vs. Harrison score on most nights would not be a five-touchdown outcome.  There will always be the inexplicable score, just like a few years back when the Minnesota Vikings lost by forty points in the NFC Championship game.
But for the sake of the discussion..schools that struggle to pay for football…and schools trying to play with 19 kids, as Deer Park did on Friday…at some point something needs to change.
The overall quality of the tournament would be better.  The question of whether a $9 ticket for a 55-7 game is justified will go away.  And the question about a break between seasons and sports would be addressed if the football Finals were over by Thanksgiving, and basketball season didn't start for another three weeks.
Or, we can do nothing while continuing to ask what can be done to ensure the future of football…or why only 200 people from some schools show up to see a first round game…or telling yourself that 55-7 is really doing what's best for kids?
Still want to argue?  40% is hard to dispute, and I don't think these issues are going to go away with the current course.  So there is basis for argument.
At least…mine.