Jackson Center gave it a good run on Saturday, but the Cardinals' balanced offense has the team two wins away from repeating as the D-IV state champions.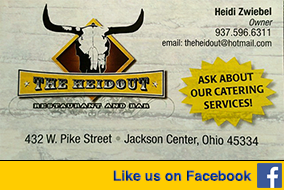 Clayton – New Bremen's volleyball team heard the talk from naysayers after the graduation of Paige Jones, now a standout for the Michigan Wolverines.
New Bremen heard the talk after losses to St. Henry and New Knoxville. And then again after consecutive, season-ending defeats to Fort Recovery and Coldwater to fall out of contention for the Midwest Athletic Conference championship.
The New Bremen Cardinals weren't going to have a good season the naysayers said. And all those doubters were, in a sense, right.
The New Bremen Cardinals' season hasn't been good. It's been great. The Cardinals moved two wins closer to making their team motto 'New Team with the Same Dream' a reality following Saturday's 3-0 win against Jackson Center in the Division IV regional championships at Northmont High School's Thunderdome.
The balanced Cardinals (23-4) kept Jackson Center (24-4) on its heels with sustained scoring runs and defense. The Tigers kept battling and got their points, too. Just not in big enough spurts to avenge last season's regional semifinal loss to New Bremen, also in three sets.
In the first game Jackson Center trailed 6-5. New Bremen scored the next five points for some distance. The teams traded the next four points – giving New Bremen a 13-7 lead – before another New Bremen mini spurt put them up 18-9.
The Cardinals followed that pattern to close out the set 25-15 and continued it to win the next one 25-13.
And if those same naysayers who said New Bremen wouldn't be good this season thought Jackson Center would fold in the third set, well, they were wrong again.
Jackson Center – representing the same strength and fighting spirit displayed by coach Kim Metz and her battle against breast cancer – erased a 20-14 deficit to trail 22-20. It took New Bremen three attempts at match point to keep the dream alive, 25-22, on sophomore Claire Pape's winning kill off senior Madison Pape's assist.
"That's one of the best parts, just proving people wrong," said New Bremen senior Rachel Kremer. "Just showing them we're still good. Obviously, like last year if we have a player like Paige we're going to use her to our advantage and give her the ball a lot. This year everyone across the board is really good. We don't have to have that one person to give the ball to. If the ball goes to anyone we trust them to put the ball away."

In last season's regional victory over Jackson Center, Jones had 28 of her team's 51 kills. On Saturday six different players combined for the Cardinals' 41 kills. Junior Taylor Paul had 10, Kremer eight, Pape and junior Macy Puthoff seven, sophomore Josie Reinhart six and junior Ashton Heitkamp three.
Puthoff also added six digs and three of the Cardinals' 11 aces. Senior Blake Snider added seven digs.
Senior setters Abbi Thieman and Madison Pape had 21 and 15 assists, respectively.
"We definitely have a lot more variety on the floor," Madison Pape said. "It's nice because I have options and I can trust them. I can set anyone and I definitely break it up so the other side doesn't know where I'm setting."
New Bremen plays Monroeville (24-3) in the D-IV state semifinals 2 p.m. Thursday at Wright State University's Nutter Center. Tiffin Calvert (24-3) and Portsmouth Clay (25-5) play in the other state semifinal.
"It's such a good feeling," New Bremen coach Diana Kramer said. "I'm proud of my team. I'm proud of my coaching staff. I'm proud of the entire community. Three-fourths of the gym was filled today with New Bremen people."
They stuck around for awhile after, too, celebrating the Cardinals latest title which some thought seemed so unlikely following back-to-back losses to Coldwater and Fort Recovery to end the regular season. The losses dropped New Bremen to 6-3 and third place in the Midwest Athletic Conference.
"I think that is probably the best thing that could have happened to us," Kramer said. "We were defeated after we played Fort Recovery. As soon as we got in the locker room I told them we've won an MAC championship and we've won a state championship (both last season). Which one is better? They said winning state."
The Cardinals, ranked No. 3 in the final D-IV state poll, refocused. They beat No. 2 Fort Recovery in three sets to win the sectional final. Then, trailing 2-0 to St. Henry in the district final, New Bremen unleashed a season-saving rally to knock off the state's top-ranked team in five sets.
"From the beginning of the season we were like this is our year if we all work together," Puthoff said. "(Going to state this time) actually feels better. It's really hard to get to state twice. We want to get there and win again."
Jackson Center, meanwhile, was trying to return for the first time since winning titles in 2015 and 2016. The Tigers, who tied Russia for the Shelby County Athletic League title, also had one of the state's best players in senior Raquel Kessler.
"She's a great player. We knew we had to stop her," Puthoff said. "I think everyone stepped up and did that. They have some other great players. As long as we worked as at team – we had a great back row today – we got it done."
The Tigers never seemed out of any of the three sets, but had trouble getting into its offense against the Cardinals and struggled to find a rhythm.
"An awful lot of fire power on the other side. You have to stay aggressive," Metz said. "I look for them to repeat. I hope they get another state title out of this team."
Metz said she would be lying if she said she knew her Tigers would reach the regional finals. She also said she wouldn't be totally honest if she didn't expect them to make it. Winning a state title, after all, is Jackson Center's goal every season.
"I think you start a season with the plan to play in the very last match of the season," Metz said. "I don't start a season without that expectation. I might be little one-sided sometimes. People might call me an idiot for thinking that, but I think you have to have consistent goals and you have to put an expectation level on the kids. If you expect a lot you force them to give more."
Jackson Center graduates Katelyn Sosby, Riley Jackson, Caroline Frieders and Kessler. The Tigers were young and inexperienced at spots on the court this season, but another run to the regional tournament will help for next year.
"The biggest thing we bring back is heart. We bring back integrity. … If tomorrow was the next day of practice I'd be there with bells on. We just love being in the gym that much," Metz said.
"Just an amazing group of kids. We've been through so much this season. I don't wish (cancer) on anybody. I think it's a stupid disease. I think we need to find a cure. I think anyone who has to go through it, it's life changing. I think people who are in the health care fields that care for people going through this, they own their jobs. The people who are caring for me are amazing. … They've been my rock through this entire season."
As the Cardinals were winning their regional title near Englewood, two of Kramer's friends were watching a regional championship about three hours away. Former St. Henry coaches DeDe Stoner and Lori Schwieterman – as they did last season during the Cards' title run – were scouting Monroeville in Uniontown, located just south of Akron.
Kramer also credited a handful of other unsung heroes that have gone unrecognized but play a role in the team's success.
"The thing that makes us so good, though, is the people that get no credit. My girls that sit on the bench and bring it in practice every day," Kramer said of sophomores Diana Heitkamp, Madison Cordonnier, Elli Roetgerman, Katie Howell and freshman Chloe Bornhorst. "You could have come to our practice yesterday and you wouldn't know what the starting side is. … Those players don't get any credit in the paper or in the stats, but they are the reason we are in the position we are. They make my starters' side really, really good."
And that has the volleyball world talking about New Bremen again. In a good way.
"We got a lot of comments this summer that we weren't going to be that good. Just from all over people weren't expecting anything big this year," Kremer said. "It feels surreal this year. Last year I was in tears when we won. This year I'm kind of like, 'Wow.' It's actually happening again."
Added Madison Pape: "We definitely had this goal even after last year. We knew it was going to be hard but we definitely have a lot of talent on this team. … Going to state twice is a lot more fun than going once."
And Thursday the New Bremen Cardinals plan to let their play speak for itself.