There were as many questions and answers – and way too many turnovers – in the Buckeyes' winning debut Friday over North Carolina – Pembroke.
Columbus – Freshman Luther Muhammad has been involved in 24 practices, a scrimmage against Xavier and now an exhibition against North Carolina-Pembroke during his short time at Ohio State, but he has been around long enough to know what probably will happen the next time the team meets.
"You have to be very careful with the basketball,'' he said of turnovers. "No one likes running 22s.''
Twenty-twos are a punishment drill in which players must run from baseline to baseline in 22 seconds or less, or they might run some more.
"He doesn't like it when you turn the ball over,'' freshman guard Duane Washington Jr. said of second-year coach Chris Holtmann. "Every possession matters.''
Told that Muhammad and his teammates dread 22s, Holtmann didn't crack a smile when he said, "They should.''
Keep in mind that Holtmann was a star point guard for Taylor University, and taking good care of the basketball has been the first commandment since his high school days in Kentucky.
The Buckeyes dispatched Pembroke, a good team but a Division II team just the same, quickly but not always efficiently in winning 81-63 before approximately 5,000 on Thursday night at Value City Arena.
Holtmann waved off 5-for-25 shooting from three-point range saying it probably was "jitters'' playing in front of a crowd for the first time this season. The team was 22-for-36 inside the arc.
But, oh, those 21 turnovers had him burning. Five giveaways came from sophomore forward Musa Jallow, four from junior forward Andre Wesson and three from senior point guard C.J. Jackson.
Jackson, in particular, was pulled aside for a lecture after a turnover during the first half.
"C.J. Jackson plays really hard, but he has got to get his play more sound,'' Holtmann said. "The kid has a really good motor.''
Holtmann said "guys should know what they can and can't do'' and "my expectations are a little bit higher.''
The 22s are no fun, but the scenario for more loose play with the ball is much worse.
"I have to do a better job of communicating with them, and that might be (them) sitting,'' Holtmann said.
The four true freshmen were brought into the interview room, but Jackson, Andre Wesson, Jallow and the other veteran players were not.
This was supposed to be Ohio State's biggest test in an exhibition game in recent memory, what with Pembroke having won 27 games and Peach Belt Conference regular-season and tournament championships.
Braves coach Ben Miller, noting that the Buckeyes have been picked to finish eighth in the Big Ten by the news media, said fans shouldn't be wringing their hands.
"They're picked seventh or eighth in the Big Ten and that's nuts,'' he said. "They are going to shock a lot of teams this year.''
He went as far to call Ohio State's inside players "monsters.''
Volunteer assistant Eldon Miller, who coached the Buckeyes from 1977-78 to 1985-86, passed off the turnovers as a lot of players having played in what won't be the normal rotation.
"They have a chance to be very, very good,'' he said. "They're deep and they have several guys who can score.''
Ohio State did dominate the inside as it should have, with backup center Micah Potter totaling 13 points and six rebounds and starting pivot Kaleb Wesson going for 12 points, 10 rebounds, one block and two steals.
The outcome was all but decided after freshman forward Jaedon LeDee hit a follow to make it 42-17 with 2:29 left in the first half.
"There's a lot to take from this game, good and bad,'' Holtmann said. "We'll move forward. We have a lot of significant areas for improvement – significant . . . . significant. We were way too careless with the ball. We've seen guys struggle with it, honestly. I won't call anyone out. I'm not going to play guys extended minutes who don't take care of the ball.''
He did say that the players took better care of the ball in a victory over Xavier, which has been a Big East power.
Holtmann has every right to be concerned with a demanding first three games against Cincinnati at the Shoemaker Center, Purdue-Fort Wayne at home and Creighton in the Dave Gavitt Classic in Omaha.
On November 28, Ohio State has what could be its biggest non-conference game against Syracuse at home.
To put it bluntly, this is not the sad sack bunch of softies that Thad Matta used to schedule before the Big Ten season.
"It's the schedule – it's the season coming,'' Holtmann said of his sense of urgency.
Muhammad, a 6-foot-3 four-star recruit from Jersey City, New Jersey, started and totaled nine points, three assists, one rebound and one steal in 17 minutes.
Holtmann said not too much should be read into who started. The other starters were Kaleb and Andre Wesson, Jackson and Kyle Young.
"That's our best defensive team,'' he said. "Keyshawn (Woods, a graduate student transfer from Wake Forest) could really start, but I like an experienced guard coming off the bench. I think the starting lineup will be very fluid.''
Still, Muhammad's excitement couldn't be hidden.
"It feels great,'' he said. "It has been a learning process to learn the type of defense we play – staying in the gap – and learning the offense and all the plays, being a great teammate and coming to work every day.''
Justin Ahrens, a freshman from Versailles, had to wait the longest to hit the floor for the first time. He got in just inside the 14-minute mark of the first half and wound up going 1-for-5 – every shot came from three-point range – with two rebounds, two assists and one turnover in 15 minutes.
Ahrens hit his first basket with 1:52 left in the first half, a high-arching trey from the right baseline. One of his shots was an off-balance jumper in order to beat the buzzer at the first half.
"I was excited,'' Ahrens said. "I'm not sure how much I'll play this year, but whenever my name is called I'll give it 100 percent effort for this university.''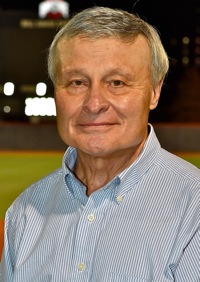 The freshmen are roommates and have become close since the start of their recruiting process.
Holtmann wasn't all gloom and doom.
"We'll get better in those (ballhandling) areas,'' he said. "Andre had three assists and zero turnovers in that Xavier scrimmage. These guys want to do the right thing. C.J. handled the ball a lot for us last year and had turnover issues early. He got that corrected and he has to move in that direction.''
Kaleb Wesson and Potter did play a number of minutes together, but two post players being on the floor at the same time won't happen often.
"In today's day and age, it's hard to play guys like that,'' Holtmann said. "When you are playing two traditional bigs, it's certainly something I'd like to look at. But 95 percent of teams don't play that way anymore. There could be times where it could be looked at, but it won't be a steady diet.''