The stakes are higher as we embark on playoff football, 2018, and notice all the new faces in this year's Round 1 games.   OK, you wanted it, and here it is, the Friday 'picks' a day early…our best instinct about who wins on one-and-done Week 1.

This is what the die-hards, and the bluebloods wait for.  Playoff football, and who's "bad" enough (meaning who's good enough) to make it through the five-week gauntlet and a shot at Canton.
And, if you're a fan of this page you get the added bonus of reading twenty four hours ahead of our regular schedule;  because our regular Thursday night/Friday morning schedule is going to be full of regional volleyball coverage in Division III and IV.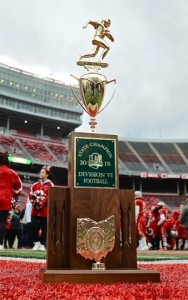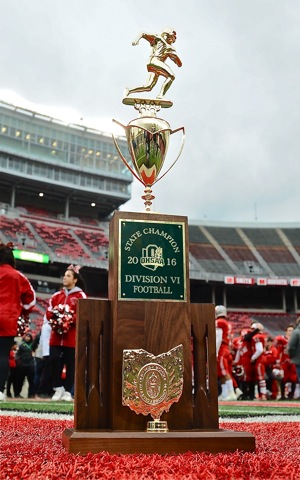 As always, the playoff edition of Friday 'picks' is sponsored by Vandalia Blacktop and Sealcoating, Dave Brusman and Tim Zula, who are completing their third season of bringing you one of our most popular reads throughout the Press Pros coverage year.  We easily eclipsed one million hits on the weekly Friday page this year – the first time in our five-year tenure of high school football predictions.  Our thanks, as always, to Dave and Tim, and the Vandalia Blacktop staff.
What sets this year's first round apart is the number of first-time teams, or schools that have not appeared in the post-season for several years.  Deer Park, for instance, out of Cincinnati, makes an appearance in Division V for the first time in modern history.  And while Elyria Catholic is not a first-timer, it's the first time in memory that the Wildcats have matched up with a team from the Press Pros market.
This, in part, is the by-product of competitive balance – more teams involved with the post-season, different teams, and more representation from parts of the state as far north as Elyria.  That, by the way, amounts to a three-hour bus ride for Anna, and one would think there has to be a worthy team someplace closer.  Yes?  No?
Nonetheless, there are a lot of familiar names, which makes the Friday 'picks' even tougher.  But, we'll get to it without further ado.  Games from even number divisions 2, 4, and 6 will be played on Friday, while games from odd-numbered divisions, 1,3,5 and 7 will play on Saturday night.  Start times for all games is 7 pm.

St. Henry @ Mechanicsburg (D-VI)…On Friday night, the 8-2 Redskins meet the 9-1 Indians over in Champaign County, and lest anyone think this to be a mismatch, consider that Mechanicsburg played Minster and Marion Local right down to the final play of the game in successive years, 2014 and '15.  However, the 'Burg plays in a weak league and doesn't see the kind of competition that St. Henry does, and St. Hank's formidable run game should control the ball, the clock, and the scoreboard.  Too many 'Burg players going both ways, and I think Zach Niekamp has a field day (night).  Close for a while, but St. Henry wins…by two scores!
Spencerville @ Marion Local (D-VI)…Again, the disparity in relative competition.  Spencerville is a nice team if you compare them to Perry and Ada and Bluffton, but the 8-2 Bearcats are a questionable match for a team like Marion.  The Flyers have too many weapons and that awesome passing game.  They'll play hard, as they did against St. Henry a couple of years ago, but I think this is too much.  In one-and-you're-done football, Spencerville loses to Marion by two scores!
Deer Park @ Coldwater (D-VI)…The funny part about this game is that WLW's Bill Cunningham has boasted all week on the air about how Deer Park (his alma mater), with only 19 kids, will exhibit how less is more.  Cunningham is an entertainer, of course, and a good one.  But come Friday, Bill will want nothing to do with this football game by the second half, and a running clock.  Deer Park, even with 50 kids, doesn't play like Coldwater, Marion, St. Henry and the MAC.  Could be a blowout.  Cavs (who dress 70) by 30, or more.
Covington @ Lima Central Catholic (D-VI)…Covington is always the great unknown because while they whipped up on the Cross County Conference in weeks 4 through 10, they lost consecutively in the first three weeks to playoff teams, St. Henry, Minster, and Fort Loramie.  However, LCC didn't play many people like St. Henry, Minster, and Loramie, and I guarantee that they didn't play anyone that hits like Covington.  The T-Birds do have athletes, no question – speed and quickness.  But they won't have the 'chip' that Covington has because the Buccaneers have nothing to lose.  Covington has just enough depth in the backfield, they throw just enough, and they'll be aggressive enough to give LCC a game.  My heart's with Covington, but my mind (for the sake of being right) is with LCC.  LCC by a score…but don't be surprised if I'm wrong!  I think this might be one of the weekend's closest games.
New Miami @ Fort Loramie (D-VII)…In Division VII, on Saturday night, #1 versus #8 and New Miami is 6-4 by way of record, having played too many lightweights.  Loramie will win this game, and win it convincingly.  They'll be crowded at Bruckens by halftime.  Redskins by three scores, or more.
Lehman @ Ansonia (D-VII)…One of the weekend's more interesting matchups for the fact that the respective coaches, Dick Roll (Lehman) and Eugene Hoening (Ansonia) were college teammates at Wilmington.  Too entirely different styles.  Ansonia rarely throws the ball, and Lehman rarely runs it.  That said, Ansonia amassed an 8-2 record by tough, hard-nosed kids (and they don't have many) who controlled the clock.  They're also vulnerable to a good passing attack and Lehman has that.  But at home, in a one-and-done scenario, I think Ansonia has the advantage, especially if it's wet.  And kudos to Lehman, for winning seven of ten while never having more than twenty healthy kids.  Dick Roll is one of the area's best coaches.  But Ansonia in this one…by a score!
Riverside @ Minster (D-VII)…And another example of competitive imbalance.  Riverside won its six games against Perry, Ridgemont, and Upper Scioto.  Minster won its seven against New Bremen, Fort Recovery, and barely lost to Marion Local by a 7-6 score.  A revenue game…Minster wins by at least four scores!
Anna @ Elyria Catholic (D-V)…In Division V on Saturday, a pair of 8-2 teams, and frankly, we know very little about EC except that they've played a schedule, that competitively, looks a lot like Anna's.  And it doesn't take much to figure out…that because of the distance the Rockets are going to have one of the toughest of all Week 1 challenges in the state.  Elyria Catholic has size, they can run the ball (RB Leighton Banjoff has 1,300 yards and 15 TDs), and they throw the ball very effectively.  Quarterback Cameron Engrish has thrown for 2,000 yards and 26 touchdowns.  Anna, of course, counters with offense of its own (Riley Huelskamp has 1,200 yards and 21 touchdowns.  And Anna has shown the big play with its passing game.  But the problem with this game is the three-hour bus ride, and the obvious fact that if this is the best example of what competitive balance can do for Division V…maybe there shouldn't be seven divisions.  Playing on the road, especially against an unfamiliar team in a one-and-done, is particularly hard on inexperienced athletes, and even harder to maintain focus after a three-hour ride on a bus.  For that reason, I think Riley Huelskamp and the Anna attack may have trouble finding its stride.  I'm taking Elyria Catholic in this one…by a couple of scores!
Harrison @ Troy (D-II)…#3 Troy versus #6 Harrison (7-3) and a battle of styles.  Harrison rarely runs the ball, that Troy has struggled in the past couple of years to beat Anderson (they actually split), who plays the same style of football.  Troy's run game will come into play for their ability to control the clock, but Harrison will score and score quickly with their speed and ability to stretch the field.   Quarterback Connor Kinnett has thrown for 2,300 yards, but the question at this time of year is, against who?  They're three losses all came to teams that look a lot like Troy – Edgewood, Anderson, and a team out of Indiana.  They have not played much against the likes of Butler, Piqua, Sidney, and Miamisburg.  If Troy plays their game they win.  And when it's one-and-you're-done it's a bit of guess.  It's high school, ya' know.  Trojans advance, by a couple of scores!