'Buckeye Nation' gets a sneak peak at the 2018-19 Buckeye hoopsters tonight – a lot of new faces and the familiar early questions as to who plays where, how well, and how much.  New Press Pros Buckeye beat man Mark Znidar shares a preview.
Columbus – It was toward the end of practice on Tuesday when coach Chris Holtmann had Ohio State players watch video of Klay Thompson of the Golden State Warriors bomb away in setting an NBA single-game record with 14-pointers.
Holtmann borrows video snippets from a lot of different basketball teams and teams from other sports when trying to make a point, but this had nothing to do with shooting form or finding open space on the floor.
Instead, the video focused on how Thompson's teammates were whooping it up in celebration. The team has wall-to-wall stars, but won three of the last four NBA championships playing for one another.
That's what the Buckeyes did last season in seemingly coming from the depths of the sludge in the Olentangy River to finish in a tie for second place with Purdue behind Michigan State in the Big Ten. They won 25 games, including over South Dakota State in their first appearance in the NCAA tournament since 2015.
The only statistic one needs to know about that team's toughness and togetherness was that it led the conference in defense. Opponents shot 41.7 percent.
Also, how else can you explain the all-for-one, one-for-all mentality when Michigan graduate transfer Andrew Dakich, who averaged all of 3.0 points and 2.1 assists per game, becomes a folk hero?
Can Ohio State, which lost conference player of the year Keita Bates-Diop to early entry into the NBA, in-the-paint warrior Jae'Sean Tate and guard Kam Williams, muster anywhere near that ability to play for one another this season?
The public will get a sneak peek when the Buckeyes play Division II North Carolina-Pembroke at 7 p.m. Thursday at Value City Arena.
The games begin to count against Cincinnati on November 7 at the refurbished Shoemaker Center.
"That was our first real test against a quality opponent and we learned how to play together,'' senior guard C.J. Jackson said of last week's closed scrimmage against Big East power Xavier. The word on the street is that Ohio State won it. "We were one team (and not scrimmaging). The biggest thing was the feel of the game and how we were competing together at both ends of the floor.''
There were no 10-pound egos among the Buckeyes last season. Bates-Diop was all-everything, but didn't carry himself that way. As good as he was, the team was only as good as players such as Tate and Dakich were when opponents ganged up on the star.
These Buckeyes don't have a stud at the moment and might never have one. Jackson and 6-10 sophomore center Kaleb Wesson are the only proven returning scorers at 12.6 and 10.5 points, respectively.
"I would hope that is what is said about our team every year,'' Holtmann said of playing for one another. "That is a choice your group makes individually and collectively. But by no means are we taking that for granted as a given. We have to demonstrate it. We were tied together most games last season. This group has to prove that. It's not passed down from one team to the next.''
Holtmann confesses to be "anxious'' about this team, and it's a nervous type of anxiousness.
"I think we're all anxious as a group and excited about this team, but also anxious because we have a lot of questions that we have to answer as a group,'' he said. "We had some knowns last year with guys who had produced. We have some this year, but we have a lot of questions. We're looking forward to learning a lot about our group here. I think this stretch will tell us a whole lot quickly whether we like it or not.''
The stretch he was referring to is the opener against Cincinnati, Purdue-Fort Wayne on November 11 in the home opener and Creighton in the Dave Gavitt Classic four days later in Omaha.
It might be asking a lot for the Buckeyes to win in the Shoemaker Center. UC played its home games at Northern Kentucky last season while their home was getting a makeover. The unveiling of the building will provide a lot of energy, sure, but the home crowd's long-time dislike of Ohio State would make the game large even if they were playing in the old Armory.
Purdue-Fort Wayne concerns Holtmann for good reason. That team wiped out Indiana 92-72 at Assembly Hall last season on the way to winning 18 games. Creighton is one of the most difficult places to play in Division I, period. Just ask Xavier about that joint.
"Am I concerned about this stretch? Sure, sure,'' Holtmann said. "I hope we respond and as coaches I hope we can navigate our guys through it. It is going to have to begin with our defense. We spent a lot of time on it in the preseason. As coaches we're going to have to squeeze as much as we can out of the players.''
Holtmann wouldn't divulge what his starting lineup might look like tonight, but it's safe to assume that Kaleb Wesson and brother, Andre Wesson, Jackson, Micah Potter, Kyle Young and Wake Forest graduate transfer Keyshawn Woods will be front and center.
It's a also good bet that the freshman class of guards Luther Muhammad, Duane Washington Jr., swingman Justin Ahrens of Versailles and power forward Jaedon Lee will get long looks.
Look for Ohio State to aggressively shoot more three-pointers. Seven players made at least one trey against Xavier.
The long bombing won't begin and end with the guards and small forwards. Kaleb Wesson, who has lost weight and worked on his speed, will be among them.
"We're more than happy to see it in games,'' Holtmann said of Wesson's long-range shooting. "He has worked on it. I don't think you'll necessarily see the same kind of volume Keita had last year. He won't live on the three-point line.''
The players did have the scrimmage against Xavier, but to play in front of a crowd for the first time will be another checkpoint.
"We're excited to see what we can do,'' Jackson said. "We feel like we have a lot of versatile pieces that can do a lot of different things. Obviously we lose some length with Keita and J.T.'s toughness on the defensive end, and we've got to play a little bit harder on the defensive end.''
Jackson said the Buckeyes must play together even more.
"The biggest thing we learned down the stretch (last season) is not to make the home run plays, but to hit singles,'' he said. "Turnovers against really good teams mean losses in the end. We'll be learning throughout the year, but we've been practicing for a month and we know each other's strengths and weaknesses.''
Jackson and Wesson said Young, a sophomore, might have made the most improvement among the returning players simply because of his confidence level.
Andre Wesson, though, might be the player who will be looked on to fill the stat sheet and become more of a go-to player than he was last season. He averaged 2.9 points and took 87 shots.
"Obviously with the big departures of J.T., Keita and Kam, I know I have to step up with my playmaking ability and scoring,'' he said. "I know I'm going to have to score a little more.''
Holtmann said Andre Wesson probably will have to reach double figures in scoring in a lot of the important games for the team to win.
"I've worked on my offensive game a lot,'' Wesson said. "I'm fairly confident. I've worked a little bit on my playmaking ability and I can see myself doing that a little bit more.''
This exhibition actually is the brainchild of former Buckeyes Ron Stokes, Keith Wesson and Dennis Hopson. They wanted their college coach, Eldon Miller, to return to campus. Miller, 79, is an assistant under son, Ben.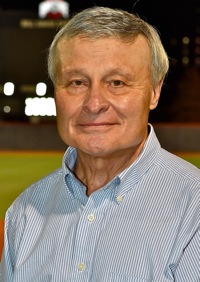 North Carolina-Pembroke went 27-6 and won the Peach Belt Conference regular-season and tournament championships last season.
"We wanted to play a good team,'' Holtmann said. "We felt that would be important for this group of guys. Looking at them on film they are disciplined and athletic. Obviously if you win 27 games at the Division II level you obviously are a quality team. I'm sure this team will be nationally ranked a good part of the season.''
North Carolina-Pembroke returns four players who scored in double figures last season. It was a remarkable year, but really more of the same. The team has played in the NCAA Division II tournament five times since 2010-11.
"You hope you get exposed in some ways, and we will, we will – there's no question about that,'' Holtmann said of this game. "We're going to see some things we haven't seen ib practice. It's adjusting in game to that that we hope to see as well."