It wasn't pretty, it wasn't expected, but it turned out to be another Coldwater-Marion classic.  In double overtime, the Cavaliers snap Marion unbeaten streak to finish their regular season on the highest possible note.

Coldwater – It wasn't neat, or tidy, but it didn't matter.
Anytime you can beat Marion Local, or anytime you can beat Coldwater, how you do it becomes incidental to the fact of just doing it.
And that's what Coldwater can claim after beating Marion Friday night, 26-20 in double overtime, to snap the Flyers' 36-game win streak…to finish their season with a better-than-expected 8-2 mark…and to simply enjoy the satisfaction for at least a week or two of beating the ten-time state champs and a claim to braggin' rights.
"A lot of mistakes by both teams,"  said Coldwater's Chip Otten afterwards.  "But it was a night where everybody made plays at certain times, and we found a way."
They found a way…in the same manner in which they surprised Clinton-Massie…in the manner in which they beat Minster…and by taking advantage of four critical Marion turnovers in the first half Friday, and the slew of penalties that continually shot the Flyers in the foot.
It wasn't expected, much like the 8-2 record that Coldwater now carries into next week's first round of the playoffs, against what looks to be Covington, of the Cross County Conference.  In fact, it wasn't expected that the Cavaliers would make the playoffs at all.  But…they found a way.
They did it by scoring 20 unanswered points in the first half, beginning with a pick-six interception by Ben Wenning at 4:03 in the first quarter, an under-thrown ball by Marion quarterback Nate Bruns intended for Matt Rethman.  Wenning scored without being touched to give Coldwater  a 7-0 lead.
It was a night much like two weeks ago, weather-wise, when Marion's offense struggled to move the ball against Minster.  Footing on Coldwater's bare field was treacherous, and a steady rain and gusting wind made throwing the ball an adventure.  Thus, Marion's offense couldn't get untracked, while Coldwater took its next two possessions in the second quarter and turned them into Blake Dippold field goals to increase their lead to 13-0.
Marion's offensive woes heightened with a pair of fumbles by Nate Bruns, a succession of penalties (holding calls) that kept nullifying positive gains…and another interception in the second quarter that helped set up Coldwater's only offensive touchdown of the half, a 7-yard pass from Jake Hemmelgarn to Jacob Wenning with :49 seconds remaining before halftime.
In short, it was as poor a first half as anyone could remember from a Marion Local offense.
"Too many mistakes,"  coach Tim Goodwin would later say.  And that's all he DID say.  Less was more in describing how the Flyers had played.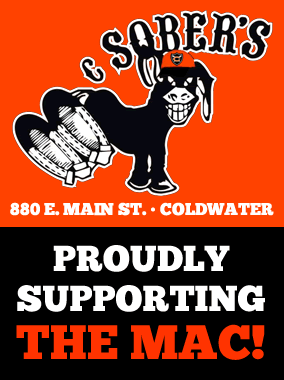 "Those turnovers really hurt them in the first half,"  said Otten, after the game.  "But you knew they weren't going to go away."
And Otten hit the nail on the head.  The Flyers did not go away.
If turn about is fair play, Marion got some justice on Coldwater's first possession in the second half when defensive back John Tangeman stepped in front of a Jake Hemmelgarn pass and raced with it 46 yards for Marion's first score of the game.  It cut the deficit to 20-7.  But more, it breathed life into what had been the lifeless Flyers.
Now it was Coldwater's turn to misfire, to slip and slide in the mud and goo between the hash marks, and to be ineffectual on offense.  Suddenly the Flyers were putting pressure on Hemmelgarn, forcing him out of rhythm, and the Cavaliers to punt.  And at 10:22 of the fourth quarter Nolan Habodasz finally crossed the goal line from one yard out to score.  However, the extra point attempt by Alex Klosterman was blocked when the snap was dropped…but game on!
Coldwater, which amassed 150 total yards in the first half, was struggling to get a third of that in the second half, and turned the ball back over the Marion again with five minutes left in the game.  The Flyers picked up where they left off – Habodasz suddenly finding room to run as the offensive front began moving Coldwater off the line.  Bruns began connecting with receivers Nick Tangeman, Kyle Francis, and Matt Rethman.  And with 3:22 left he found Tangeman in the end zone for an 11-yard touchdown that tied the score at 20-20.
And they had the ball again as time ran out, driving for the Coldwater goal line when penalties – a holding penalty – cost them a chance to score.  Marion would end the game with 14 penalties for 122 yards (and six holding penalties), but none hurt more than being pushed out of field goal range as time ran out in regulation.
Coldwater had the first possession in overtime, but turned the ball over when a tipped pass was intercepted by linebacker Matt Everman.
Marion took its first possession and drove to the five yard line, but a pass from Bruns intended for Tangeman in the end zone was intercepted to kill that drive.
The Flyers had the first possession in the second overtime, and when Brandon Fleck was stopped just short of the goal line Alex Klosterman came out to attempt a chip shot field goal, but from a severe angle on the near hash mark.  Klosterman pushed the kick wide  to give Coldwater the ball and new life.
They took advantage.  On their second play from scrimmage Ben Wenning ran it all the way down to the one yard line, and on the ensuing play he ran it in for the winning score…26-20, Cavaliers.
There are few times when Marion Tim Goodwin doesn't have plenty to say about football, or the ebb and flow of the game afterwards, but this was one of them.
"Too many mistakes," he said briefly.  "I'm proud of them for coming back.  They played their butts off.  They really did.  But we made way, way, way too many mistakes."
And if he'd had a mulligan, would he have played the end of regulation differently, or either of the overtime possessions?
"I don't know right now,"  said Goodwin, frustration eating at him.
Coldwater eventually found a way to gain 366 yards, to Marion's 245.    Marion outrushed Coldwater 140 to 96, and outpassed the Cavaliers 226 to 149.  But numbers aside, they could not escape the impact of their mistakes, and what seemed a lopsided disparity in the number of penalties assessed – 14 against Marion, and just 3 (for 30 yards) against Coldwater.
Chip Otten had a lot to be pleased about as the season came to a close.  His team had probably overachieved, given the questions prior to the season as to their ability to even compete with the likes of Marion, Minster, and St. Henry.
An 8-2 record assured his team another playoff bid, a point of pride with the Cavalier program;  and a third consecutive loss in league play would have been the first time since 1996, or so it was mentioned pre-game in the press box.
But the thing that seemed to please him the most was the simple expression of that tired old cliche'.  They found a way to win, and win a game that no one believed they would – and by rights, maybe they shouldn't have.  But……..
"We could have played better, we dropped a couple of touchdown passes in the first half, so we could have taken advantage better than we did,"  said Otten after the game.  "Marion's good.  They hit ya'.  But it's a great win for our guys.  This is about confidence going into the playoffs, and we're home for the first game.  Just a lot of fun…good coaching by both teams and we have a lot of respect for Tim and his squad and coaches.  Didn't look good for us there in the fourth quarter, or in the first overtime.  The weather was bad, it was hard to play, but I'm just happy for everybody and how we hung tough in the end, because it was not looking good there."
And what he didn't mention was what his players found out for themselves.  You can't teach winning, it has to come to you…by doing it, by experiencing hardship, and discovering that inner ability to persevere.
"It was such a fun game and great atmosphere,"  said quarterback Jake Hemmelgarn.  "All these fans that came out and watched.  Marion's a great team so this was a great win for us because they made it a close game in the end."
Not neat, not tidy, but fun.
Fun when you can find a way.   And fun when you can break one team's streak while keeping your own alive.  Coldwater's going back to the playoffs.