With home field on the line, Minster came out as the stronger, faster team and beat rival New Bremen 25-15 on the back of a huge first half.
By Andy Anders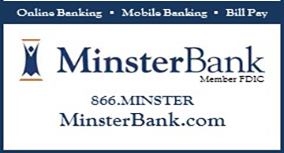 Minster – Two teams entered through a misty haze equal on paper. One team exited the rain established as superior on the field.
In a game with gargantuan playoff implications, the Minster Wildcats (7-3, 5-3 MAC) asserted themselves as the physically dominant team and rolled to a 25-15 win against rival New Bremen (6-4, 4-4 MAC) to clinch a home contest to open the postseason.
"We love our seniors, and those guys had us ready to go. Really proud that they could get a win tonight on senior night," Minster coach Geron Stokes said.
The Cardinals failed to accumulate enough computer points with the loss and are done for the year.
Minster looked faster at every skill position, pulling in a pair of 20+ yard passes and picking off two Cardinal throws before the opening 24 minutes concluded.
Then up front… oh my. With it being senior night for Minster, an offensive line anchored on the right side by two fourth-year players in guard Sam Schmiesing and tackle Dylan Sharp mauled New Bremen's typically stout run defense for over 250 yards on the ground.
"That group cares about each other," Minster coach Geron Stokes said. "They put in a lot of work, a lot of sacrifice."
Of course it doesn't hurt to be blocking for a running back the caliber of junior Alex Schmitmeyer. He's listed at 175 pounds but it's hard to believe when he's running through more tackles than Earl Campbell. Behind his overpowering five up front he finished with over 160 yards and 3 touchdowns.
He only played one half. Stokes is keeping him fresh for the playoffs.
"We shut him down. Nothing [related to injury]."
Senior Broc Miller entered and did more of the same in the third and fourth quarters anyway, surpassing 70 yards on the ground with a score.
From start to finish the first half was pure domination by Minster. If you're into omens, how about Schmitmeyer taking a hand-off from the New Bremen 37-yard-line, running through a hole big enough to drive a Mac truck through, stiff-arming a defender into the grass and sprinting to the end zone. All 60 yards on the drive came on the ground.
New Bremen scrambled to find an answer for Schmitmeyer and the running game during Minster's second series, consistently loading the box with eight and nine defenders. Junior quarterback Jacob Niemeyer spread them back out with a 23-yard pass on the drive's first play, pushing the ball to his own 40-yard-line. A holding penalty slowed down the Wildcats, but didn't stop that determined front five from imposing its every will against the New Bremen defensive line. Minster converted one fourth and two third downs, all on runs, en-route to a 13-play touchdown charge. Schmitmeyer walked into the end zone from four yards out to cap it. The score was 13-0 Minster at the 1:47 mark of the first.
New Bremen punted the next drive and finished the first quarter with -11 yards on offense.
Let the narratives continue. Minster drove 80 yards in nine plays and went up 19-0 at the 7:23 mark of the second quarter, Schmitmeyer grabbing his third touchdown on a five-yard plunge.
A 30-yard pick-up for the Cardinals on a jet sweep by sophomore Mitchell Hays stood as the first big positive first-half play for the team. An interception thrown to Minster senior linebacker Cody Frericks rendered it useless four plays later.
Speaking of interceptions, senior corner Mike Ketner got his sixth of the season on New Bremen's next possession. He's proven to be the MAC's best corner this year.

Minster's 19-0 halftime lead was sealed. With the way they were running the ball, a Cardinal comeback looked unlikely.
Not to say New Bremen didn't the Wildcats give a scare in the second half. Opening the third quarter with the ball they started feeding senior running back Justin Tenkman and drove 60 yards in 12 plays with some assistance from a defensive pass interference on an early third down. A fake PAT converted for two set the score at 19-8 with 6:59 to go in the third.
"We played really aggressive and competitive in the first half," Stokes said. "I must have said something to them at halftime, we were really flat [to start the second half] and New Bremen fought."
Neither team scored the next four possessions, but Minster's main objective was bleeding clock. An objective you can achieve when the chains move a few times behind a road-grading line. They beat and hit and broke New Bremen down until eventually back-to-back chunk runs by Miller pushed the score to 25-8, the second of which was a 17-yard dash through another hole fit for an 18-wheeler. Two clearly exhausted defenders fell off his jersey as he crossed the goal line.
All that was set up by a third Wildcat interception, this one by senior safety Noah Enneking.
"[The secondary] went and made plays when we needed them to make plays," Stokes said. "Those are good kids back there that really fought and competed, and really had to struggle sometimes this year to get better. They're seniors too, glad to see some of those guys get rewarded for their work."
New Bremen's last gasp came trailing 25-15 with 2:14 to play. Junior quarterback Nolan Bornhorst took a fourth-and-six snap, rolled left, reversed back to his right, and tried unsuccessfully to shake a horde of Wildcat defenders in the backfield.
For the Cardinals, the season is over. With outside results related to their computer points a win became necessary for a playoff berth Friday night.
Minster marches on with home field for round one of the playoffs, attempting to defend last year's state title. It's a long road ahead.
"It's good that we didn't play well in the second [half], because it creates an urgency to go right back to work Monday," Stokes said.