A Troy touchdown with four minutes remaining broke the hearts of Piqua and killed the Indians chance for a playoff bid.  Troy escaped with a come-from-behind win in "the game".
Piqua – Sometimes it's tough to get a grasp on the Troy-Piqua rivalry. Or the Piqua-Troy rivalry, depending what town you're from.
That's where things stood Friday midway through the fourth quarter.
A Troy team that entered the game with the Greater Western Ohio Conference's top defense – yielding just 195.8 yards per game – was getting pushed down field by Piqua's running game. And this as Piqua's standout senior quarterback, Micah Karn, who accounted for 60 percent of his team's offense this season, stood watching from the sidelines with a leg injury.
A Troy team with the GWOC's leading rusher in senior Jayden Culp-Bishop, who entered the game with 1,739 yards, and an offense averaging 360 yards was being held scoreless through three and a half quarters.
You never know what to expect in the Battle of the Miami. And – with Piqua leading Troy 6-0 – it happened again with 3:58 left in the game.
Troy junior quarterback Brayden Siler dropped back from the Piqua 41-yard line and lofted a high pass toward senior receiver Shane Shoop. Shoop hauled in the pass at the 10-yard line, broke a tackle and – putting a hand down to keep from falling – regained his balance for the final five-yard sprint to the end zone. Siler added the extra point for the eventual game winner, a 7-6 thriller.

"The dude bit on the fake. I just seen it in the air and I knew I had to do something," Shoop said. "Step up for the team and make a play. I felt like I was going in slow motion. I had to break that tackle and get in the end zone for the win."
It was a stunning turnaround that sent Troy's sideline into celebration. And Piqua's into silence.
Piqua, which by most accounts exceeded expectations this season, threw a final scare into Troy. The Indians needed two plays to drive 42 yards to the Trojans' 28-yard line – the highlight being junior Matt Blankenship's 36-yard run – with a little more than two minutes to play.
Three plays later, the Indians faced fourth-and-7 on Troy's 25. Sophomore quarterback Blane Ouhl, who played well in relief of the injured Karn, rolled out but lost his grip on a slippery football. With the Trojans' defense closing in his only option was to fall on the ball.
It was a tough ending. And one the Indians' didn't deserve after giving Troy one of its toughest games this season.
"This is a tough team. We're proud of their efforts but we obviously wanted to win the game," Piqua coach Bill Nees said. "Probably not now, but in a couple weeks we'll look back and see some good things (from this season)."
The win clinched a third straight Greater Western Ohio Conference American North division title for Troy (9-1 overall, 5-0). It also solidified Troy's postseason status and guaranteed the Trojans a home playoff game in Division II, Region 8 next week.
For Piqua (6-4 and 3-2 GWOC), the loss knocked them out of the Division III, Region 12 playoffs. The Indians entered ranked No. 9 in the postseason rankings and needed a win to move up. The top eight teams qualify.
"I'm just so happy for the whole senior class," Troy coach Matt Burgbacher said. "They were freshmen when I first got this job. I hate to use the work potential, but just watching them as freshmen – gangly freshmen in that locker room but they had some talent – we thought you know what, in three years when they're seniors they could be something special. They certainly have been."
Troy increased its lead in the rivalry to 65-63-6 following the 134th meeting.
But for awhile the numbers were on Piqua's side. Even after Karn went down with a leg injury early in the second quarter. The Indians kept their composure and took a 6-0 lead with 12 seconds before halftime on sophomore Jerrell Lewis' 1-yard run on fourth down. With Karn the extra-point kicker (as well as the punter), Piqua went for the two-point conversion. Ouhl hit his receiver just outside the end zone and Shoop dropped him at the 1-yard line.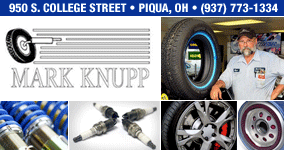 It looked like the score could remain that way as Troy's second-half possessions went lost fumble, punt, turnover on downs and punt.
Piqua was driving into Troy territory midway through the fourth and appeared ready to put the game away. The Indians reached the 33-yard line before Troy sophomore Lucas Henderson pounced on a fumble with 6:05 left.
"I saw the ball come out and I had to do it for the team," said Henderson, whose only other fumble recovery came in a junior varsity game. "It felt great hearing everybody cheering in the stands."
Henderson was thrust into the game when senior Jacob Shoop left with an injury.
"My mind just went blank," Henderson said of getting the call from the sidelines. "I had to do it for the team. I had to go in, play my butt off and just bring home the win."
Troy, which started on Piqua's 28-yard line, scored in seven plays. Senior Caillou Monroe caught a pair of passes on the drive, including one for nine yards on fourth-and-4 from the Indians' 46.
"I just felt we had to capitalize on our opportunity. I'm thankful that our quarterback, Brayden Siler, throws good passes," Monroe said. "I had faith in my team. We capitalized in big moments."
Piqua finished with 223 yards overall. The Indians rushed for 191 yards on 51 attempts, the most yards Troy has surrendered since giving up 232 to Xenia in Week 2. Coleman led Piqua with 74 yards on 21 carries.
"We knew Piqua had the big offensive line," Burgbacher said. "When Karn got hurt they had to adjust a few things. We gotta to give Piqua credit. They played a phenomenal football game. This is part of the Great American Rivalry Series for a reason.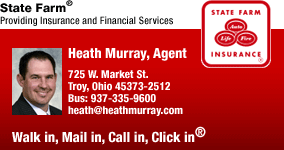 "I know it's a rivalry game and all that, but I respect Bill Nees so much. Bill's a great coach. I think there were a lot of people out there that thought Piqua was going to be down. He's done one heck of a job coaching his kids. You do feel for them because their kids left it all on the field. That's the unfortunate thing. Someone has to win and someone has to lose."
Troy finished with 265 yards overall. The Trojans rushed for 145 yards and threw for 120 more.
Siler completed 9 of 13 passes for 120 yards and the touchdown. Culp-Bishop, who sat out the first quarter for what Burgbacher called a coach's decision, rushed for 142 yards on 17 carries.
"I couldn't lose to Piqua my senior year," said Shoop, who caught three passes for 67 yards. "They fought a good game. But we deserved this. … It was really frustrating this whole game. Piqua was fighting hard. The offense wasn't doing that well but we had to step up. We just needed that one play to win the game."