If you think one team, one school, can't throw a long shadow on the future of a particular sport, think again.  Then, consider the remarkable volleyball legacies being experienced presently because of St. Henry High  School.
St. Henry – Coach Tricia Rosenbeck's volleyball team lost in the district final in 2017. So Rosenbeck did what any coach would.
She scouted for the team that beat her.
That's life in the Midwest Athletic Conference … or more specifically, St. Henry. Roots run deep in the village of about 2,400 people located in southern Mercer County. And that goes for the high school volleyball program, too.
What started in the fall of 1974 started taking root under the program's second coach in DeDe Stoner and continued by Lori Schwieterman. Both are enshrined in the Ohio High School Coaches Volleyball Association Hall of Fame. The coaching tree has since branched out in the MAC, the state's premier small-school conference.
There are 10 volleyball programs in the MAC. Five are led by St. Henry graduates.
Here's the roster rundown:
* 1980 SHS grad Carolyn (Stammen) Danmeyer coaches Delphos St. John's.
* 2000 SHS grad Tricia (Naseman) Rosenbeck coaches St. Henry.
* 2002 SHS grad Diana (Wuebker) Kramer coaches New Bremen.
* 2005 SHS grad Cami (Lefeld) Garman coaches Minster.
* 2010 SHS grad Kenzie Bruggeman coaches Versailles.
The St. Henry connections don't end there.
Danmeyer played for Stoner in high school. Rosenbeck, Kramer, Garman and Bruggeman all played for Schwieterman.
Schwieterman took over St. Henry when Stoner retired. Kramer, an assistant under Schwieterman, took over from Schwieterman. When Kramer left for New Bremen for family reasons, assistant coach Rosenbeck became the Redskins' head coach. And Rosenbeck's eighth-grade coach? None other than Schwieterman.
"They were obviously unbelievable coaches and paved the way at St. Henry," Rosenbeck said of Stoner and Schwieterman. "They made the program what it is today and have made my job a lot easier. That's what everybody wants to do. They want to play volleyball. I hope to just continue keeping that tradition alive."
The Redskins won the program's 28th MAC championship (outright and shared) this season. By comparison, the other nine MAC teams have combined for 29 titles. As for state titles, the Redskins have won a MAC-leading seven of the conference's 18 state championships.
This season St. Henry entered the Division IV postseason as the state's top-ranked team. Right behind is No. 3 New Bremen. They will meet again in the Division IV district final on Thursday. That's a titanic tilt for so early in the tournament.
Those two teams met in last season's district final, too. New Bremen won three sets to one – 25-19, 18-25, 25-21, 25-11 – and went on to win the program's first state title. As the Cardinals continued on to state Rosenbeck and Schwieterman helped Kramer out by scouting for her.
"I don't know for sure (how other conferences are), but I can only wish other conferences have that sense of camaraderie the MAC does," Kramer said. "I feel we're all pretty close. I feel we're all really, really competitive but we're willing to help each other when they need support."
Home-court advantage
Stoner and Schwieterman both preferred to remain in the background during their coaching careers. That's tough to do when their teams spent many of their seasons in the spotlight.
St. Henry is in its 45th season of volleyball. They Redskins have had one losing season during that span going 10-16 in 2007, so expectations are always high.
But it wasn't always that way for a program with 922 wins (along with 178 losses).
When Stoner arrived in 1976 expectations were much lower. More accurately … there weren't any. Stoner stresses the administration was more than supportive, but few – especially parents – knew the rules or had state aspirations.
"I lucked into the right place," Stoner said. "They thought I was a know-it-all about volleyball. The girls, like Carolyn, were teasing me the other day about being in good condition. That's all I knew was conditioning. I went to clinics and I learned. I eventually learned to put conditioning into the volleyball and not make them run 500 laps before practice. It was a learning thing."
Consider the Redskins quick learners. St. Henry won five MAC titles in Stoner's first five seasons. The program's first state championship came in 1985. Not bad for a coach that never played high school volleyball. She never had the chance.
"I never played a sport in high school because we didn't have them," Stoner said. "Girls didn't have anything.
"This isn't anything against the St. Henry administration, but it was really the girls' hard work. No one really cared. No one would have fired me if we went 0-for-whatever. I'm not saying that to be mean. But no one really cared."
Stoner went 440-61 with 15 MAC titles and five state titles in 20 seasons. Schwieterman followed going 291-74 with 10 MAC championships and one state championship in 14 seasons.
And they did it with differing styles.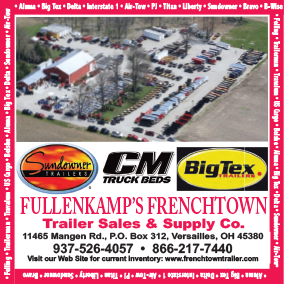 "DeDe was low key but she definitely got her point across," said Danmeyer, who still plays church volleyball with Stoner. "And we were definitely scared of her when we played for her. She was demanding. She expected us to work hard. We did a lot of conditioning with DeDe so we were in shape. She was a very good role model for us."
As for Schwieterman? Intense and demanding are the two words a few of her former players used most.
"Just her intensity is something I learned from her. It's an accurate word," Bruggeman said. "Just trying to bring that fire out in players."
Added Kramer: "Very intense. Very disciplined. Very honest. But most important very loving. It's neat to see how our relationship has grown from player/coach to now a friend."
Friendly Rivalry
Five former Redskins are coaching in the MAC. Four of them are visitors in their hometown when they play at St. Henry.
Three of them – Rosenbeck, Garman and Bruggeman – still live in St. Henry.
"My players always know that's the game that means the most to me," Garman said. "That's the game where I usually get a little more anxious. I know how strong the tradition is so to beat them you kind of put yourself up more on a podium. … For me I get to walk around town with a little bit of different aura around me if I take down St. Henry. To be able to compete with a program like St. Henry is really important to me."
Added Bruggeman: "It's so fun playing against all of the girls. But there's definitely a different feeling when you get back into the gym you played in and your high school senior picture is in the hallway. I love coaching against Diana because she helps me to be a better coach. That goes for all of them."
It's not just the regular season that gets complicated. St. John's, Minster, New Bremen and St. Henry all compete in the same Van Wert Division IV sectional. Versailles is in Division III.
Minster beat St. John's. New Bremen beat Minster. Now New Bremen takes on St. Henry in the district final on Thursday.
Some seasons a Van Wert sectional final can be as difficult as other team's district or even regional finals.
"Only one MAC team is going to come out of that district, then you get thrown in with Fort Loramie and Lehman and Russia (in the regional)," Kramer said. "It's very, very difficult. … My bet is the state champion comes out of our regional again this year. It keeps you on your toes the entire time."

Keeping the tradition alive
Playing for Stoner made Schwieterman realize she too wanted to coach. So much so that Schwieterman said she went to Bluffton to learn to coach volleyball just as much as he went there to play.
"When DeDe came to St. Henry and I was like, yeah, that's what I want to do. There was no doubt about it," Schwieterman said. "Just the intensity. The discipline to keep getting better and better. I wanted to be like her. I went to college to coach volleyball."
Some of Schwieterman's traditions are still in play by those she coached, too. Garman added Fun Friday to her practice routine, something she picked up during her playing days at St. Henry. Instead of a routine practice the team – among other fun team building activities – plays kickball, flag football or does poker runs around the school.
All five have added their own personal coaching techniques to their programs. But there's one thing they all still share … the feeling of family in the St. Henry program.
"You grew up playing volleyball and you watched every game," Garman said. "The love of volleyball is so strong in the community. Once your done as a player your next step is to become a coach."
"A lot of us from St. Henry, I think we've all coached because we had good coaches at St. Henry," Danmeyer said. "DeDe instilled the love for the game of volleyball and coaching."

District rematch
When St. Henry and New Bremen meet in the district final, it'll be a meeting of the state's top-ranked team (St. Henry) and the No. 3 team (New Bremen). It'll certainly draw a crowd. And among them will likely be Stoner, Schwieterman, Danmeyer and Garman. Bruggeman would likely be there, too, but she has her own D-III sectional final to play.
"At heart I know they cheer for St. Henry," Kramer said of Stoner and Schwieterman … and prior to knowing her Cardinals would be facing a rematch with the Redskins. "There is always going to be a little piece of me that cheers for St. Henry, too.   If New Bremen can't win (the MAC or state) I want St. Henry to win. If we get knocked out, 'Go Skins'!
Redskins fans have been saying that since 1974. And this year could be another in long line of seasons to remember. And it all started with Stoner.
"That people like Diana and Lori put it back on me, it makes me feel good," Stoner said. "I think they are all great girls. I'm glad they've all decided to coach and do great things with volleyball. St. Henry is a wonderful place and I can't really take credit for it. It's not me, it's the place. I think St. Henry is instilled in them their love of everything. I am glad I was able to be there to help get it going."