The man behind those IGAs in Minster, New Bremen and Fort Loramie…I was on a mission to meet him and get to the bottom of a comfort food obsession.  Snack foods just haven't been the same for me…since I heard about Wally Wagner.
This all started, you see, about two years ago – when my wife brought home a pint of chicken salad from Wagner's IGA, in Minster, one weekend.
Chicken salad?  What can start over something as routine as chicken salad?
I don't particularly like chicken salad, or ham salad, potato, egg, or any other kind of salad…probably because of all the crude jokes and references I've heard over the years.  You've heard it, I'm sure, the old saying:  "You can't make chicken salad out of chicken…….!  And well, that's true, I guess.  Quality does begat quality.  I just never thought of it in terms of eating it.
But here's how it began.  On one of those late nights working on Press Pros I was hungry and went rummaging through the 'fridge.  I tried it – Wagner's chicken salad with a handful of Town House crackers.  And voila'!  A revelation, an epiphany, like someone seeing that light at the end of a long dark hallway you hear about when they die.  It was heaven in a plastic cup!
Had I been too narrow in my thinking all those years?
So I re-upped.  Pints graduated to quarts, and my curiosity piqued.  I shared my infatuation with Stan Wilker one weekend and he said, "Oh yeah, Wagner's has a great deli.  That's Wally Wagner's store.  You should stop and see him.  He might want to be a sponsor for the site."
I did stop to see him, countless times, but he was never there…in Minster, New Bremen, or Fort Loramie.
"Oh, you just missed him,"  I heard over and over.  Or, "Wally just stepped out."  Or, "He's kinda' hard to catch."  It wasn't the end of the world, of course, because I always took home a quart of chicken salad…and a box of crackers.
And over time I found out that others like it, too.
"Oh yeah,"  said a friend from Loramie.  "I love Wagner's chicken salad.  In fact,"  he admitted embarrassingly, "Sometimes I don't bother to use a fork.  I use my fingers."
I made a mental note.  NEVER eat chicken salad AT HIS HOUSE!
A friend from Vandalia knew about it.
"When we lived in Shelby County we bought it all the time,"  he admitted.  "We still stop and get it when we're up there."
I shared a sample of it with a friend from Columbus…a friend who's the chef at a popular city restaurant.
"Sweet mother of mercy,"  he exclaimed while licking his own fingers.  "Who made this stuff?  It's better than what we serve."
So two weeks ago I stopped in Minster one more time…to meet Wally Wagner.
"He's actually not here today,"  said his store manager.  "But if you'll leave your phone number I'll have him call you."
Which brings us to the present.  He did call, and he invited me to stop by.  "I'll be there, Friday at 3,"  he promised.
After two years of snacking, dining, and binge eating his chicken salad…it was like meeting Harlan Sanders, the chicken mogul who started Kentucky Fried Chicken.  Like Bob Evans, or Orville Reddenbacher.  Wagner's IGA, itself, has been a fixture in Minster, Ohio since 1922 – 96 years of service to the community – and Wally Wagner represents the third generation of the family to manage the business.
But his chicken salad recipe is not nearly so old, something that he and his deli manager, Stephanie, came up with about twenty years ago.
"We actually did work together on the recipe,"  he said last week, without offering to divulge the ingredients.  "And it became very popular.  Right now it's one of the most popular things we sell and it represents about 5 to 7% of our total deli sales.  That's a significant number."
As we talked about its popularity other patrons nodded their agreement.
"I've bought it for years,"  said one Minster shopper, waiting to check out at the register.  "It's our favorite cold snack."
"I like it because it's healthier than baloney and hot dogs,"  said another at the Fort Loramie store.  "And there's lots of ways you can eat it."
And does Wagner, himself, eat it?
"Oh yeah,"  he admitted.
And how does he like it?
"On bread,"  he answered.  "Sandwich style."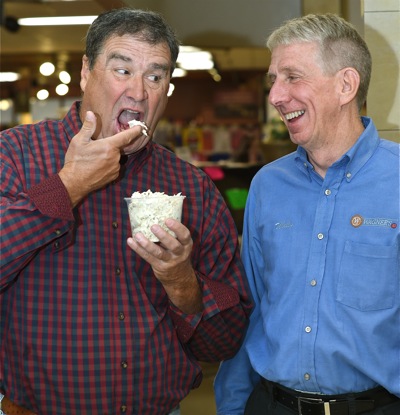 But personally, I don't take the time to make a sandwich.  Rather, Wagner's chicken salad makes the perfect dip with those Town House crackers.  Not Ritz, mind you…but Town House.  They're much better – not as salty.
"Have a pound on me,"  he smiled, as associate editor Julie Wright and I wrapped up our visit.  I thanked him for taking the time, because Wally Wagner is a busy man, traveling daily between his three stores.
And, he's a knowledgeable sports fan, keeping track of area schools, their schedules, and their records.
"Where you going tonight?"  he asked.
"Coldwater at St. Henry football,"  I said, thanking him for the sample.
And that game column you read on Saturday morning?  It was powered by a pound of Wagner's chicken salad and a box of Town House crackers.  You see, even with writing, quality ingredients make a quality story.  You can't make it Pulitzer with just popcorn.
And thanks, Wally, for sharing!