Multitude of problems contribute to stunning upset … Second-ranked Ohio State gets big game from Haskins but little else in 49-20 defeat … Ground game, red-zone woes can't be overcome.
Before we get to the autopsy report from Ohio State's gruesome 49-20 defeat at Purdue, let's start with some cold hard facts.
The defense is toothless — softer than any unit in Urban Meyer's seven years. The ground game is non-existent. The offense is anemic in the red zone, consistently squandering scoring chances. And the Buckeyes are committing more mental mistakes than the Kardashians have shoes.
They didn't just lose, they were EXPOSED as a team that's been putting up mostly listless performances all year and has been relying on the golden arm of Dwayne Haskins to shroud its flaws.
DEFENSIVE DOLDRUMS: The Buckeyes were torched on a 98-yard first-quarter TD drive, bamboozled on a fake field goal and allowed the Boilermakers to do more damage than even Haskins could overcome. He still finished with his third-straight 400-yard passing day, going 49-of-73 for a school-record 470 yards and two TDs while also throwing a late pick-six.
The defensive backs are young. That's not going to change.
The linebackers give effort but are often out of position — too close to the line to pressure the QB, not deep enough to help against the pass.
But let's state the obvious here without being afraid of excuse-making: They miss Nick Bosa.
Yeah, yeah, everybody is dealing with injuries. But no has had to do without someone of Bosa's caliber.
His absence has had a domino effect. It wasn't just the pass-rushing havoc he created, but also how teams had to game plan for him. Giving him extra attention meant foes devoted fewer resources to stopping Chase Young, Dre'Mont Jones and others. Now, they're the primary focus.
Allowing quarterbacks more time means DBs are more vulnerable in man-to-man coverage.
The Buckeyes were 58th nationally in yards allowed at 369.6 per game and gave up 539 to Purdue.
RUSHING NOWHERE: The Buckeyes might as well be running in steel-toed boots. And I'm not buying the idea that defenses are loading up to stop the ground game. Against the nation's leader in TD passes? Really?
The line can't get a push. Mike Weber can't break a tackle. And even the elusive J.K. Dobbins can't get a seam to reach the second level.
They've got the biggest offensive line in the country (averaging 6-6, 312 pounds), which is great if you're doing something like, say, moving furniture. But lumbering linemen without athleticism is a bad formula for tussling with lighter defensive fronts.
In their three games before Purdue, the Buckeyes averaged 2.3 yards per carry.
Against the Boilermakers, they had 76 yards in 25 attempts, a 3.0 average. That'll get you beat.
RED ZONE ZOMBIES: The Buckeyes rumbled inside Purdue's 20-yard line four times and came away with six points. They can't produce when the field gets compressed. They went 2-for-3 on short field goals and were stopped on fourth-and-goal from the 2.
If they score touchdowns there, it's a different game. But that's not an anomaly this year.
They were 89th in the country in producing scores from inside the opponents' 20-yard line at 81.3 percent. They had only 22 TDs (and five field goals) in 32 trips.
They had no TDs in three red-zone tries against Minnesota last week.
Want to know the problem? Reread the previous entry.
MENTAL MISTAKES: The Buckeyes committed 10 penalties for 86 yards. Among the most costly was a roughing-the-punter call on defensive tackle Davon Hamilton near midfield on Purdue's first possession of the second half.
The Buckeyes would have gotten the ball back with some momentum, down 14-6. Instead, they gave up a touchdown and trailed, 21-6.
That one may have been topped, though, by Dre'Mont Jones' roughing-the-passer penalty on a third-down incompletion early in the fourth quarter. Purdue converted that into a TD, too.
The Buckeyes continued their pattern of looking jittery to begin a road game. They had a false start on their first play and an illegal-formation infraction (declined) when they redid first down.
On their second series, senior Isaiah Prince had a false start.
He had another one in the second quarter.
A senior.
They were 111th out of 130 teams with an average of eight penalties per game. Can't give opponents that much help.
UNDERACHIEVING: There's no way the Buckeyes should be having so much trouble with middle-of-the-pack Big Ten teams — first Indiana, then Minnesota and now Purdue.
Based on the 247sports.com composite recruiting ratings, Ohio State has the most talented roster in college football.
It has 11 five-star and 55 four-star recruits among its 85 players with an average rating per player of 92.89 (out of 100).
Alabama is next with 12 five-star and 51 four-star recruits and a 92.56 rating.
Georgia (92.07), Southern Cal (90.94) and Florida State (90.86) round out the top five.
In the Big Ten, Michigan (89.64) is eighth and Penn State (88.64) 13th.
Can't help but think the season went off the rails when Meyer had to miss all of preseason camp and then the first three games. The culture in a program needs a reboot every year, and he wasn't there to create it.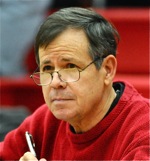 WHAT IT MEANS: The Buckeyes still have all of their goals in front of them. If they win out, they're Big Ten champs and a near lock for the playoffs.
And though the toughest stretch is yet to come — road games at Michigan State and Maryland and a home game with Michigan — I wouldn't count out any team with a quarterback as dynamic as Haskins.
But Ohio State has looked like it's been going through the motions for almost a month. No energy. No life.
Only an eternal optimist — or some might say a hopeless Pollyanna — would expect that to change.