It took a complete and dominating effort to do it, and 218 yards and four touchdowns from Zach Niekamp, but St. Henry finally broke their Coldwater drought with a win over the Cavaliers.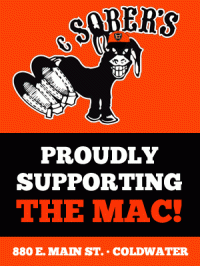 St. Henry – In his ten years as head football coach at St. Henry Jeff Starkey won two state titles (2004 and '06)…but he never beat Coldwater!
In fact, the last coach prior to Friday night to beat the Cavaliers was Press Pros football analyst Tim Boeckman, in 1996.  Since then – 21 years and 22 games – it's been a long dry spell, especially long for high school football.  Zip, nunca, and nada, as they say south of the Mercer County line.
But Friday night Brad Luthman broke the string, doing what Starkey couldn't do as the 23rd time turned out to be the charm.  St. Henry finally beat the Cavaliers, 28-10, in front of a packed and delirious crowd at the Wally Post Athletic Center.
It had been a long time – long enough for the last quarterback to have won for the Redskins to have kids of his own and old enough to appreciate the feat.  Ryan Uhlenhake was on hand to witness, and reflect on just how long 21 years is in football time.
"What surprises is that since 1996 there have been so many great athletes at both schools,"  said Uhlenhake afterwards.  "So no, I never thought it would take 22 years for this to happen.  But I'm happy that I could be here to see it, and to have my kids there to see it with me.  That's kind of fun."
It took a heckuva' effort, a dominating and complete effort.
St. Henry's biggest advantage, its offensive line, controlled the line of scrimmage and opened huge holes for the MAC's top tailback, Zach Niekamp.  Niekamp didn't waste their effort, carrying the ball 31 times for 218 yards and four touchdowns.
Quarterback Sam Lefeld, so maligned for the first six weeks of the season for his inability to throw the football, was 'aces' for the second time in two weeks, completing 7 of 9 attempts for 75 yards, but more importantly, provided the constant reminder to Coldwater's defense that they couldn't stack the line to stop Zach Niekamp.  They HAD to respect the pass, as well.  And really, who would have thunk it…that an offense that had struggled to get out of its own way against Anna and Marion would dominate in total yards, 321 to 190, and on the exact same number of plays (56)?
The defense rose to the occasion, too, holding Coldwater to just 190 total yards (115 passing and 78 rushing), and harassed quarterback Jake Hemmelgarn all night long.  Hemmelgarn, who entered the game completing 71% of his passes with 21 touchdowns, connected on 16 of 26 (61%) on this night, and with just touchdown, a ten yard strike to Jacob Wenning in the second quarter.
It was as good as Brad Luthman could ask, who smugly dismissed any personal accomplishment in deference to his predecessor's much greater, ultimate accomplishments.
"Let me just say that if I turn out to be half the coach that Jeff Starkey was I'll be alright,"  said Luthman while accepting congratulations from the appreciative faithful.  "I'm just happy for a lot of people – some of our coaches, who coached with him through the Starkey era.  And of course, I'm really, really happy for our kids."

They did, as previously stated, everything they needed to do to win, including getting off to a fast start.  On the fifth play from scrimmage Niekamp got to the corner, turned upfield, and bolted 55 yards for his first touchdown to make the score 7-0.
Five minutes later, at 3:03 of the first quarter Coldwater kicker Blake Dippold answered with a 21-yard field goal to make the score 7-3.
And for a brief moment Coldwater actually took the lead…when Jake Hemmelgarn hooked up with Jacob Wenning at 5:26 of the second quarter for a 10-yard touchdown, 10-7, Coldwater.
But brief it was, as four minutes later Niekamp cracked the goal line after a 7-play, 63 yard drive to retake the lead and go to halftime, 14-10.
The second half was all St. Henry, magnified by a pair of Coldwater fumbles, some bad luck on a punt that ricocheted off a Cavalier's leg that was recovered by St. Henry at midfield…and lots more Zach Niekamp.
The senior tailback scored on a 28-yard run at 2:45 of the third quarter to stretch the lead to 21-10;  and exactly a minute and ten seconds later, after one of those fumble recoveries, he slashed the Coldwater defense again for his fourth and final TD of the night to end the scoring, 28-10.
"They had a lot of things go right for them, and we had a bunch of things that didn't go right for us,"  said a magnanimous Chip Otten (Coldwater's coach) afterwards.  "Some were controllable, and some were not.  We made mistakes.  We jumped off sides twice when they were punting, and we had the punt bounce off our guy's leg when he was trying to get out of the way and it followed him.  And give credit to St. Henry.  They played well and they did what they do.  It was a matchup of their power run game against our defense, which played hard, but wasn't physically stout enough to stop them."

It was a huge win for St. Henry, atoning for disappointments of the recent past, even as recent as the discouraging loss two weeks ago against Anna, when the offense resembled nothing in comparison to what it did Friday.
"Yep, it was a huge win,"  said Zach Niekamp.  "Our offensive line and Sam Lefeld played a heckuva' game, and when we ran the ball it wasted a lot of time off the clock and kept it out of their hands.  They have a high-powered offense and our defense did a great job.  And, our other running back, Jaren Fishbaugh, always does a heckuva' job blocking for me and he was great again tonight."
Lefeld called it a total team effort.
"Total team win,"  he said.  "And all summer long we've been working for this, to get to this point right here.  And we said if we get to this game with two losses we aren't losing (to Coldwater).  We're going to the playoffs.  Our offensive line did such a great job, and without them Zach gets nowhere this year, and we love them for that."
Make no mistake, the emergence of the passing game has helped Zach Niekamp, and is making all the difference in the world to teams that will prepare to play St. Henry from this point on.
"When we played Marion Local five weeks ago we didn't complete our first pass until the fourth quarter,"  said Brad Luthman.  "Tonight he (Lefeld) was 7 for 8 in the first half.  He played a great game…all of ours seniors and offensive line gave us a great effort tonight.  It also gives us a lot of confidence because we're going to see these guys again in the playoffs.  But we can't get too high, or too low.  We know they'll put some stuff together by the time we see them again, but this is special tonight.  We'll enjoy it."
As a lot of people in St. Henry made plans to enjoy it, and all night long.  Parties were already being organized even as the two teams shook hands and an obviously planned fireworks show went off over the parking lot.
"I don't know if it called for fireworks,"  Luthman said of the moment, with a tinge of embarrassment in his voice.
But without question, or comment, he enjoyed the appreciative gesture, perhaps symbolic of a new awakening of an old tradition in St. Henry.
Jeff Starkey had a pair of titles, yes, but never fireworks.  And for Luthman, Lefeld, Niekamp and those who have yet to even play, they vow that it'll never take 21 years again.  None of this once-in-a-lifetime stuff.
They want Ryan Uhlenhake, and even Starkey, to be there…to enjoy it!