Raquel Kessler supplied the power as sixth-ranked Jackson Center made short work of Triad in the Division IV sectional opener.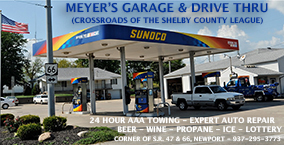 Troy – It was no contest, really.  Sixth-ranked Jackson Center made short work of the Triad Cardinals (2-20) in the opening round of the Division IV sectional volleyball tournament Tuesday night, and viewed symbolically, left nothing but a pile of feathers in their wake – like a feral cat attack in the back yard.
In straight sets they won 25-12, 25-7, and 25-12.
Perhaps Jackson would have liked a bigger challenge in the opening game as a measuring tool – or to sharpen focus for more challenging opponents sure to come.  Or maybe not.
"It's nice to have an easy opening game,"  said senior star Raquel Kessler.  "It lets you ease into the tournament atmosphere without too much pressure too soon.  It's nice to get an easy win like this."
Easy?  They were never challenged.
"We knew what it would be like,"  said Triad coach Dayna Ober, owing to the two-time state champs' reputation and current ranking in Division IV.  "I didn't sugar coat it when we got to the gym.  I told them there was a good chance this would be our last game."
And Raquel Kessler quickly set the tone for fulfilling Ober's expectations.

Bound for the University of Missouri (St. Louis) next fall to play college volleyball and study optometry, Kessler rocked Triad's defense with eight first set kills, on her way to an eventual game-high total of 21.  The Cardinals' defense…was defenseless!
And the points that Triad did get were largely due to errors in serve and hitting by Jackson Center, self-inflicted.  It didn't seem to bother Tigers coach Kim Metz.
"No, it was nice to come out and have an easy win because we have some young kids that just need to get into the flow of tournament atmosphere,"  said Metz.  "I'm fine with them getting their feet wet.  Let 'em make some mistakes.  Let them know that it's OK, and that it's going to be fine.  It's always good to just get on the floor and compete."
In fact, it was such a pedestrian win in terms of outcome that there was little with which Metz could find fault…even if she had wanted to.
"Exactly,"  she said, smiling.  "My assistant coaches saw my face after the match and all four of them looked at me and said, 'It's our first game.' You know it's going to be like that.'  And while it is our first game it doesn't mean I want to accept the things some of the things I saw.  There were things we can do better.  There's a lot going through my head and a lot of notes that I need to write to myself."
Winners of back-to-back titles in 2015 and '16, Metz likes the path for her 20-3 Tigers, who next play East Dayton Christian on Saturday, another two-win program.  And should they win that match they would then fact the winner of Troy Christian and the winner of Tuesday's second game between National Trail and Emmanuel Christian.
"I like it, but I get questioned every year if I would rather have better competition (in the sectional),"  said Metz.  "But you know, you can create situations in practice that prepare them for the things you know that are coming…when they need to be mentally tough.  You just work on those things as time progresses."
And better to be alive and in Troy sectional…than to be at risk in the kind of sectional facing the heavy-handed Division IV teams playing out of the MAC – St. Henry, New Bremen, Marion Local, Fort Recovery, and New Knoxville.
"Absolutely,"  smiled Metz.  "And God love 'em.  They just beat up on each other, and what great athletes those teams have, and excellent coaches.  But right now all we can do is play everybody and keep moving forward.  It's tournament time."
And what a tournament it shapes up to be in area Division IV.  Of the top ten Division IV teams state-wide, five of them are either members of the MAC or the Shelby County League – St. Henry (#1),  Fort Recovery (#2), New Bremen (#3), Marion Local (#5), and Jackson Center (#6).  Russia is just out of the top ten, ranked at #11.
Dayna Ober was justified to paint the picture in realistic terms.  You don't see volleyball like that in the Ohio Heritage Conference.  In fact, the state of Ohio in Division IV is about to find out you don't see it anywhere else, either.
To recap Tuesday's opener…'feathers'.