There were two first quarter touchdowns, and a missed field goal and a fourth quarter fumble by Minster let undefeated Marion Local off the hook.  Marion extends its streak in epic fashion…if you were brave enough to watch.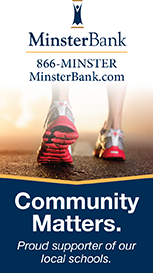 Minster – For those brave enough to sit in the rain and sleet, the 37 degree temperatures, and wind that gusted to 15 miles per hour…they saw an epic MAC football game Friday night, and they nearly saw a small piece of history.
That is, Geron Stokes ALMOST beat Marion Local for the first time in his six years at Minster.
Of less historic note, they saw Marion Local win its 35th consecutive football game, going back to week four of the 2016 season, when after a loss to Coldwater the Flyers beat Minster the following week to start their current string.  35 straight, by the way, is far from any kind of record.  Ask the folks in Versailles about that.
But they also saw an epic MAC battle of wills, with slips and slides and a couple of big runs from scrimmage, a critical missed field goal, and an even more critical fumble to start the fourth quarter…all of which ultimately helped Marion sustain itself with a 7-6 win.
"Tough,"  said Marion's Tim Goodwin later.  "We didn't do a whole lot right, but we did enough to keep 'em at bay a couple of times.  They missed that field goal in the third quarter that hit the upright, and then they had the fumble.  But it didn't look good for the Flyers for a while."
That pretty well describes the game…but the way it started it didn't look good early for the Wildcats, either.
At 8:08 in the first quarter, on their first possession, Marion's Nolan Habodasz sprinted 74 yards, almost untouched, for an opening score that stunned the crowd and set Minster on its heels.  Or so one would think.
But six minutes later Minster quarterback Jacob Niemeyer answered with a 72 yard run of his own on a quarterback keeper that would have tied the score, except sophomore kicker Bryan Falk missed the extra point.  Things stood 7-6, Marion, and for all the world one would have though there was more powder in their respective guns.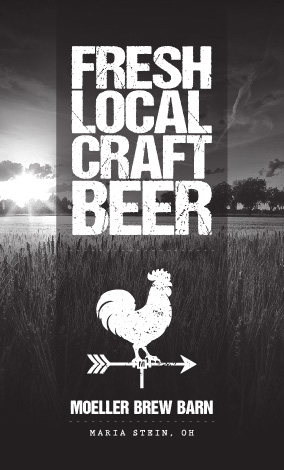 There wasn't.
The winds increased, the intensity of the rain rose from a drizzle to a steady downpour while the respective offensives kinda' dried up.  The footing was bad, and neither quarterback could grip the football well enough to throw it accurately.  The game became one of field position.
To wit, Minster received the opening kick of the second half and began moving the ball downfield through the efforts of running back Alex Schmitmeyer, who would carry 38 times on the night for 138 yards.  They got it just inside the ten yard line before Marion's defense stiffened, forcing fourth down.  Weather or not, Geron Stokes decided to kick a field goal on fourth and five, and sent Bryan Falk into the mist.  Good snap, good hold, and he hit it solid…and solidly off the right upright.  No good!
There was a collective sigh of relief that went up from the Marion side because as the conditions worsened, and Marion's offense fizzled in the rain, one could sense that any bullet you could dodge might be the one that would determine the outcome.  And the Flyers knew…they had dodged a BIG bullet.
Minutes later, they dodged another.
On their first drive of the fourth quarter Minster got superb field position inside Marion territory on a muffed snap and a partially blocked Brandon Fleck punt.  Again, Jacob Niemeyer and Alex Schmitmeyer moved the ball deep into the red zone.  But as Niemeyer streaked for the goal line on a first down run someone poked the ball out of his grasp at the five yard line, safety Matt Rethman fell on it, and Marion had dodged another bullet.
"Huge play,"  Tim Goodwin would say later, shaking his head.  "With the way they were running the ball right at us."
But while Marion dodged a second bullet, they would ultimately muff another snap on a punt deep in the fourth quarter. Fleck got off another poor punt, and Minster had good field position again with one more chance as the clock dipped under two minutes.  But this time Niemeyer attempted to throw the ball, had it tipped, and Marion's Blake Schwieterman grabbed it out of the air to effectively end the game.
Tim Goodwin looked like he's seen a ghost, nearly at a loss for words to explain how his team could escape with the win after being so vulnerable, and at risk, for most of the second half.
"For whatever reason, the weather and what not, we couldn't get much going,"  he said.  "We couldn't complete a pass, and couldn't sustain a running drive, either.  This was a good test, this is MAC football when you face things like this.  What is it they say, iron sharpens iron?  Minster played really well.  They were really physical tonight."

It magnified the age-old axiom that on bad nights you'd better have a good running game – dependable yards without putting the ball on the ground.  Alex Schmitmeyer certainly did that for Minster, but Nolan Habodasz answered for Marion Local with 18 carries for 131 yards of his own…and that 74 yard touchdown.
"I never dreamed that it would have to stand up for the rest of the game,"  the Flyers senior said afterwards.  "That was tough, and tough hittin'.  They had some big dudes up front.  But the coaches tell us all the time that we have to make the big plays when you have the opportunity.  We made the big play."
By the same token it had to be devastating to the Minster kids, a week after playing so poorly against St. Henry, to come so close against the state's most recognized and successful program.  Disappointing, no doubt, for Bryan Falk, who suffered what every kicker experiences at some time or another.
And devastating to Jacob Niemeyer, who came within five yards of winning the game for his team…only to fumble!
Geron Stokes handled it with his usual aplomb.
"We're just not ready to win games like this,"  he said with a patient smile.  " We're closer, but we're not ready.  Things don't bounce the way they did tonight when you're ready, I really believe that.  We had a great week of practice, our team addressed some real issues, and we're closer, but we're not ready.  It's perfect for us.  We move on, go back to work, and get better.
"Our kids played hard, they had a different look in their eyes, and hopefully tonight was the start of being a true team – playing for each other, and we saw that tonight.  Our kids are fighting like crazy to get better, and that's hard to do.  They were upset tonight and that's good, because there are no moral victories."
The neck of the bottle tightens, as Marion moves on to Fort Recovery next week, then their finishing game with Coldwater.  Minster will try to rebound against Versailles before closing its season with New Bremen.  But whatever comes for either, both Marion and Minster may look back at 7-6 as a turning point of their respective seasons – a game that will become magnified with time.

In Minster's case, the near-miss motivation that Geron Stokes characterized as "perfect for us", that close to winning against the "standard" of Ohio football – close, but not ready yet.
For Marion, the fortunate wake-up call before Recovery and Coldwater, and the bevy of would-be's beyond that drool at the chance to say they were the ones that beat the best in the playoffs.  "Iron sharpens iron,"  said Tim Goodwin.
And they both know – Stokes and Goodwin – that the edge is so hard to get.  Even harder to keep!