Butler nearly fumbled away a golden opportunity against Piqua, but the Aviators escape with a 27-25 win over rival Piqua.
By Andy Anders
Vandalia – Summary: Carrying a 27-0 lead into halftime, Butler turned the ball over three times in the second half and nearly gave away a key victory for its playoff hopes.
Butler had the ball up 27-7 midway through the third after leading 27-0 at halftime in a downpour. The game looked in hand at this point. Piqua looked incapable of stopping the Aviators' offense all night, with no punts forced or takeaways.
Until now, because Butler senior quarterback Mason Motter fumbled the ball away at his own 30. Short field, easy Piqua touchdown.
Alright, not a huge deal. Still up 27-13. Keep running the offense, avoid more costly mistakes and… another fumble three plays into the drive, on a zone read exchange this time. Piqua's senior quarterback Micah Karn runs rampant like he's done all second half and scores from 15 yards out on fourth-and-six.
Okay, deep breath. The defense stopped them on the conversion attempt. Still up 27-19, with the ball, less than nine minutes left — wait, another fumble? On the jet sweep this time? At least the defense is stopping them short of the endzone this time, hemming up Karn to force third-and-long.
Never mind, he broke two tackles behind the line of scrimmage, reversed field and went 23 yards for the touchdown, his fourth to go along with 141 yards on the ground.
Thank goodness the Butler (5-3) defense held them short on the conversion try a second time, because if not this story might be about how the Aviators suffered one of their worst collapses in school history with playoff hopes on the line. They beat the Piqua Indians (5-3) 27-25 at home.
"We probably only had 10,11 plays in the second half [because of the turnovers]," coach John Puckett said. "We were a little complacent in the second half, but a win's a win."
Certainly in this case a win's a win. Piqua is a playoff-caliber team Butler really needed a win against to keep its own playoff hopes alive. It'll be a shoe-in if wins are grabbed over Sidney and Tippecanoe the next two weeks.
That said, three fumbles over a span of five offensive plays is an inexcusable stat, rain or no rain.
One series gives a perfect summary of Piqua's first half. Facing second-and-11 at his own 34, Karn felt a blitz, scrambled, leapt out of the backfield and sprinted 20 yards downfield for the Indians' second first down of the game.
Of course, he took "leapt" too literally and hurdled somebody. The run was called back. Next play he scrambled again, fumbled and dove on the ball for a ten-yard loss. On third-and-31, Piqua ran the ball for a three-yard gain and punted the play after.
If that "drive" wasn't indicative of the Indians' overall futility against the Butler Aviators in the opening 24 minutes Friday night, nothing was. They totalled -10 yards of first-half offense.

Again spelled out: negative ten yards of first-half offense.
"The way we lined up to them in the first half, I don't think they were expecting it," Puckett said. "We had them outflanked to the tight end, which was a tendency for them."
From the outset, Butler's offensive game plan was clear: spread it out and run the ball. Despite running a shotgun formation, often with three or more receivers, Butler threw a grand total of _ passes on the night. Senior running back Riley Martin and senior quarterback Mason Motter executed this plan to perfection. Most of Butler's touchdowns came on extended drives: nine plays for 55 yards, 12 plays for 60, etc.
As much was clear the opening drive of the game, when the Aviators ran the ball nine times from the shotgun, including on fourth and inches at the Piqua 35. Senior quarterback Mason Motter kept on a zone read, slipped a tackle, and weaved 32 yards through the defense. A one-yard scoring plunge by Martin three plays later made the score 7-0 Butler at the 7:08 mark of the first quarter.
Piqua tried to replicate similar zone read magic on its first offensive play of the game, but the exchange was fumbled and recovered by Butler's Jackson Akers.
Butler marched 39 yards in five plays to extend the lead to 14-0. Martin strutted in from five yards out to make it so.
"I love the way our offense played in the first half," Puckett said.
Piqua didn't fumble its second drive. Instead they moved back two yards in three plays and punted.
So Butler went 60 yards in a dozen plays with another fourth down conversion and a Motter touchdown run. 21-0.
The Indians came back out, notched their first chain movement of the game, then punted three plays later.
Remember above where it's mentioned that Butler's touchdowns came on extended drives with a relatively low average yards per play? Well, there's an exception to that rule.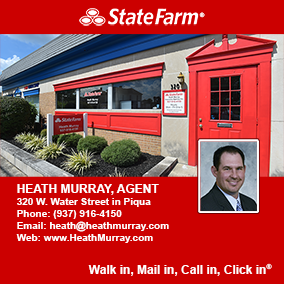 Martin took a hand-off up the middle, made three defenders miss, bobbed and cut up the sideline to break off a 74-yard scoring run and make it 27-0 Butler before the half's end. He finished as the star of the Aviators' attack, racking up 139 yards on 23 carries with three touchdowns.
"Ryan's unbelievable. He's a tough kid, he just grinds," Puckett said. "He's a great in between the tackles runner, he's our heart and soul on offense."
Motter added 120 and a score on the ground, but also had a hand in the three fumbles.
Piqua came out the second half and mounted a 70-yard scoring drive of its own on the legs of Karn, who scrambled 24 yards for a first down on a third-and-21 play then 17 yards for a touchdown to cap the drive and open up the fumbling, bumbling comeback bid.
Butler's players partied like it was 19 years ago after the victory, and rightfully so. This Piqua team is no slouch, with wins over teams like Sidney and Lima Senior already on the year.
But rain, sleet or shine, they can't commit turnovers at rates like that in the coming weeks. Too much is at stake.