Perhaps they benefited from earlier disappointments, or maybe not.  It didn't matter.  Versailles came back from a two-games-to-one deficit to be third-ranked Fort Recovery in the season finale.
Versailles – They say if you do something long enough you'll eventually learn from it, good or bad.
Kenzie Bruggeman was probably thinking just that as her Versailles Tigers (12-10) came back from a two-games-to-one deficit Thursday night, to upend third-ranked Fort Recovery (last week's poll) in five games, 25-16, 17-25, 9-25, 27-25, and 17-15.
Or, they say that every dog has it's day, and after all those early season disappointments – the losses on Saturdays, and the ones that got away – finally, and against one of the state's best in any division, Bruggeman's dogs (Tigers) had their day.
"It just goes to show you what we can do when we get good serve-receive,"  she said outsider her locker room afterwards.  "We have to have that to be a successful team.  Obviously we didn't have it in the second and third games, but we've focused so much this week on that and the little things, things that beat us early in the year, and we were able to put that into application in the first and fourth game.  When did that and got the serve/receive back in line we had offense, and when got Liz (Ording) and Lindsey (Winner) going,  we became a different team."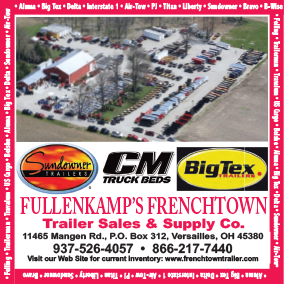 Fort Recovery (19-3) is good – a big, athletic, hard-hitting volleyball team that doesn't get its just due, playing in the shadows of top-ranked St. Henry and defending state champs New Bremen, whom they beat last week.  The Indians are a team that know themselves, understand their strengths, and play confidently given their record and great senior leadership.  And that was evident after losing the first game and withstanding Versailles' early surge of emotional play.
They came back in the second, winning it with big hitting, efficiency in their serve/receive, and defense at the net.  They overwhelmed in the third, jumping out to a 14-4 lead and eventually won, 25-9.
But it was at the net that Versailles eventually began to wear them down, when in the fourth set 6'1″ junior Lindsey Winner got into a hitting rhythm and began spraying kills to all points of the Recovery defense.  Some were blocked, to be sure, but Winner also found some holes, and along with teammate Liz Ording, literally willed the Tigers to a 25-25 win to set up the deciding 5th set.
"Yeah, what about that?"  said Bruggeman.  "Great senior leadership, and taking one point at a time.  And Lindsey and Liz decided that they were going to make it a battle.  Then it became MAC volleyball in the fifth set.  Isn't that fun?  It's just so fun to have that kind of competition, especially going into tournament.  It forces us to be in situations where we've been uncomfortable, and once we start getting comfortable with it we can start to be a great team."
They looked comfortable at the start of the fifth, and eventually ran out to a 10-4 lead, forcing Recovery into timeouts to try to regroup.  Everything was going right.  The hitting was there, the defense was there, the serves were finding holes along the back line.  They were…gettin' a little 'jiggy' with it, and perhaps too soon.  Because…Recovery is a great team, and point by point the Indians edged back into the game.
They closed the margin to 13-10, then tied it at 14-14, and 15-15.  More timeouts, this time by Versailles, as Bruggeman reminded them, no doubt, that they had been here before, and yes, to benefit from those previous disappointments.
Whatever, they came out to take a 16-15 lead, and on the ensuing point Raegen Shaffer found the ball right in her wheel house at the net, and she drove it into the Recovery back line for the winning kill.
"It boils down to energy in the fifth game,"  added Bruggeman.  "And I think we got into a mindset at the end of this point is done and on to the next one.  It was a huge win for us going into the tournament, and against a really good team."
Unlike Fort Loramie, Troy, and some other disappointing days, it was a match where Versailles played with that energy, and with a joy from their ability to regroup, come back, and win it in dramatic fashion.
"We just drew energy from one another,"  said senior setter Kelsey Custenborder.  "We're really just enjoying playing right now, and with each other, and we can do that the energy come up, the joy comes up, and that fuels everyone.  It's exciting."
And there had to be some memories of the low moments when they squandered the 10-4 lead in the fifth, when Recovery tied it at 15-15, and it looked like, as Yogi Berra used to say…deja vu all over again.
"All we needed was just two points, and we got together in the middle and I said, 'Guys, we're doing this right now.  This is our last game and we want to finish this on a plus.'  So we tried to play the best we could on our home court."
Easy as that.
But to Recovery coach Chelsea Kahlig, a different emotion as the last game of her season – of their season – slipped away.
"The best way to think of it is that we have a really good volleyball team,"  said Kahlig.  "That's a positive part, but a MAC road game is never easy, especially against a team like Versailles that has such great tradition, and what I think is two of the best players in Ohio – Winner and Ording.   But our strengths turned out to be our weaknesses tonight, serving, and they found some weakness in our serve/receive.
"But, what we did to come back in the fifth set was pretty remarkable, and I give them a lot of credit for that.'
It all sets up for a pretty remarkable tournament, beginning next week, with a murderous lineup of Division IV talent – St. Henry, Fort Recovery, New Bremen, Marion Local – all in a district that allows for no margin of error.
"The records are 0-0 now,"  said Kahlig.  "And there's a good chance you'll have to beat a pair of top-ranked teams in the state just to get out of the district, and there's little doubt about that.  It's anyone's ballgame, in either bracket, but you want that kind of competition.  It would just have been nice to win that last game of the season to go in on a positive note, but this (tonight) makes us better for the most important part of the year."
And someplace during practice this weekend, Kenzie Bruggeman is going to make that same point.  Forget about Loramie, and Troy, and Russia.  Just learn from it.  It all makes you better, and the best thing is…St. Henry, Recovery, New Bremen and Marion Local are Division IV.  Versailles is Division III.  Some total recall, if you please, and time to get comfortable.
Everyone now…is 0-0!