They won their 20th match of the year in the manner in which they won the others.  St. Henry's athleticism overwhelmed Minster in straight sets as the #1 Redskins prep for a hoped-for title run.
Minster – It was like so many other wins since the August opener.  #1-ranked St. Henry (20-1) simply overwhelmed Minster (11-10) Tuesday night in their next-to-last regular season match before next week's Division IV tournament.  The scores – 25-17, 25-19, and 25-23.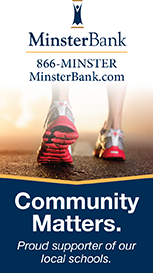 It was business as usual, despite a spirited Minster rally during the last ten points of the final set.  But in truth, the final game wasn't as close as the score might indicate.
"There's still some things we need to tighten up, some improvements,"  said Redskins coach Tricia Rosenbeck afterwards.
And one of those things is not to take points for granted when you have a big lead, and the match in hand, which is exactly what happened over the course of those last ten points.
But in between…the state's top team in Division IV put on a clinic in how the game can be played when you hustle, communicate, and share the responsibility of winning.  Everyone needs to chip in, unless you have a Paige Jones, as New Bremen did a year ago.  And that's exactly how St. Henry wins, night after night after night.
The formula is simple, actually.  They serve aggressively, they hit aggressively, and they defend aggressively.  They opened up sizeable margins in two of the three sets on Tuesday (5-0 in the first and 7-0 in the third) before Minster ever got on the board.  And when they can play with an ace in their hand like that, they can afford to play even more aggressively.
So, with one match remaining before next week's tournament, we asked Tricia Rosenbeck the same question we asked Diana Kramer, coach of #2-ranked New Bremen, last week.  What do you know about your team now that you didn't know six weeks ago?
"That's really a tough question," said Rosenbeck, blushing as she searched for an answer.  "I know we can play with some really good teams.  I know that we can still get better.  There are things that we need to work on, discipline-wise.  I know that we can be more consistent.  So I know there's still room for improvement, and that's good.  You'd like to be a finished product at this stage of the game, for sure, but I also think it's a good thing to know that you're still improving, too.  There's nothing major, just some little things."
The other question we posed to Kramer – what do you know about the rest of the district, and region, that you didn't know two months ago?
"I knew six weeks ago that our district is going to be tough,"  Rosenbeck assures.  "Everyone is just so even, and maybe I didn't realize how even all the top teams are.  Even the teams outside the top four teams in the district are tough – Parkway, Crestview, New Knoxville – teams that are under us but still very, very good teams.  So I'd say the consistency within our district is top-notch, and when you consider teams in the region, like Jackson Center and Russia, we're going to have to come to play every single night.  But first, we have to focus on our district."
If you pay attention to things like this, St. Henry at this point is very reminiscent of what New Bremen represented at the same stage of the season a year ago – ranked #1, with one loss, and their confidence building with each succeeding win.
"Except New Bremen had Paige Jones,"  says Minster coach Cami Garman.  "The thing about St. Henry is every one of their players is so athletic and talented.  They're even scarier because you don't which player is going to make the play.  They have so many different weapons they can put the pressure on you from every position."
And like Jones from a year ago, senior Ashley Siefring is enjoying the experience of knowing their time together, their commitment to each other, has put them very close to that ultimate reward of a state title.
"We've come together as a team,"  says Siefring, who enjoyed another big hitting night in Tuesday's win.  "Even when we're down we're confident that we can push through because our chemistry is so good."
Obviously, they weren't down on Tuesday, but Siefring really believes that the Redskins are prepared for anything, given the nightly competition they face in their league.
"Every single team in the MAC is very good, and there's just something about playing a team like New Bremen because they won the title last year, and they beat us.  So you're always up for that and you want to beat them.  We're in the position they were in last year and I think that's awesome.  I just hope we can continue, because there's more to work for and a lot of tough games left to play."
Which sounds a lot like Tricia Rosenbeck, who just moments before reminded that regardless of record or rank, there's no such thing as a sure thing in the tournament – when there's a title at stake.
"You just have to work hard and you have to focus on your district first,"  adds Rosenbeck.  "And the team that I might be most scared of is ourselves.  Will there be a night when we beat ourselves, or are we gonna' come out and play like a top-notch team?"
She has one match left, against Delphos St. John, to find out what in her heart she already knows.  On a given night anything can happen when it's one-and-done.  But Tricia Rosenbeck also knows what Cami Garman and the others know.  She has the most athletic Division IV team in her region, a team where every player on the court is capable of making the play that beats you.
Next to having Paige Jones, what more can you ask?