Defense still shaky as Indiana puts up fight before falling … Haskins throws for six TDs to power offense … Running game needs to get untracked after slow start this season.
COLUMBUS — If you opened this page expecting to see a column fawning over Ohio State, you came to the wrong place. Yours Truly did enough of that after the TCU and Penn State wins, a pair of comebacks away from home that certainly were praiseworthy.
But the unbeaten and third-ranked Buckeyes have put themselves in a position where the standards have gotten much loftier, where they're measured against other national-title contenders. And while nobody outside of Alabama is a complete package, the huffing and puffing required to outlast Indiana for a 49-26 win had to be disconcerting for fans, if not downright alarming.
Granted, the Hoosiers toted a 4-1 record to Ohio Stadium and are clearly improving, but they're still a middling Big Ten team. And the Buckeyes' issues on defense and elsewhere were on full display.
It seemed as if the linebackers and defensive backs were giving receivers soft coverage, guarding against big hits. After all, they've already allowed the longest pass play (a 93-yarder by Penn State) and rushing play (a 93-yarder by TCU) in program history, which ONLY goes back to 1890 (sarcasm alert there).
If that was the strategy, it didn't work.
This defense looks slow, slow, slow. It was like watching a riding lawnmower race.
The Hoosiers had 318 first-half yards, including 239 through the air — that's a blistering pace — and trailed just 28-20 at the break.
They didn't punt until the third quarter and finished with 406 yards, 322 of them passing.
There is no way the Buckeyes should be flopping like that on defense, not with the way they've recruited. They ought to have a surplus of athletes in the back seven and should only have to say, "See ball, attack ball."
And it wasn't a case of the players having a letdown after the emotional win at Penn State. They were warned enough not to fall into the same trap they did at Iowa last year. This was an execution and, maybe, a scheme problem, not a lack of attentiveness.
Can Tuf Borland really be the best they can do at middle linebacker? We don't mean to pick on a college kid, but he's coming back from Achilles surgery and looks as if he's lost a step.
Baron Browning isn't ready yet? Fine. Put someone else in.
I noticed former five-star recruit Justin Hilliard getting some snaps in the middle early in the second half. And Amir Riep subbed at safety. Worth a try.
The Buckeyes went into the game 50th in the nation (out of 129 teams) and ninth in the Big Ten in total defense, giving up 357 yards per game.
They were 62nd in the country and eighth in the conference in rush defense (154.8).
They were 49th and seventh in pass defense (202.2).
This is a program that has attracted recruiting classes ranked second, second and fourth nationally the last three years. Those defensive ranks look as if they belong to Minnesota. The prison-guard team in "The Longest Yard" could do better. And if they're still utilizing that Silver Bullets moniker, they haven't earned it yet. This group is firing duds.
I have a theory, but it's just a theory.
Not having Urban Meyer during preseason camp and at the first three games, setting the tone — even though he's primarily an offensive coach — might have had an effect. Ohio State has one of the best staffs in college football, but every team needs someone in charge, preferably someone who's demanding and willing to challenge assistants if their groups are under-performing. That's Meyer.
GROUND GAME: One underappreciated aspect of former QB J.T. Barrett (I'm guilty here) is that the defense never knew if he was keeping it or handing off, which opened running lanes for the backs. I thought they could just divvy up his carries between J.K. Dobbins and Mike Weber, and it'd be an upgrade.
But yards just seem tougher to come by this season. They tried a couple of Dwayne Haskins keepers on the read-option, but they went nowhere.
The Buckeyes finished with 155 yards on 42 attempts against Indiana (a 3.2 average). They went into the game 34th nationally and fifth in the league with 210.4 rushing yards per game. Last year, they were 17th overall and first in the conference at 243.2.
I was interested to see what they'd do in short yardage after a critical fourth-and-inches QB run failed at Penn State.
They converted three times on fourth-and-1 with their backs but were stuffed once.
All were out of shotgun formation, of course, which gives the edge to the defense. Maybe Meyer will finally be persuaded to put Haskins under center and run a sneak.
That would have worked on that play against Penn State, where Ohio State's center and two guards blew their men three yards off the ball.
We'll just keep clamoring for that. But future opponents, I'm sure, are hoping Meyer isn't listening.
PENALTIES: The Buckeyes had nine infractions for 82 yards after committing 10 for 105 against Penn State. General Patton once said he hated to pay for the same real estate twice, and Ohio State needs to start avoiding that, too.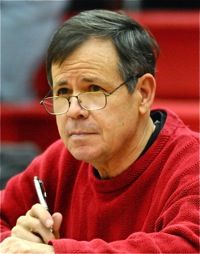 NOT ALL BAD: Although the national perception about them probably took a hit, the Buckeyes never really seemed in danger of losing, and that's because of Haskins. He can make up for a lot of shortcomings.
He had two interceptions when he was hit while passing, but he threw for a school-record-tying six TDs, five of them pretty spirals that traveled considerable distances.
He finished 33-of-44 for 455 yards, three short of Art Schlichter's single-game yardage mark set in 1981. Impressive.
He has 25 TD passes in six games and might soar past Barrett's single-season record of 35 before November.
Everybody except Alabama is working on something — the Buckeyes aren't alone in that — but a passer likes Haskins gives them something no one else has.