Troy's special teams stuffed a pair of Butler punt attempts and Jaydon Culp-Bishop rushed for more than 200 yards in his third straight game to help the Trojans spoil the Aviators' homecoming with a 25-0 win.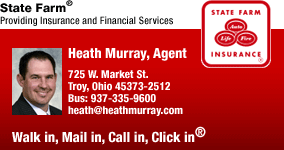 Vandalia – Troy football parent Scott Raskay celebrated his birthday on Friday. What did the Troy Trojans' special team unit – including son Tucker Raskay – do to help him celebrate? They threw a block party.
Troy's special teams blew up two Vandalia Butler punt attempts – the first recovered by Raskay in the end zone just two minutes into the game – as Troy spoiled Butler's homecoming with a 25-0 victory.
"It set the tone," said Troy senior Blake Burton, who blocked the punt leading to Raskay's touchdown. "Lately we've picked it up. We should have been making plays earlier (in the season) but we really have it going now."
Early in the third quarter, a bad snap allowed Burton to break through the line and grab Butler's punter to force a fumble. Troy recovered on Butler's 3-yard line. The Trojans scored their final touchdown three plays later on senior Jaydon Culp-Bishop's 1-yard touchdown run. The TD was Bishop's third of the game.
Troy's defense held Butler to a season-low 146 yards of total offense. Butler, which averages 286 yards, saw its 1-2 rushing attack of quarterback Mason Motter and running back Ryan Martin bottled up. Martin, who was coming off a 299-yard effort on 43 carries against Greenville, was held to 90 yards on 25 attempts by Troy.
Motter was held to 10 yards on 19 carries. His rushing totals suffered thanks to five Trojans sacks.
"We have one of the best rushing defenses in the GWOC and we plan to continue that," Burton said.
"The one thing that Mason Motter does better this year than he has the last two years is run the ball," Troy coach Matt Burgbacher said. "Our kids did a great job of containing him, containing Martin. Martin runs the ball hard. The gang tackling was there."
Butler's best chance to score came in the first half. The Aviators took over on their own 43-yard line with 7:28 left in the first quarter. Martin, whose been battling a nagging ankle injury the past few weeks, helped drive Butler to a first down on Troy's 24-yard line. Butler reached Troy's 15-yard line, and on fourth-and-1 gave it to Martin again to start the second quarter.
The Trojans' defense pushed him back to take over on downs.
"Our defense didn't get rattled," Burgbacher said. "Our defense responded every time we turned it over or got stopped on fourth down. They kept fighting and they kept battling. As a coach that's all you can ask."
The 15-play drive drained the final 7:28 of the first quarter. Butler reached Troy territory three times in the second half, but never got past Troy's 43-yard line as the Trojans came up with big sacks on all three drives.
"Defensively and special teams tonight, we were fantastic," Burgbacher said. "We bent a little bit on the drive at the end of the first quarter, but I tell you what, our kids said they were not going to break. They did a great job."
Troy took a 13-0 lead with 7:48 left in the first half on Culp-Bishop's 12-yard touchdown run. The highlight of the drive was quarterback Brayden Siler's pass to tight end Spencer Klopfenstein, who took the short pass in the flat 53 yards to Butler's 17-yard line.
The lead increased to 19-0 on his 88-yard sprint down Butler's sideline with 4:53 left in the half.
Culp-Bishop took the hand off and cut right, ran through a hole at the line of scrimmage, side stepped a tackle at the 15-yard line, avoided getting tripped up at the 45 on a diving tackle attempt and outran three Aviators to the end zone for his 19th rushing touchdown this season.
Culp-Bishop finished with 229 yards on 23 carries, giving him 1,203 yards this season. He's the ninth running back in program history to rush for 1,000 yards in consecutive seasons.
"First I want to thank my O-line for making everything happen," Culp-Bishop said of Jesse Westmeyer, Jakob Moorman, Ethan Freed, Riley Hubbard, Marshall Brueckman, Nathan Garber and Spencer Klopfenstein. "I can't run by myself. I need blockers. But I'm excited to to have 1,000 yards. That means my line is doing great and I'm excited to see more yards in the future."
Troy finished with 309 yards of total offense. Not bad considering Troy ran just three plays in the first quarter and held the ball for 1:05. None of Troy's five drives in the first half went longer than 1:39. The Trojans also overcame four turnovers (three interceptions, one lost fumble).
Trojans entered halftime with a 19-0 lead. The defense made it stand in the second half. Sam Jackson, Garrett Jones, Shane Shoop, Austin Good and Burton were all credited with sacks. Jackson and Burton also led the Trojans with nine tackles each.
"All three teams – offense, defense and special teams – have really picked it up," Burton said. "We're all connected and making plays happen."
The win keeps Troy atop the Greater Western Ohio Conference's American North division at 6-1 overall and 2-0 in the division. Piqua (5-2) is tied with Troy in first. Those two teams continue their rivalry in Week 10. Next week Troy hosts Sidney (4-3, 1-1 GWOC) on Senior Night.