A total flip from the St. Henry seen in recent weeks, the Redskins showed it can throw the ball in a lopsided win over Division VII champ Minster.
St. Henry – It will no doubt go down as the biggest surprise of any area win (or loss) on Friday night.
Not for the fact that a St. Henry team that struggled terribly in the second half of last week's loss to Marion Local would come back a week later and defeat Division VII champ Minster;  but the surprise part was the manner in which they did it, 34-14!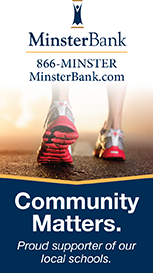 The same St. Henry team that's struggled to throw the ball for the first six weeks of the season…well, it threw it pretty well Friday, and threw it often enough to show upcoming opponents that the forward pass is a viable option after all.  Quarterback Sam Lefeld, in a win-at-all-costs scenario, completed 13 of 19 attempts for 178 yards.
And while he didn't throw any touchdowns, he loosened Minster's defense up to the point where the 'Skins ran it 32 more times for 292 yards and five touchdowns – three by Zach Niekamp and two by his fourth quarter replacement, K.J. Jacobs.
Symbolically, even Mother Nature got in on the act, as a dense mist descended on the Wally Post Complex at the start of the third quarter – a fog that enveloped a helpless Minster team while another kind of metaphoric fog from recent weeks lifted from around St. Henry.  Suddenly, those who watched from the stands, as well as the rest of the MAC, saw the Redskins differently.

In fact Minster did play like it was in a fog, running for just 100 yards while passing for 150 – 250 yards in total.  Shut out for most of the game, the 'Cats avoided the skunk by scoring two late touchdowns by Alex Schmitmeyer and Brendon Bornhorst (on an 89 yard kickoff return), but after the matter was settled.  It was that kind of night.
"I could see this coming all week,"  said Geron Stokes afterwards.  "We were terrible, like we knew this was coming.  We have trouble with them every year.  Had you talked to me earlier in the week I would have predicted a running clock."
St. Henry, on the other hand, feasted on the Wildcats' forboding, accounting for 470 yards of offense – 292 on the ground and another 178 through the air.
Zach Niekamp started it all, scoring on a 44-yard run at the 6:20 mark of the fourth quarter.
Niekamp cashed in again at 11:07 of the second quarter on a 2 yard run to make the score 13-0, and that was sum total of points in the first half, as Minster went to the halftime dressing room to regroup.  But they didn't!
Niekamp opened the third quarter with another touchdown, a one-yard run to make the score 19-0.
In the meantime Minster would move the ball a bit, but had drives stalled by punts, downs, and an interception.  There was no seeming fire, or enthusiasm, to their effort.
On the other side…as the fog rolled in St. Henry lit up like a lighthouse beacon, Niekamp ripping off a 70 yard run at the start of the fourth quarter that set up K.J. Jacobs and a 10 yard touchdown, making the score 24-0.

Finally, on the ensuing kickoff, Minster mounted an 11-play drive that saw Schmitmeyer crack the goal line with 2:28 left in the game to avoid the shutout.
Moments later, Jacobs scampered around right end and 78 yards for St. Henry, scoring his second touchdown to make the score 34-7.
Bornhorst answered one play later with the kickoff return – 89 yards – that made the loss prettier numerically, but no less satisfying to Geron Stokes.
"They were more physical than we were,"  he said, speaking of St. Henry.  "They do more things right than we do.  They play harder than we do.  Tonight we were too timid to beat those guys.  We've been through this before, but we've had quality leaders in kids who wouldn't let us surrender, so now we're going to find out this week what our coaching staff and our team is made of.  It should be fun."
On the other side of the field Zach Niekamp took of his helmet and exhaled, enjoyed the respite that winning meant – a game that the Redskins desperately needed to set their season on a better course and still, a hoped-for berth in the post-season.
"Absolutely, we had to get a bounce-back win after last week,"  said Niekamp.  "Nothing could be better than what we did tonight.  Tonight we proved that we should be a contender in the MAC.  Tonight we showed that we could throw the ball pretty good, and that was a good bonus to the win."
And there's no question that the effort of quarterback Sam Lefeld ruined the film room plans of each of the Redskins remaining three opponents.  Lefeld not only threw the football effectively, he looked confident in doing it – even the difficult throws while rolling out of the pocket.
"Hats off to the most maligned position for St. Henry football, and that's quarterback,"  said coach Brad Luthman.  "Sam Lefeld played a heckuva' game.  He converted three or four third downs, a fourth down through the air, and that's the kind of thing we needed tonight.  We haven't been a confident passing team all year, but credit to Sam because he had his best week of practice and we said we're going to see what he had.  We turned up the heat on him a bit, and he responded."
What Lefeld did only heightened the impact of the already-acknowledged go-to option on offense, Zach Niekamp.
"Thank God Zach came to us in February and asked to play running back,"  smiled Luthman.  "But the difference in last week's game and tonight was the fact that we completed some throws early, and that opened things up while allowing Zach to stay fresh until the third and fourth quarter.  And when it was 'hammer' time tonight he was ready.  Last week we had to lean on him and he wore down by the second half."
Taking everything into account, it was the best win possible for a St. Henry team that desperately needed a win, yes, but another gear, as well, before shifting to Fort Recovery next week, then Coldwater, and Parkway.  The fog as to their ability to throw, seem to lift as a different fog shrouded the Minster Wildcats.
"Actually, the thing that was eerie to me, and I didn't want to say it out loud…was the last time we played in the mist like this was against Anna last year, and that was our worst loss of the season.  I'm really happy with the way tonight turned out."
Eerily, we were there for that Anna game, too, and Friday's latest win was nothing like a year ago.   Needed to prove something in that game as well, the Redskins played like Minster did on Friday.  That Anna game of last year set Luthman's team on a course to lose two of their remaining three.  Now, with an identical 5-2 record of a year ago, at least one question has been answered.  13 completions in 19 attempts against the state champion proved they could throw the ball.
As for Fort Recovery, Coldwater and Parkway…Zach Niekamp and Luthman will take their chances.  But it sure is nice to have another gear in the engine.