Ohio State scores two touchdowns in final eight minutes for victory … Quarterbacks from both teams have sterling performances … Buckeyes have the makings of a magical season.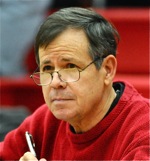 Two weeks ago, when the Ohio State Buckeyes fell behind by eight in the second half to TCU, they looked to be finished, done, dead — especially with injured Nick Bosa on the bench and the offense having lost its mojo. But they hopped off the coroner's slab and came away with a stirring victory.
Last night, with 110,889 white-shirted, pompom-waving Penn State fans screaming themselves hoarse, the predicament was even worse — a 12-point deficit with eight minutes to go and the Trace McSorley Heisman campaign in full swing. But they staged an improbable rally with two quick touchdowns and a defensive stop for a wild 27-26 win that will look mighty impressive on their résumé in December.
I'm not sure how you measure heart and toughness, but this bunch sure has displayed plenty of both when they needed it most.
And we're probably at the point where we should never write off Dwayne Haskins, no matter how rough a time he's having, and start expecting him to produce something magical with the game on the line.
The redshirt sophomore quarterback was constantly under duress and misfired frequently. Seven minutes into the fourth quarter, he was 16-for-31 for 146 yards with one TD and one interception on a deflected pass that should have been caught.
But with the Buckeyes' Big Ten and national title hopes evaporating, he stood tall in the pocket, delivered strike after strike and, well, basically blew our minds.
He hit Benjamin Victor on a 47-yard catch-and-run TD with 6:42 to go. And after a Nittany Lion punt pinned the Buckeyes deep, he led a 96-yard TD drive under intense pressure as if he were toiling in a summer scrimmage.
First, he connected with J.K. Dobbins on a 35-yard screen. Dobbins then ran for seven, and Mike Weber followed that with an 11-yard rush.
A sideline pass to Parris Campbell racked up 14 yards to the Penn State 29-yard line, and, suddenly, that deafening White-Out audience —  the largest in Beaver Stadium history — wasn't making much noise because they were too busy chewing their fingernails.
Dobbins ran for five yards. And then Haskins threw a swing pass to K.J. Hill, who picked up blocks from Austin Mack and Terry McLaurin while high-stepping into the end zone for a 24-yard score with 2:03 to go.
The Buckeyes went for the two-point conversion but failed after a silly delay-of-game penalty — just one of a multitude of gaffes that will make them cringe when they watch the game film — keeping the lead at one.
On those two drives, Haskins was 6-of-8 for 133 yards and two TDs, a stretch that cemented his place among the all-time great Buckeye QBs.
But for the game to become an instant classic, the Ohio State defense had to keep the Nittany Lions from advancing to field-goal range, which was no small task.
McSorley set a Penn State record with 461 total yards (286 passing and 175 rushing). He's smart, agile and gutty. He's a nightmare for defenses because of his ability to keep plays alive with his feet while throwing accurately on the run.
But on the biggest play in the biggest game of the season for the Nittany Lions, they took the ball out of his hands.
Shockingly, on fourth-and-5 from the Ohio State 43-yard line with 1:22 to go — perhaps 10 yards from a field-goal try — he handed off to Miles Sanders, who was tackled for a two-yard loss.
Sanders was coming off a 200-yard game against Illinois, but he was put in shackles by the Buckeyes, finishing with 43 yards on 16 carries.
Maybe they figured the defense would swarm McSorley and ignore Sanders, but not having the senior QB drop back either to pass or have a chance to scramble for a first down is something that will be second-guessed in Happy Valley for years.
The Buckeyes were abysmal in the first half. They tallied 93 total yards to 293 for the Nittany Lions and were lucky to trail only 13-7.
But they looked like their old selves on the opening drive of the second half, rumbling to a TD for a 14-13 lead.
Urban Meyer, in his first big game on the sidelines this year, seemed to have a shorter fuse than normal. He was chewing players after dumb mistakes, taking a page from the Nick Saban coaching book. And he had reason to smolder the next time they had the ball.
They reached the Penn State 16-yard line but fizzled after that. On first down, they called the Wildcat play where Hill took a direct snap and was caught in the backfield for a three-yard loss. That play never, ever, EVER works. The defense knows what's coming and sends all 11 players at the ball carrier. Never call that. EVER. (Have we stressed that enough?)
They had to settle for a 33-yard field goal by Sean Nuernberger, but it was wiped off the board when the Buckeyes were called for a 15-yard facemask infraction while blocking. They would finish with 10 penalties for 105 yards.
Nuernberger then had to try a 48-yarder, which was wide right.
So long, four-point cushion.
That was huge gaffe because the Nittany Lions answered with a TD, helped by an iffy targeting penalty on safety Isaiah Pryor, to take a 20-14 lead with 12:22 to go.
I never thought I'd say J.T. Barrett was missed, but his absence was felt on the next series. On fourth-and-centimeters from the Penn State 48, Haskins tried a quarterback run from shotgun formation after faking to Dobbins (why the coaches don't have him under center and run a sneak is a mystery). He was blown up for a loss with 10:17 left.
Barrett, though a liability in the passing game, gets that first down 100 times out of 100.
And it seemed like we reached drive-home-safely time when Penn State, which would finish with 492 yards while giving up 389, scored again with eight minutes left for a 26-14 lead.
But the Buckeyes started countering the Nittany Lions' crippling pass rush with quick screens and swing passes. Kudos to offensive coordinator Ryan Day for that.
Kudos also to Haskins — the poised, talented, unflappable Haskins — for eight minutes of the best quarterback play we'll likely see in college football all season.
And if the Buckeyes find themselves in a bind again, if they're facing a daunting deficit with the clock racing toward zeroes, we'll resist the urge to think they're headed toward a certain defeat — because they're probably getting ready again to show us why we should never count them out.