The Flyers have an off day in New York and lose to an underdog Marist team that "made all the plays" when they needed them.
POUGHKEEPSIE, N.Y. — The University of Dayton football players have a motto, "Making Plays," and they wear it proudly on the back on their practice tee shirts.
Unfortunately for the Flyers, it was as if the Marist College Red Foxes slyly sneaked into UD's practice walk-through Friday afternoon at Tenney Stadium and stole those shirts — and the motto.
Because on Saturday afternoon, on the beautiful landscape of the Hudson Valley, it was Marist making the plays and UD failing to make the plays, enabling the Red Foxes to score a major Pioneer Football League upset, 28-17.
"We were off all day, just off," said Flyer coach Rick Chamberlin. "I didn't feel comfortable throughout the game. I didn't feel as if we got into any rhythm defensively or offensively."
Marist came into the game 0-and-3 and lost its PFL opener last week to Stetson and the Red Foxes had beaten Dayton only once in nine previous games.
And the Flyers were picked to finish second in the PFL in the pre-season poll while Marist was predicted to finish seventh in the 10-team league.
Marist, though, quickly displayed physicality and athleticism and as UD coach Rick Chamberlin described it, "They punched us in the mouth. They were just beating us, just beating on us. We'd make a play here and there, but there was no momentum our way at all."
Before the Flyers could catch a glimpse of the Hudson River that flows behind the Marist campus, the scoreboard read Marist 14, Dayton 0.
It was a repeat of last week in Welcome Stadium when the Flyers fell behind Davidson and its fast-placed triple option offense, 14-0.
The Flyers recovered against Davidson and won easily. They didn't against Marist, even though they scored 17 unanswered points to take a 17-14 midway through the third quarter.
"Even when we got that 17-14 lead, I still didn't feel like we had things under control," said Chamberlin. "I thought, 'well, OK, maybe,' but I still didn't feel comfortable with the way we were playing. Then they went right down and scored."
That's when making plays and not making plays took effect. It unfolded right after redshirt freshman quarterback Jack Cook hit Matt Tunnacliff with a 24-yard touchdown pass with 3:40 left in the third quarter, pushing the Flyers in front, 17-14.
On the kickoff Marist's Mekhai Johnson caught the ball at the Marist one and squirted outside UD's pursuit and sprinted 54 yards down the right side line to the Flyers 45.
"The only thing I can think of is that our outside defenders got collapsed inside and they can't do that," said Chamberlin. "They have to keep everything inside of them, but their guy got outside. We collapsed inside and boom. . ."

On the next play, an incomplete pass, UD's Isaac Sexton was penalized 15 yards for a late out of bounds hit on the quarterback, a dubious call at best.
"Roughing the passer and we all thought it was a bad call," said Chamberlin.
And Marist time and again hit the big third down plays, where 'Making Plays" matters most.
"We just couldn't get it," said Chamberlin. "Just couldn't stop it, whether they ran it on third down or threw it on third down. We couldn't stop it. On our part we couldn't get the third down when we needed it."
Three plays after the roughing-the-passer call, came another Marist big play and, of course, it came on third down. On third-and-four at the UD 24, quarterback Jacob Hallenbeck rushed for the first down, but didn't stop there. He completed his rush into the end zone, a touchown to put Marist back in front, 21-17 with 1:52 left in the third quarter.
Then the Flyers tried time and again to live up to the tee shirts, "Making Plays," but couldn't do it. The Flyers failed to convert a third-and-6 at the 31. They lined up as if they were going for it on fourth down, but quarterback Jack Cook pooch punted to the Marist 15. But all the pooch punt did was cause the Flyers to wonder, "Who let the dogs out?"
Still in it, only down 21-17, the Flyers had Marist third-and-12 at the Marist 14. Hold them there, force a punt, and good field position was assured. Another third down.
Instead Marist unleased the big, big play. Hallenbeck threw a pass straight down the left side to tight end Jon Kanda, who is from the Congo, and he sprinted 30 yards to the Marist 44.
On the next play came the big, big, big play — the game-breaker. Hallenbeck unleased an incendiary bomb to wide receiver Juston Christian, a 56-yard game-shattering touchdown and a 28-17 Marist lead.
Christian already owns the Marist career record for receiving yard and passes caught. The Flyers found out up close and personal how he does it. He caught seven passes for 107 yards and the game-deciding touchdown. The Flyers were hit hard by a two-headed quarterback system.
Mike Husni started and got the Red Foxes the 14-0 lead, hitting five of seven passes for 60 yards and he rushed for 12 more. Hallenbeck, pitching in relief, was 12 for 15 for 176 yards. The two combined for 17 of 22 for 236 yards.
Meanwhile, UD's Cook suffered an off day, missing his targets high, wide and ugly several times en route to 16 of 35 for 168 yards, a touchdown and a late-game interception.
The one Flyer who can proudly wear his "Making Plays" tee shirt this week is Kyle Butz. He caught five passes for 40 yards and he returned five kicks for 72 yards. And he weaved his way magnificently for an 80-yard punt return touchdown that was called back by a holding penalty.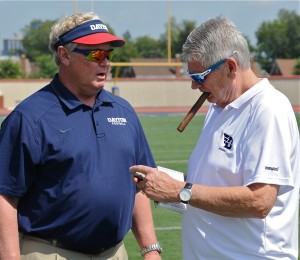 "I'll be interested to see the video on that punt return called back and see what they say Matt Tunnacliff did. Butz? He continues to make plays," said Chamberlin. "Anything we did today, he was the one making plays, with his returning and catching the ball. He kept us in the game giving us good field position with his punt returns."
Chamberlin, though, knows when the better team on that day won the game and it was Marist.
"We made mistakes, but I told our team after the game, 'That team beat us. They just beat us.' They beat us with big plays, they beat us with physical play. Our other two losses (Southeast Missouri and Duquesne), we made the mistakes, shot ourselves in the foot. These guys (Marist), they just won the game."
And maybe Marist will be practicing next week in 'Making Plays' tee shirts.