In the battle for the Battered Helmet, Piqua used a pair of special teams plays to reclaim the coveted trophy from Sidney with a 14-12 victory.
Sidney – They play for the Battered Helmet, a plastic toy helmet from the 1970's with one side painted blue for Piqua and the other Yellow for Sidney.
But when Piqua and Sidney collide – like they have now since 1899 – more than a few helmets earn that nickname with battle scars from the emotional and, at times, intense rivalry. Friday's latest installment was no different.
Piqua overcame a pair of second-half turnovers deep in Sidney territory and held on for a 14-12 road victory in the Greater Western Ohio Conference American North Division opener for both teams. The Indians (4-2 overall, 1-0 GWOC) also used a pair of special teams plays during the win, including pinning the Yellow Jackets (3-3, 0-1 GWOC) on the Sidney 1-yard line with a punt with 59 seconds left in the game.
"It's all the trust I have on my two end guys and my center to get down there and stop it," Piqua quarterback and punter Micah Karn said. "I put it up in the air for awhile and hope they get down there, turnaround and find the ball.
"It was key We practice it almost every day. We go to the 45-yard line and drop it in. I gotta say it wasn't luck."
Well, not for the Indians. It was very unlucky for the Yellow Jackets, who were trailing by two with a minute to play. And even with their quick-strike capability, the Yellow Jackets could have used every bit of those extra 20 yards from a touchback with regular kicker Hallie Truesdale out with a leg injury.
Sidney – starting the drive with quarterback Ryan Dunham taking shotgun snaps in his own end zone – drove to its own 20-yard line before a pass fell incomplete on fourth down with 5.6 seconds to end the game.
"We're a big play offense and they were going to make us work," Sidney coach Adam Doenges said. "We were only able to sustain one drive to get down the field. We did have one big play, but we need to put more drives together."
"When you have to go 99 yard with no time outs, that tough," Piqua coach Bill Nees said.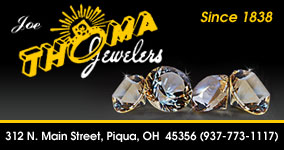 Piqua had a pair of long drives to start the second half but both ended with lost fumbles. The Indians opened the second half by driving to the Yellow Jackets' 35-yard line where Sidney's Keith Lee recovered a fumble. But the Yellow Jackets were eventually forced to punt. On Piqua's next drive, the Indians reached the Yellow Jackets' 20 before Seth Klingler recovered a fumble. Sidney was again forced to punt.
"It was two teams that knew each other," Doenges said. "It was a great chess match, no doubt about it."
Piqua led 7-0 with 5:49 left in the first half on Karn's 1-yard quarterback keeper. The score was set up when Piqua's Brennan Toopes blocked Sidney's punt near midfield and it was returned to the Yellow Jackets' 3-yard line.
Sidney responded a minute later with a 53-yard touchdown pass from Dunham to Darren Taborn. The extra-point attempt missed wide left. The Yellow Jackets also missed a 27-yard field goal in the first half.
"(Truesdale's) been battling that leg injury since about two-a-days," Doenges said. "She's been battling, battling, battling. Last week it just got to her. We just needed to sit her out this week and try to get her rested up.
"There's no fault to Caleb. It's just something we have to adjust to."
Piqua took a 14-6 lead on Karn's second 1-yard keeper with 7:45 left in the game. Sidney – facing fourth-and-7 from the Piqua 7-yard line – again responded when Dunham rolled right and tossed a pass over two Piqua defenders. Taborn leaped high to grab it and got both feet into the end zone for the score with 5:07 remaining. Dunham's two-point conversion pass under pressure sailed into traffic in the end zone but fell incomplete.
Karn accounted for 248 of Piqua's 318 yards of offense with 122 yards rushing and 126 passing. He completed 8-of-13 attempts. Six of those completions went to Owen Toopes for 98 yards.
Piqua's biggest grab came after the game. That's when the Indians secured the Battered Helmet from Sidney's sideline.
"Last year I was part of the loss," Karn said. "I knew my senior year I was going to lead my team to getting that Battered Helmet back. That's the one goal we wanted from the start. Sidney is one of the biggest rivalries we have, other than Troy. But I don't know, man, Sidney hits me just as hard as Troy hits me."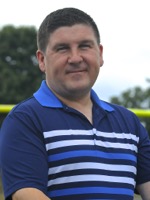 For Sidney, Dunham completed 17-of-25 attempts for 170 yards and those two touchdowns. Caleb Harris led Sidney with 104 yards rushing on 18 carries. The Yellow Jackets finished with 307 yards of offense.
Piqua improved to 78-39-6 in the 123 rd meeting between the I-75 rivals.
"Sidney is a team that's got some quality wins," Nees said. "This rivalry is big but it's also big during the winter and basketball season and during the spring. You want to carry this over."
And carry that Battered Helmet home.