It took two and a half games to wake up, but when they did Russia totally flipped the script Tuesday to beat Anna in five games.
Anna – This one hurt – excruciating!
For the first two games of Tuesday's Shelby County League match with Russia the Anna Rockets (10-7) appeared to have their foot on the throats of the rival Russia Raiders (13-6).
The Rockets hustled, played with confidence, and made Russia pay dearly for mistakes of both omission, and commission.  They won the first set 25-17, and it wasn't that close.  They won the second 25-20, and that one wasn't that close either.  A late rally by Russia closed the deficit from eight points to five.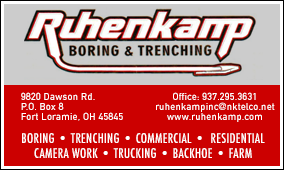 "We were awful.  We came out flat,"  said Russia coach Aaron Watkins.  "And I told the girls after the second set that I was disappointed.  We didn't show up to play.  And I told them…if we win this we have the bottom half of the county left and if we win out we win the league for the first time in 15 years."
Then, like a scene from the movie Slapshot, that same team went from flat to fantastic, taking the third game, the fourth, and the deciding fifth…and won the match, 17-25, 20-25, 25-23, 25-20, and 15-9.  It raised Russia's record to 13-6, but more, it dropped Anna to 10-7 with a demoralizing thud.  You just don't have that happen to you when you're on cruise control;  but it happened to the Rockets.
"Russia did a really good job of responding,"  said a disappointed Anna coach Kelli Zumberger.  "Poling (Laurissa) really had an excellent last three sets.  She really turned it on compared the first two, and she just made it hard for our girls to respond.  We tried to get them out of system, but our serving and our play just wasn't the same as it was in the first two sets."
And it fact, it was the emergence of senior outside hitter Laurissa Poling at the mid-point of the third set that turned the momentum, and the outcome, in Russia's favor.  As the clock on the gym wall struck 8 pm, setter Jenna Cordonnier fed Poling in the far corner at the net.  The 6'1″ Poling responded with a perfectly timed killed that took varnish off the floor when it struck.
But more importantly, it seemed to correct her rhythm, something missing for the first two and a half sets.  From that point on, Cordonnier kept setting her…and Poling kept crushing one kill after another – too hot to handle for the Anna defenders.
"Laurissa just got more into the match at that point,"  said Watkins.  "She picked up her swinging, her blocking, she was the turning point of the match…her and Jessica York.  Jessica had nine kills in games four and five, and she's the one who probably won the match for us."
For whatever reason, for the second Tuesday in a row it took Laurissa Poling a couple of games to warm to the task.  As she did against Fort Loramie last week, she was a non-factor in games one and two, only to come on late in the match and completely flip the script.  Can that be explained?

"I don't know why,"  said Poling.  "For some reason in the first two games I wasn't very focused.  At the end of the second game I said to myself…I've got to pick it up to help my team.  So I guess I need to do a better job of coming out focused (to play).  But I began to get my timing down in the third game, and things began to click between me and my setter.  That helps a lot.  And it was hot in here, and I think a key to the match was them beginning to wear down in the fourth and fifth sets."
She had help, of course.  And plenty of it.  Sophomore libero Kendall Monnin, whom Watkins calls as good as they come at her position, keyed the defense after Poling caught fire.
And Morgan Wenrick, who unfairly, and too often, goes unnoticed for her contribution of "smart" play, threw in some key points at key points of the Raiders' comeback.
"Morgan Wenrick is the smartest player on our team,"  smiled Watkins, when asked to assess her importance.  "She's not our flashiest hitter, she doesn't hit it as hard as Laurissa and Ashley Scott does, but when she gets the ball it's going over and she places it somewhere smart where she's going to get a kill."
"When Laurissa started getting hot I knew the floor was going to be wide open in spots,"  said Wenrick, smiling ear to ear.  "Coach was helping me out, letting me know what was open.  But Laurissa really did a good job of selling it at the net and when they came up to block that left some big spots open behind them."
These are hard losses, especially at the point of the season where you're playing the league's best, and pride, along with tournament seeds, are on the line.  There were some red eyes on the Anna girls when they finally emerged from their locker room.  And Kelli Zumberger took longer than usual to make her appearance, as well.  Coaches earn their money by putting their teams back together after such a shocking loss, and Zumberger assured…that her team would learn from the experience and respond.
"You know, it's a learning experience,"  she said.  "The insane part of this is that we go into tournament now in a couple of weeks.  And when you're up 2-0 like we were tonight, that really hurts.  That's the worst part of all this.
"But tomorrow I expect them to come in and kick butt in practice.  We'll turn the page, we'll things around, and it'll all be good."
Well, she would hope, as would Aaron Watkins had it happened to him.  And the irony of it is…for the second week in a row it almost did happen to him.  How do you explain coming out that bad with so much on the line against one of your arch rivals?  How do you explain being 19 matches into your season and not being ready to play?  How can there be more motivation…than winning out and claiming your first league title in 15 years?
"It isn't like we're not aware, because we talk about it,"  said Watkins last week after the Loramie win.
Or maybe it's just the clock.  Note to future opponents:  beware of Laurissa Poling about an hour into the match.  She's a lot better player after 8 pm!