Buckeyes keep visitors in check during 49-6 blowout … Young defenders look much better while cutting down on big plays … Haskins throws for 5 TDs in one half in another sterling performance.
Columbus – Urban Meyer was on the sidelines for Ohio State again after a three-game suspension, a punishment that always seemed like a panic move by administrators to try to please the media vultures that never would be satisfied anyway (OK, I'm done pontificating).
And while the seventh-year Buckeye coach was no doubt happy just to be back in his element, he also had to be encouraged by what he saw in a 49-6 win over Tulane — especially with a showdown at Penn State looming.
The defense had given up six plays of more than 40 yards through the first three games after allowing only five all of last season. That, folks, is putrid.
Though it's probably too early to tell how the unit will deal with the loss of pass-rusher extraordinaire Nick Bosa, who is out indefinitely, the Buckeyes seemed to take a Mother-May-I giant step forward against the Green Wave, especially some of the neophytes in key positions.
I saw safety Isaiah Pryor take off like he was shot from a circus cannon and notch a tackle-for-loss by walloping a ball carrier in the open field.
Linebacker Baron Browning, who oozes natural talent, flashed his speed while running down a scrambling QB for a sack. He also displayed decisiveness on another tackle in the backfield near the goal line, and he and his mates looked to be in position all day.
And cornerback Jeffrey Okudah showed textbook form on an interception that was wiped out by an off-sides penalty. The speedster had blanket coverage, then turned to track the ball and make a somersault catch.
I had a nagging suspicion that Bosa's absence could have a major impact on the rest of the defensive line. He was drawing so much attention that others never had to worry about being double-teamed. But Dre'Mont Jones and the front-four crew were able to get constant pressure and blow up the line of scrimmage, even though another starter, Robert Landers, sat out with a minor injury to rest up for next week.
Best of all, there were no confounding breakdowns that led to long-distance TDs where the Buckeyes looked like they were chasing a dragster. Tulane, which finished with 256 yards, had two gains of 38 and one of 39, but those came after the outcome was decided.
Defensive coordinator Greg Schiano said something a few days ago that makes sense. He likened the young defense to someone learning how to drive a car. Everything is methodical in the beginning but requires less thinking after a while. That seems like a plausible explanation for that early futility.
Yet another treat for Meyer had to be looking across the field and seeing Dwayne Haskins torching the opposition. Roll out the superlatives again.
I've tried to think of a quarterback he most reminds me of, and I'll throw out a name while realizing we're just four games into his first season as a starter: Dan Marino.
Like the NFL Hall of Famer, Haskins is tall in the pocket, throws with velocity, has a rapid release, can hit his targets with the precision of a sniper and almost always allows his receivers to gain yards after the catch by putting the ball on their hands in stride. Basically, as those NFL draft gurus would say, he checks all the boxes.
He doesn't have the mobility to consistently evade a rush, but neither did Marino. And we tend to forget that J.T. Barrett wasn't exactly an escape artist. Tough to bring down? Sure. But the Buckeyes gave up 22 sacks last year and have allowed only four this season (and one Saturday was taken by back-up Tate Martell).
Haskins gets the ball out so quickly that he won't often be a sitting duck in the pocket, especially with how much promise the offensive line is showing. While playing just two quarters, he was 21-of-24 for 304 yards and five touchdowns while building a 42-6 lead.
One concern without the QB run threat, a la Barrett, is the Buckeyes haven't really mauled anybody in the ground game. But they've been efficient enough — they had 151 yards on 38 attempts against Tulane (a 4.0 average) — and that's a concession you'd make 100 times out of 100 for a player with Haskins' skills.
He's got 16 TD passes (and just one interception), the most by a Big Ten QB through four games in the last 14 years. And we probably don't have to worry about that kind of production ending anytime soon.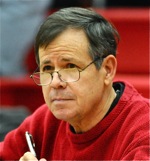 I've heard projections that the Buckeyes can lose one game and still make the playoffs. If that one game is Penn State, though, I don't see it happening.
Even if they finish 11-1, they wouldn't have a chance to win the Big Ten unless the Nittany Lions lose twice in the conference, which seems unlikely. And there's no way the league is putting two teams in the playoffs.
That means the stakes couldn't be higher going into Happy Valley, and there's no place rougher on visitors than Beaver Stadium at night.
But the game is coming at a good time for Ohio State. Meyer is back, Haskins is rolling, and the defense, even without Bosa, has finally started to look like it's learned how to drive.