It took them a while to get rolling, but when the did Russia added on to Loramie's five-set miseries with Thursday's Shelby County League win in volleyball.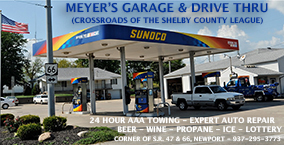 Russia – Fort Loramie coach John Rodgers admitted – it's getting to be a bit like the old Bill Murray movie, Groundhog Day.
That is, his Redskins' volleyball team (7-7) jumped out to an aggressive start and won the first set of Thursday return engagement with Russia (10-5)…only to lose three of the next four sets, and the match, 25-20, 20-25, 23-25, 25-17, and 8-15.
"It's getting to be like what you wrote about the last time you saw us (versus Jackson Center),"  said Rodgers.  "It's like Groundhog Day.  That's what it is.  We just get so conservative at crunch time.  And I stressed it during timeouts – do what got you here.  Be aggressive.  But we put the ball in the center of the floor and they pick it up and run their offense.  We don't serve aggressively.  And those things aren't going to go away until we make them go away."
In a nutshell, that's exactly what happened to Loramie as Russia swept three of the last four sets (and the season series).  And being the conciliatory host, Aaron Watkin's Raiders gave Loramie every opportunity early to cash in on a slow, lethargic start.
"When we come out and set the tone with our game, be aggressive and hit the ball, good things happen,"  said Rodgers.  "When we come and let the game dictate what we're doing, that's when we get in situations like the start where we shouldn't be.  We should have won that match in three sets."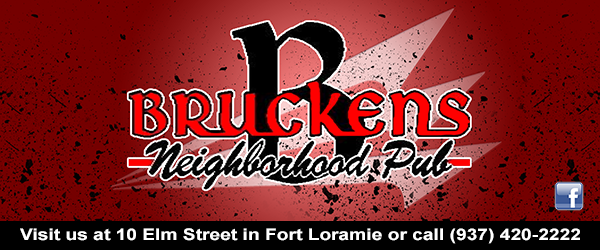 And indeed Russia did begin to set the tone, somewhat, in the second game, playing defense and capitalizing on some Loramie mistakes.
But in the third game outside hitter Laurissa Poling suddenly came to life, hitting some thunderous kills that had the Redskins' back line defense scrambling to cover ground and to get a hand on the ball.  Her contribution was welcome, but more, her sudden impact on the match lit a fire under sophomore teammate Ashley Scott, who picked up Poling's tempo and went on to dominate play in the third, fourth, and the deciding fifth set.
Her teammates kept setting her the ball, and Scott, who might be 5'10, played much bigger, hitting one kill after another to all points of the Loramie defense, and scoring, leading the way to her team's 10th win of the season.
"Ashley's stepping up big time as a sophomore,"  smiled Watkins.  "She had 25 kills on Tuesday (against Jackson Center) and was probably close to that tonight.  She's just been phenomenal…and our supporting cast has been there with her.  But Laurissa and Ashley is a heckuva' one-two combo.
"When Laurissa got going in the third she was getting all of 'em (hitting the ball with authority),"  added Watkins.  "Sometimes she overthinks stuff, but when she gets to where she plays with instinct she does some great things.
Ashley Scott is more comfortable hitting thunderbolts over the net…than talking about it.
"We just started playing together, and hitting more aggressively,"  said the Raiders' soph nervously, relative to their third and fourth set turnaround.
"In the first two sets we weren't aggressive, we had a bunch of errors…we gave them a lot of their points.  I think in the fourth and fifth sets we just decided to win.  We put the ball away faster."
And the manner in which they did that in the fifth set helped Russia, at one point, build a commanding 14-6 lead.
"We let them get into rhythm,"  added John Rodgers.  "When you do that, of course they're going to do well (as they did in the final two sets.)  Until we learn to trust ourselves with the skills we have, which are top-notch, it's gonna' continue to end like this."
But for Aaron Watkins and the Raiders, they've now won six of the last seven matches, and showed again Thursday that if you LET them get into rhythm – if you wake up Poling and Scott – their ability to score points in bunches is rather impressive.
"We just need to get off to a better start, and we talked about that in the locker room,"  said Watkins.  "We need to be aggressive from the start."
Which is the polar opposite of what John Rodgers was shaking his head about.  His team needed to be more aggressive at the end.