No one saw this coming, but now that it's here…Coldwater enters Week 5 in a familiar position at the top of Division VI rankings, but without some of the familiar names.
The call came from southern Ohio this week, a familiar football voice from so many years past, asking about area football…and the MAC, in particular.
"I thought you said that Coldwater would be a step behind this year?"  said Russ Massey, who as a pure fan knows Ohio high school football as well as anyone you can name.  "Shoot, the AP's got 'em ranked #1 in the state."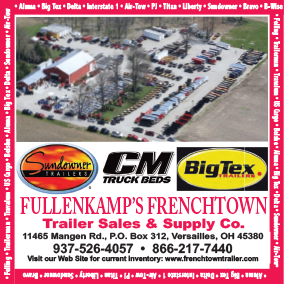 And yes, on both counts.  The Cavaliers impressive start (and maybe the region's most impressive win so far, against D-IV Clinton-Massie) has taken more than one by surprise, including this writer, who's seen them play now two of the last three weeks.
But more impressive than their record (4-0), and their ranking (#1, Division VI last week), is the manner in which they're doing it.
They're not as big as they once were.  Along the offensive line they don't have the behemoths they once had.  Currently senior Drew Waite is a svelte 200 pounds.  And teammate A.J. Kunk is one of the real heavies, at 235 pounds.
"We just have some kids with good feet that move and try to stay in front of guys so our skill people can make plays,"  says Otten.  "So far, it's worked."
They don't have the thunder and lightning they once had.  There isn't a Post or a Schoenherr to be found in the backfield, replaced now by the likes of Mitch Niekamp and Ben Wenning.  That's worked, too.  Both have proven effective, running or catching the football.
And in the post-Austin Bruns and Brody Hoying era the quarterback position isn't as threatening as it once was.  But…junior Jake Hemmelgarn is following in his brother Jack's footsteps nicely, and had 245 yards passing, four touchdowns, and rushed for 142 yards in last week's win over previously unbeaten Minster.
"We're a little different than we've been in the past,"  said coach Chip Otten before the season.  "Jake's very intelligent, makes good decisions with the ball, and he's just kinda' slippery back there.  He's faster than you think.  But these guys all know what's expected, and it's their time.  They'll give it all they have."
If the gross numbers are slightly down from previous years, the representative numbers are pretty consistent.  The Cavaliers have done their damage with the passing game through four games, sure enough, with 990 yards, and average about 240 per game.  But they've used the pass to set up the run game, as well, gaining 627 yards so far with an average of 157 per game.  So there is balance, but always the threat of getting beat over the top by Jake Hemmelgarn to an emerging group of wide receivers (Will Broering, Cole Frilling, Noah Miller, Ben Wenning, and Mitch Niekamp) that's actually missing their leader, senior Jake Wenning (out with a hip injury).
Defensively, they're giving up some yards, particularly on the ground (about 180 yards per game), and points (three of their four opponents thus far have scored 20 or more points), but they fly to the ball and make enough tackles to have outscored opponents 149 to 82 (averaging 37.2 points to opponents' 20.5).
But perhaps their best attribute through four weeks is…they're healthy.  Only Jacob Wenning represents a major contributor down with an injury, and with the heavy portion of the schedule looming that's the best card in their hand.
They play Fort Recovery this week, a team that's never had much luck against Coldwater, and if they stay healthy the schedule is favorable in weeks six through eight.  They finish the year with St. Henry on the road…and then at home in Week 10 against the perennial champ, Marion Local.
"So you're saying that it's worth the trip back to Coldwater this year to see 'em play?"  asked Massey before he hung up Monday.  He and his football posse have made numerous trips to Mercer County in the past, and actually won the 50-50 pot a few years back.
"What's not to like?"  I answered.  "It looks like Coldwater to me.  I guess if you really want to know…call Dan McSurley (coach) at Clinton-Massie.  He can tell you if the trip is worth it."
And maybe on Week 10…when you know that 50-50 will be worth it!