Haskins looks like the real deal after another monster game … Ohio State falls behind early but offense comes alive … Day making a case that he really should be a head coach next year.
The Ohio State Buckeyes did a million things wrong and looked as if they were headed to a resounding defeat against TCU in Jerry World. After falling behind by eight early in the second half — with the defense choking on the exhaust fumes of the Horned Frog skill players — they seemed like they were on the verge of tapping out.
My thoughts then: Slow the Heisman hype for Dwayne Haskins. Pump the brakes on Ryan Day making a jump to the next rung on the coaching ladder. And, Lordy, Lordy, let's forget about the Buckeyes being a legitimate playoff contender.
My thoughts now: My, oh, my, that Haskins is good. A power-five program would be nuts not to hire Day. And despite committing a million mistakes, the Buckeyes belong in the playoff discussion after a stirring, 40-28 comeback win, provided that Nick Bosa isn't out for very long.
Oh yeah, about that. The All-American defensive end appeared to suffer a serious groin injury three plays into the second half and didn't return. He's not only the Buckeyes' best player — he had a sack and forced fumble that turned into a touchdown — there may not be a better one in college football. And that type of injury can linger.
The Buckeyes, though, showed they have ample talent and the fight you need to prevail in tight tussles with tough foes.
The game flipped when Parris Campbell hauled in a swing pass and raced 63 yards for a score with 6:58 left in the third quarter. Even though the two-point conversion failed, it was the first offensive TD and seemed to calm the jittery Buckeyes.
They would tally 20 points in a span of about four minutes, a freakish stretch that included an interception return for a TD by a DEFENSIVE TACKLE and a blocked punt that set up another score.
They turned a 21-13 deficit into a 33-21 lead in a blink.
But the game had a good news-bad news feel, and not just because of the Bosa exit.
The good news: Haskins was 24-of-38 for 344 yards and two TDs while also rushing for a five-yard score. It was the first called run for him this season, and it completely caught the Horned Frogs napping (chalk one up for Day).
Throwing windows were tighter and protection was leaky, but Haskins never committed a turnover and would have fared even better if receiver Austin Mack didn't have three blatant drops. It got so bad that the Ohio State portion on the crowd let out a derisive cheer when Mack finally managed to hold on to one. I know Brian Hartline is an upgrade over Zach Smith as a receivers coach, but was anyone else wondering why Mack was still in the game?
The Buckeyes are capable of beating anyone in the country because of the way Haskins can sling it. He faced a fast and athletic defense, was hit a bunch and never seemed to get rattled. That kid is special.
The running game also is in capable hands with J.K. Dobbins (121 yards on 18 carries) and Mike Weber (64 on 18).
The line asserted itself in the final minutes while bleeding the clock, despite center Michael Jordan's troubles. The former All-Big Ten guard would have done just fine with his shotgun snaps if he were trying to knock down bowling pins, but his many rolled deliveries forced Haskins to improvise.
The Buckeyes also squandered numerous red zone chances. They had first-and-goal at the 2 on the opening possession and had to settle for a field goal. Worse, trailing 14-13 at the end of the half, they wasted a potential momentum-building drive when kicker Sean Nuernberger was wide left on a 38-yard field goal.
That allowed TCU to hang on to a 14-13 halftime lead, and it could have been worse because they defense was getting gashed. Which brings us to …
The bad news: The Ohio State linebackers and defensive backs are woefully inexperienced. There are two returning starters in Tuf Borland and Jordan Fuller, but the others are greener than Gumby.
That was evident when they gave up a 93-yard TD run to Darius Anderson, who was never touched on the longest run in school history.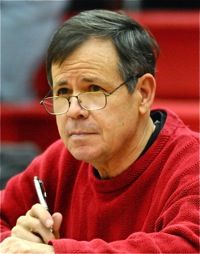 A pair of stars, cornerback Denzel Ward and linebacker Jerome Baker, left early for the pros. And while it's not quite time to give up on the replacements, they're often out of position and slow to react, as if they're waking up from a deep sleep when the ball is snapped.
The defense never did get comfortable with TCU's surprising up-tempo offense — a nice wrinkle from Gary Patterson, a top-five coach nationally — and gave up 511 yards and 22 first downs.
Most teams wouldn't be able to withstand that kind of onslaught.
Most teams, though, don't have a Haskins at quarterback and a Day calling the plays.