A fast start and a big first half – big plays – and the statistical juggernaut of quarterback Jake Hemmelgarn helped #1-ranked Coldwater beat #1-ranked Minster in the MAC's Friday marquee game.
Coldwater – The Hemmelgarn brothers, Jack and Jake, had a big night on Friday.  Collectively, they combined for 387 total yards (245 passing and 142 on the ground) in Coldwater's 31-20 win over Minster.
Now, if you're up on your Coldwater lineage you're going to say, "Wait, Jack graduated after the 2015 season?", the year after he was named Division V Offensive Player of the Year as the Cavaliers' quarterback.  And more, he's in his junior year now at Bowling Green.
And you'd be right, too, because it's his little brother, Jake, that's playing quarterback now;  and it was he who posted the statistical juggernaut on Friday against Minster, not Jack.
But somehow public address announcer Jud Lehman chose to wax nostalgic throughout the game, calling Jake 'Jack' sometimes, and other times by his correct name…and occasionally mixing him up with injured wide receiver Jake Wenning, who was on the sideline but never played.  Or, maybe Jud was just confused.  Ironically, Jack was at the game, watching from the end zone, and looks as if he could still play.
None of it matters, of course, because Jake Hemmelgarn had a helluva' night, rushing 21 times, throwing 28 (he completed 22), and generally created havoc for the Minster defense.
It was a game that pitted this week's Associated Press #1 teams in Division VI (Coldwater) and Division VII (Minster) with all the trappings of television and superfluous coverage.  The AP probably should have done a bit of checking, but why start now?  They've guessed at rankings for years without much in the form of actual facts.  Nonetheless, it was a game of two unbeaten MAC teams with six state titles between them over the last six years, so rank 'em any way you please, boys.
It started out with a bang, Minster driving the length of the field on its opening drive to score on an Alex Schmitmeyer 5 yard run at 9:14 of the first quarter.
Coldwater answered, of course, at 5:42 of the first quarter on an 11-yard touchdown pass from Hemmelgarn to Mitch Niekamp.
Then, on their next possession Hemmelgarn struck again, a 35-yard pass to Cole Frilling in the corner of the end zone, as the 6'4″ Frilling out-jumped the Minster defender to bring the ball down for the score.  14-7, Coldwater.
Understand now, that this is the Coldwater defense that was called undersized and inexperienced four weeks ago, but it put Minster's run game with Alex Schmitmeyer in a choke hold for most of the game, and forced Minster to give up the ball twice in the final six minutes of the first half – once on a punt and once on a fumble.
At 6:13 Niekamp collected his second touchdown pass of the game from Hemmelgarn, 42 yards, to make the score 21-7.
And at 5:25, after recovering a lost fumble, Frilling caught his second score of the game from 16 yards to make the score 28-7.
Schmitmeyer did score on a 1-yard run with three minutes left before the half to cut the deficit to 28-13, but Coldwater marched right back down the field and missed a golden opportunity to tack on more points when kicker Blake Dippold hooked a 28-yard field goal attempt.

"We just didn't play well enough,"  said Minster coach Geron Stokes, afterwards.  "We didn't play like we should.  We've got a bit of divide in our team right now where sometimes we're selfish, and sometimes we're unselfish, and I've got to do a better job of getting our team to care about each other, and play well enough for one another."
But somehow, he did pull it together in the second half, as Minster held Coldwater to just a fourth quarter field goal by Dippold that iced the game…but Minster themselves couldn't score enough against Coldwater's bend-but-don't-break defense.  Their only score came on a fumble recovery by safety Mike Ketner with 8:53 remaining in the game.  Ketner scooped up the lost football by Mitch Niekamp and sprinted 65 yards to make the score 28-20.  One drive later Dippold connected from 25 yards away to close the scoring at 31-20.
To the point about the public address announcer's confusion:  Yikes, cut the man a break.  There've been Hemmelgarns for years in Coldwater, like Brunswicks and Hoyngs (Hoyings).  Who can keep all that straight?
But there is no confusion over the way Jake Hemmelgarn is playing quarterback, much like his brother, in fact, and defying all the odds in doing it.  It's highly doubtful that Hemmelgarn the lesser (meaning younger) is anywhere near his listed roster weight of 145 pounds.  Ten pounds less would be doing him a favor, actually.  But the way he runs, picking his way through defenders, and the efficiency with which he throws…he plays as big as Cam Newton.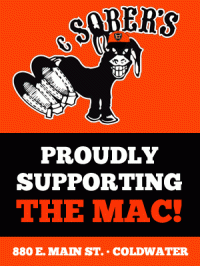 "Our line just did an amazing job tonight,"  he said after the game.  "And our coaches did an amazing job of planning.  We had good plays all night and we just went out and ran hard and I tried to find open receivers.  Our line is not the biggest, but they work hard in the weight room and tonight they proved they could push those guys back."
This win wasn't as unexpected as the one two weeks ago against Clinton-Massie, but Minster IS the real deal, regardless of divides, and a team to be reckoned with again at season's end and the post-season tournament.  Coldwater's Chip Otten was pleased, regardless of size and inexperience, to move the needle to 4-0.
"It was about what we thought it would be,"  he said.  "Four quarters of back-and-fourth battle.  There were a couple of turnovers where we gave them one touchdown and they gave us one, really.  Our kicking game played a role, because while Blake's field goal at the end didn't win the game it made it a two-score game.  Tonight was exactly what we thought it would be…a good four-quarter battle."
He was ecstatic over the play of his quarterback.
"I don't know what his numbers were, but 145 yards rushing is incredible for a guy listed at 145 pounds.  But he's a lot like Jack, mentally.  He's smart, he's patient, he doesn't panic, he sees the field, and he made the quarterback draw a really good play for us.  Again, it was just a good football game between two good football teams, and I guess we made a few more plays."
Offensively, Coldwater outgained Minster in total yards, 463 to 264 – outrushed them 219 to 118.  And the impact of Hemmelgarn was unmistakable.  His 145 yards on the ground were more than Minster's Alex Schmitmeyer's (59 yards) and Jacob Niemeyer's (59) yards combined…running that little quarterback draw play.
Passing, Hemmelgarn was 22 of 28 for 245 yards and four touchdowns (he also threw a pair of interceptions).  Niemeyer was 10 of 20 for 146 yards, with no touchdowns and no interceptions.
It was a confidence-builder, without question, and a game that told Chip Otten that once again, you don't have to be the biggest and fastest to win, as long as you execute and have the presence of mind like that of Jake Hemmelgarn running your offense.
"Our young offense line really held their own, and that was a big concern for us this year," said Otten.  "They just move their feet, stay in front of guys, and let our skill guys make plays.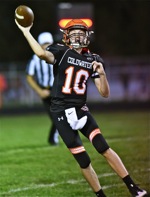 "As far as what tonight told us about our team, we won the first two games of the year against really good football teams, and we asked the guys if they could do it again.  Of course they're gonna' say yes, but they've gotta' do it.  And they proved themselves again.  Three of our four game have been really tough ballgames now, so we're healthy, and I think tonight was a really good sign."
Coldwater prepares now for a date with Fort Recovery next week, while Jud Lehman brushes up on the Hemmelgarns and the Wennings.  It's all in good fun when you're winning, and best – no one expected this much, this year, from Coldwater.
So, is it any wonder…how one can mix up Jack with Jake, and Wenning with winning?