The up and down season for Division III champion Versailles continued Saturday as Troy rebounded from a game 5 deficit to beat the Tigers in five sets.
Troy – One of the most quotable coaches of all time is former William & Mary, North Carolina State, Arkansas, Minnesota, Notre Dame and South Carolina football coach, Lou Holtz.
When asked by the Athletic Director at William and Mary why his team had had such a disappointing season, Holtz once replied,  "We've got too many Marys and not enough Williams."
But two years ago, speaking at the 2016 state basketball tournament in Columbus, Holtz also said this.  "It's a lot easier to become a champion…than be a champion."  Meaning, you can slip up on people and take a title, but once you take it…it's hard to maintain a champion's edge because everyone expects you to play like the day you won that title."
Sage words, Lou.  And words that Versailles volleyball coach Kenzie Bruggeman certainly knows something about.  After a particularly tough Saturday loss to Troy yesterday (her team's third in as many weeks), it's obvious that finding the consistency of last year's success on a daily basis is still a work in progress, now 12 games into their 2018 schedule.
Troy (9-3) took the match with scores of 25-27, 25-12, 21-25, 25-12, and 16-14 in the fifth and deciding set – ironically, coming from four points down, and down 14-12, before scoring the final four points of the match in routine fashion.
It has been a struggle for Versailles (7-5) to get it going this year…and find the kind of play that they showed in the first and third sets of Saturday's match.  Yes, there are some conspicuous losses from last year's team (Kami McEldowney, Danielle Winner, and Ellen Peters, notably), and there are a number of varsity neophytes seeing the first significant varsity action.
But it's the manner of their struggle that has volleyball observers scratching their heads.  After spirited win in the first and third sets Saturday, the Tigers fell flat (almost literally) in the second and fourth games, losing both, 25-12.
Has the fact of playing on Saturday been their achille's heel?  A weekend curse?  For in fact, they have not won on a Saturday since the opening weekend of the season, losing on consecutive weekends to Russia, Fort Loramie, and now Troy.
"I wouldn't consider it the same today as when we lost to Russia or Loramie,"  said Bruggeman after Saturday's match.  "Our effort was there today, and those are the losses that I can handle…when we're giving our all and diving for balls all over the court.  Our communication was better today than on those other days.  Troy is an amazing team, and today was great competition and fun.  We learned a lot today and we gave a great effort."
It was also hot – steamy, in fact, in Troy's non-air conditioned gym.  But it was hot for both teams, and Bruggeman made no excuses for the 80 degree heat.
"It was a little hot, but it was something that we talked about before the match,"  she admitted.  "You have to control what you control, and we cannot control the heat.  It was loud with the fans, and we had to be better and louder with our communication.  We can control the loudness of our voices and we can control our energy."
Still, their highs were very high again on Saturday, and conversely (and inexplicably), their lows were very low.  There was a noticeable difference in the execution and efficiency of play between the first and third, and second and fourth sets.
"I agree,"  said Bruggeman.  "But it all comes down to ball one (on receiving the serve and what you do with it).  In both of those games it was terrible.  There was a stretch in the second game where we couldn't keep the ball a foot off the floor.  But kudos to Troy on their great serving, but there's no reason why our girls couldn't step up and make those plays as well.
"I admit that we've had this problem in other weekend matches, but today I thought our we had better 'highs' and better energy than we did on those other days.  Had our serve-receive been even adequate today in the second and fourth game we're talking about a different match."
Nonetheless, they move on as one of the area's most talented, and anticipated, Division III teams as the tournament draw looms in a month.
"They're so good that even with six losses…Versailles can still win the state,"  New Bremen coach Diana Kramer said earlier this week, in deference to the reality that consistency can be a fleeting thing.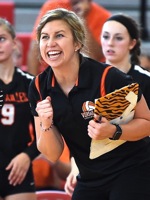 And, in respect to Lou Holtz's words…that playing like a champion is actually harder than becoming one.
"You're gonna' get everybody's best shot,"  said Holtz.  "You can't make excuses, you can't blame it on injuries, and you can't even say that everyone has a bad day.  People come to see the champion and that's what they expect."
Like Bruggeman, Holtz won a national championship in 1988, at Notre Dame.  By 1994 the Irish had slipped to 6-5-1, and Holtz stepped down after the '96 season, citing undisclosed reasons.  He would later say that he just got tired.
Saturdays can do that to coaches.  Just ask Kenzie Bruggeman.