Fort Loramie played fast and aggressive in a 21-7 win to avenge last season's one-point loss to Miami East and stay atop the Cross County Conference standings.
Casstown – The game plan for the Fort Loramie Redskins following a Week 1 loss to was to focus themselves. Don't worry about the opponent and things you can't control. Focus on what you can do better.
In doing so, attention is undoubtedly on the Redskins now. Fort Loramie knocked off Miami East 21-7 on Friday night with a balance of powerful running and precision passing. And, an angry, aggressive defense.
Last season, Fort Loramie lost 27-26 to Miami East as the Vikings ended the Redskins' final two drives with devastating interceptions. This season, Fort Loramie drained the final 6:48 off the clock with a 12-play drive that started on the Vikings' 49-yard line and ended when quarterback Collin Moore took a knee on the 8-yard line for the final.
When his team took possession with 6:48 left in the fourth quarter, Fort Loramie coach Spencer Wells challenged his offense to finish it.
"We're not coming off this field until we score or the clock runs out," Wells told his team. "To see those guys do it, it's so fun to see. I'm so proud how hard they played until the end of the game."
"We just played angry," Moore said. "We wanted redemption and we just played hard.  This is pretty big. We really wanted this game and I think we showed it. We came out hard and we came out violent."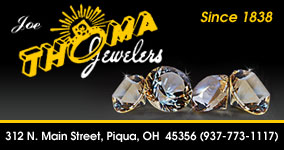 And fast. And physical. And together.
Fort Loramie's offensive line of junior center Josh Pangilinan, senior guard Collin Detrick, senior guard Logan Siegel, senior tackle Grant Imwalle and junior tackle Griffin have gone four games without allowing a sack.
The group kept Moore upright and able to connect on 13 completions on 18 attempts for 210 yards and two touchdowns. Moore hit receivers for gains of 53, 35, 28, 27 and 21 yards.
"Our line held together really well tonight. Our receivers ran quick routes and their linebackers were wearing out," Moore said. "We were hitting all the quick stuff."
Moore's first touchdown found Mason Kemper for a six-yard strike. The score came after Miami East took a 7-0 lead on the Vikings' ground-pounding first drive that could have easily set the tone for a Vikings' team that entered Friday averaging 380 yards rushing per game.
"I think they felt like once they scored on us this team was done," Fort Loramie fullback Max Hoying said. "But this team doesn't quit. We play together."
After forcing a Miami East punt, Fort Loramie scored on its next drive for the 14-1 lead. Hoying bullied his way in from the 1-yard line with 4:54 left in the first half to give Miami East its first deficit this season.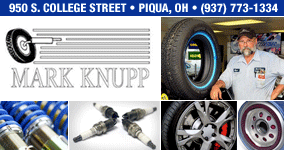 Miami East had three possessions in the second half. The first ended when Redskins' junior Mark Seger made a diving interception off a tipped pass on Loramie's own 11-yard line. The Vikings second possession ended with a three-and-out punt. The final drive reached the Vikings' 46 yard line where Miami East faced fourth-and-6. East senior Vincent Villella – as much a hammer at running back as he is punishing at linebacker – was stopped after three yards.
Villella entered the game average 119 yards. Villella – visibly limping for much of the second half in a gutsy performance – finished with 80 on 15 carries. Running mate and senior Justin Brown, who averaged 180 yards per game, was also held to 43 yards on 11 carries.
"They executed better than we did up front," Miami East coach Max Current said. "The first drive we moved the ball right down the field. The first drive of the third quarter we moved the ball right down the field. I'll have to watch the film, but they seemed to execute better than us.
"I don't think we stayed on our blocks long enough. Blocking until the whistle. Little details like that. I felt like they outdid us on things like that."
Fort Loramie stayed atop the Cross County Conference standings at 3-1 overall and 2-0 in the CCC. Miami East, the defending champions, dropped to 3-1 and 1-1.
The Vikings will take a page out of the Redskins' playbook to get over this one. Just like Fort Loramie did after that opening week loss to Minster, Miami East will focus on what they can do themselves and not worry about upcoming opponents.
"You can't let one game make your season. We still have six games left," Current said. "Our season is not over by a long stretch. Let's win the last six and we'll still have a great year and play for Week 11. We can't control what Fort Loramie does from here on out. But we can control what we do. We have a little adversity we have to fight through. We can't feel sorry for ourselves. Forget about this and move on."

It worked for Fort Loramie.
"The theme, really since week one with Minster, is to focus on us and play more disciplined football," Wells said. "If we do our job individually then we have an opportunity to be a really special team. We've gotten better and better since week one. … That's the exciting part. I don't think we're close to our best football yet. That's no disrespect to anyone we've played."
Hoying finished with 97 yards on 18 carries, including a game-clinching final series. During the Redskins' final drive Hoying rushed for 39 yards on five carries. Two of those carries resulted in first downs.
"I don't think anybody on the field can tackle me. That's the attitude you have to have," Hoying said of the confident-not-cocky approach. "We're not taking time off (after this win). The season's not over. We're not done. We're hungry."