A third of the way into the area fall sports season, some thoughts about a change in dominance.  The girls, and volleyball, have taken center stage.  Read on.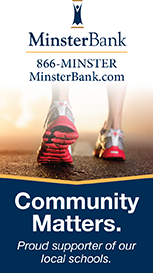 When Cody Carnes used to be sports editor of the Piqua Daily Call (and that was a long, long time ago), he used to have a weekly column that he entitled, 'Nobody Asked Me, But…".
Well, Cody's been gone for some time, but on a rainy start to another week I'll beg to borrow from his legacy, and his one-time familiar byline.
And that is, no one has asked me, but…through the first three weeks of the area high school sports season there has been a change in area dominance, one sport over another – it's volleyball over football!
"What?" the purists will scoff.
"He's been writing at the Keyhole again," football coaches who read will think, rolling their eyes.
"Anything to get attention – stirring it up,"  the daily critics will say.
But it's true.  Area volleyball, especially in Divisions III and IV, is simply better and deeper, overall, than area football.  Roster numbers are up.  Quality competition has never been more consistent, or intense.  And if you're into cliches', the old one about on any given day…any area team within one division of another (up or down) can beat any other area team.

That's not to say that there aren't some good area football teams, because there are.
For example, there is no more compelling story through three weeks than that of undefeated Minster and Coldwater.
The two MAC teams meet this Friday, Minster (3-0) defending its Division VII state title after losing the best player in the league (Jared Huelsman) last year.  The 'Cats also lost their leading rusher and their offensive line.  And yet,  coach Geron Stokes has made his way through three very credible opponents thus far, and visibly improved with each passing game.
Likewise, Coldwater (3-0) has lost more players over the past four years than just about any program you can name, and yet…they've adapted to the talent at hand, handing a heavily-favored Clinton-Massie team their only loss two weeks ago.  They don't have the size they once had, but they have the skill position players to beat you with the pass;  and their defense, though not big, flies to the football.  They make enough tackles (they made enough tackles against Massie) to win.
And, there are others.  St. Henry, with a dominant run game and a huge offensive line has an impressive 3-0 start, albeit their three wins have come against teams with a cumulative record of 1-8.
Troy is 3-0 but largely untested, their best win came last Friday against a credible Turpin team out of Cincinnati.  Expected to win this week against Stebbins, the Trojans next best challenge will come in two weeks against Miamisburg.
Miami East is 3-0, but there are always questions about the competitive consistency of the Cross County Conference.
And of course, there's the perennial champion Marion Local, who's 3-0, but the weight of their league schedule (St. Henry, Minster, and Coldwater) is still ahead.
"I think it's more about the lack of compelling matchups, so far,"  says Press Pros football analyst Tim Boeckman.  "You just haven't had the games you need to see yet in order to tell how good football really is."
But not in volleyball!  One can name as many as eight area teams, especially in Divisions III and IV that have a legitimate shot at a regional tourney run;  and the matchups to prove it are occurring on a weekly basis.
In Division IV, defending champion New Bremen is undefeated and is sure to be challenged by once-beaten St. Henry, who some call the most talented team in the region.  Marion Local is good, and Russia is good.  Jackson Center is good, and Fort Recovery is VERY good.  And Fort Loramie is talented, although their record is deceiving because their losses have come at the hands of teams like Russia, St. Henry, and Jackson Center.
In Division III, defending state champion Versailles is poised to make another tournament run, even with their current 5-4 record.  But like Loramie, their four losses have come at the hands of these same competitive programs around them – Fort Loramie, Russia, and New Bremen.  But Coldwater will also be heard from, and likewise Anna.  Both have been bitten by the injury bug.

"It's competitive every night,"   says Diana Kramer, who coaches Division IV champion New Bremen.  "I mean, it's different for us now because we don't have the flash that we had last year with Paige Jones (now starting at the University of Michigan).  Now we have everyone doing a little bit of everything.  We're looking forward to every match, because we're getting better with each game, and I think you can say that for everyone."
And at St. Henry, the Redskins' lone loss came against Versailles, in the first week of the season.  Since then, they've powered past Coldwater, Marion Local, Russia and Fort Loramie;  and arguably have the area's best player in junior Hannah Bruns.  Considering all the others, the Redskins may be the quickest and most athletic team in their region.
"I would agree with that,"  said coach Tricia Rosenbeck.  "Our girls have talent, it's just a matter of putting things together and playing with confidence. We still have some moments, but generally I'm pleased.  We're playing with some fire and enthusiasm."
"They're good," says Coldwater coach Nikki Etzler, who lost last week to the rival Redskins.  Etzler took her team to the State Finals in Division III last year. "I think you saw tonight why everyone in the conference is talking about St. Henry. They're athletic and they're very committed to playing good defense."
The compelling matchups that Tim Boeckman spoke of regarding football?  They're here, and now, in volleyball…with more to come on a weekly basis.
And if the jury's out on football in regions 20, 24, and 28, already the state is talking about tournament volleyball going through those teams previously highlighted – St. Henry, New Bremen, Versailles, Fort Recovery, Coldwater, Russia, Jackson Center, Loramie, et.al.
"The competition in that part of the state is just incredible,"  says St. Thomas Acquinas (Stark County) coach Allyssa Thewes, a victim to New Bremen in last year's State Finals.  "We see some good teams up here, but we don't see them every day, like you do down there."
And because of that, every local team with talent, regardless of record, will be doubling down between now and mid-October.
"We're young, but that's the plan, to be a part of things,"  said Fort Loramie coach John Rodgers last week, whose young Redskins are still searching for consistency.
As things stand now they've got a shot.  They've ALL got a shot!
Nobody asked me, but….!