In an odd marketing move on Monday, Nike Corporation chose fallen NFL star Colin Kapernick to be the face of the company in their new ad campaign.  For the sake of 'sacrifice', they might have chosen better.
In my earlier years I was a runner.  I jogged – upwards of 500 miles a year up and down McMaken Road in Covington – and I wore Nike shoes.  No particular reason…they just fit well and provided comfort and protection.
But they don't fit anymore.
Monday, Nike announced that former NFL quarterback, and the man who led the charge to kneel during the Nationial Anthem on Sunday, would be the face of a new ad campaign in which Kapernick is quoted, "Believe in something, even if if costs you everything."  It's meant to be bold, powerful, and polarizing.  Everything that Phil Knight and Nike wants in 2018.
In a perfect world the campaign would shed new light on and further fuel the conversation about the country's racial and social issues.  But this world ain't perfect, and it hasn't been for 2,018 years.
Ideally, people will see the image and recall why Kaepernick first took a knee during the playing of the National Anthem before a preseason game two years ago. Ideally, there would be new discourse on the perception of police brutality and a push for criminal justice reform.  But there's nothing ideal about the manner in which Nike has chosen to pursue that narrative.
What they're doing is asking you, as a consumer, to believe that Kapernick has given up everything – that he may represent your core values as an American.   But actually, he hasn't given up much because the San Francisco 49ers and the NFL  gave up on him when his skills eroded after his Super Bowl appearance with the 49ers in 2013.  And for the fact of his subsequent anthem protests, it infuriated so much of the league's fan and viewership base that he simply became bad for business.  And like it or not, Sunday football in America is all about business.
The fact is…Kapernick is not poor, not homeless, and not less privileged.  He's living well these days, even in his disenfranchisement as an NFL player.
And for the fact of business, Nike might have done better to make the point of their new campaign…had they chosen former Cardinal linebacker Pat Tillman, and not Kapernick.  Because Tillman, who voluntarily stepped away from a lucrative football career to serve in the US Army, actually did give up everything – HIS LIFE – when he was killed in Afghanistan in April of 2004.
Reaction to both Kapernick's statement, and Tillman's legacy, has been swift and divisive.  Now all that remains is to see if Nike's calculated risk pays dividends to their bottom line.  Will the numbers of people of minority opinion that applauded Kapernick on Tuesday buy enough shoes to make the gamble pay?  Or, will the majority of people who rejected it and pledged never to support Nike again (and to burn the gear they currently have) make an even more impactful point?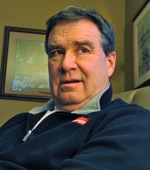 And where does this leave universities with their respective fan bases, like Ohio State?  What will the alumni support be now for wearing Nike uniforms in a state as conservative as Ohio?  Ohio State has received tens of millions from Nike over the years, so the ripples of this pebble in the pond could grow to tsunami proportions if Buckeye Nation says, "Colin Kapernick doesn't speak of us".
Whatever comes, it's important to not lose sight of why Kapernick, and not Pat Tillman.  If Kapernick sells shoes that's all that matters to Nike.  There'll be another campaign, anyway, and soon enough.
If it flops, they'll likely do a marketing about face because they know…they're smarter than the people who buy their stuff.  They know Americans have short memories.  We'd sell our soul to make a buck.  We've done it for years, and no one seemed to notice.
So what's different now?  We're still not perfect.