It took five long, excruciating sets before Jackson Center beat Fort Loramie on Tuesday, to prove that the outcome in volleyball, like life itself, is never to be take for granted.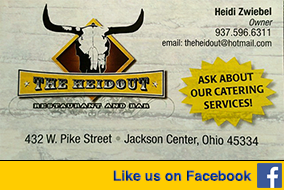 Fort Loramie – Nothing comes easy for Jackson Center volleyball coach Kim Metz and her Tigers (5-2).
It's always been that way, even in their back-to-back Division IV championship years of 2015 and '16, when they collectively won 59 of the 60 matches they played.
It's that way because they win by playing defense – not flashy, no records for kills and assists.  Metz and her Tigers win with hard work…by playing DEFENSE!
And that's how it was on Tuesday, as Jackson methodically beat Loramie in the first set, 25-17, then saw the match momentum swing back and forth for the next four sets before winning 23-25, 25-19, 19-25, and 18-16 in the final and deciding game.
There were no real offensive stars for Jackson Center, at least statistically.  They do what's necessary to score as it becomes necessary;  and on Tuesday that amounted to a lot of long volleys – extended play – that finally took its toll on John Rodgers' young and growing Loramie team.
"I had thought after the way we won on Saturday that we might have figured it out (how to win a close five-set match),"  said Rodgers following Tuesday's match.  "But apparently not."
Metz and the Tigers had something to do with that.  There are no easy points, because they don't allow easy points.  Everything's contested to the point of one bench observer saying, "Playing Jackson Center is like ants at a picnic.  They're everywhere.  It doesn't matter where you hit the ball.  They're going to be there to return it."
And as it turned out, it was a fantastic and satisfying win, especially on the road…and especially at Loramie.
"Absolutely,"  said Metz afterwards.  "Especially because they were missing a player, we were missing a player with a tweaked ankle, so Ashley Mullenhour stepped in and was amazing for us tonight.  That's the scenario.  When you have to fill a hole everybody just seems to rise to the occasion."
None more than libero Katie Sosby, and outside hitter par excellence, Raquel Kessler, who collectively spent the night running down shots and burning elbows and knees on the Loramie hardwood – anything to save a point.
It was highly contested.  After losing the first set Loramie came back to finally tie the second set at 16, and after trading the lead four times in the final nine points the Redskins finally won it, 25-23.
But in the third Jackson regrouped and jumped out to a 13-1 lead, and actually led 16-5 before Loramie ripped off eight unanswered points to close the deficit.  But with the help of Kessler and Mullenhour, Metz's Tigers regrouped at the end to win, 25-19.
That late swing in momentum seem to invigorate Loramie, who shot out to take the lead in the fourth, and eventual won by an identical 25-19 margin.
"I thought we had the momentum at that point,"  said a disappointed Rodgers later.  "I thought we had what it took to close it out in the fifth."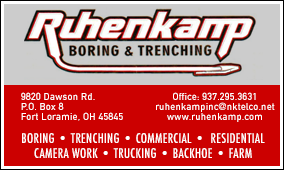 And indeed, for a moment it seemed they did.
Loramie quickly jumped out to a 5-0 lead.  But as quickly as you can say Metz, Jackson Center came roaring back to tie the set at 5-5…then at 8-8…then at 11-11.  But with Loramie having a point advantage at 14 and 15, they hit serves into the net to extend the game and give Jackson additional life.  The Tigers took advantage.
They tied the game at 16-16 before closing it out on successive points – a stunning finish to what looked early to be a sure Loramie advantage, and win.
"We just seemed to rise to the occasion and persevere,"  said Metz outsider her locker room door.  "Mentally, we almost let it get away from us, because we are that young.  But again, the kids worked so hard to take care of our end of the floor on defense.  The ultimate goal in the game is to keep the ball off the floor and we were able to do that.  That was a point of emphasis with the match."
In his office Rodgers smiled as he contemplated what might have been his team's sixth win following Saturday's impressive win over Division III Versailles.
"Momentum was ours,"  he repeated.  "But the missed serves in the fifth game really hurt us.  You can't do that, and I think we lost focus for a second.
"And confidence…I felt like that was coming up after Saturday, and I never really felt like we WEREN'T confident tonight, but I felt like we would over-play at times, then under-play, and then we would get in our own way.  We called some timeouts and emphasized to just try to make a positive play.  That's what we were talking about when we were coming back in the fourth set.  But the thing you have to keep in mind is…they're kids."
Satisfying as it was for Metz and her kids, it was cliche' almost.  Nothing, these days, seems to come easy, as it was announced recently that the popular coach of the Tigers was waging battle against another, even tougher opponent…breast cancer.  And following Tuesday's win the outpouring of affection and well wishes from both sides of the gym made her eyes moisten and her voice crack.

"I'm very blessed and pleased,"  she said as she was asked about her condition.  "I need to move on with things because I don't want to cry.  But yes, I'm frustrated because there's always the question of 'why me?'.  Why now, and why does a disease like this even have to exist.  There are just so many people that are touched by it, and I never thought in a million years that I would have a conversation about having to go and get chemo.  So to have so many people support me as they are…it's a beautiful feeling."
Outside the Tigers' locker room Racquel Kessler emphasized the support of her teammates in lifting up their coach with such a dramatic win.
"It's always great when you can come to Loramie and play like we did tonight,"  said Kessler.
"And we almost got a little over-confident in the fourth game.  It got a little nervous, but all we really had to do was put a ball down (on the floor).  And it was a great win because I think they're our number #1 rival, so this is a huge accomplishment.
"And to win a game like this is also the best support we can provide for her (Metz),"  she added.  "It means so much to all of us because we know that she's so proud of us – of us pushing and fighting like we did tonight to win.  It's amazing,"…she paused to collect herself…"because I know she's so proud of us;  and we're so proud of her because of the way she's pushing and fighting."
No, nothing comes easy for Jackson Center.  And no one ever thought it would, even in the championship years.  Never, as Kim Metz said…in a million years!