The identified source for years of Hal McCoy's observations about Reds baseball, finally the facts are revealed about what constitutes the 'man cave'.  You might be – no, you will be – surprised.
For years it has constituted the opening line of Hal McCoy's columns on Reds baseball:  "Observations from the man cave…" has been his open for what seems to be forever.
But actually, it's been about eight years.
"When I retired from traveling with the team in 2010 I started writing from the 'man cave',"  says McCoy.  "And it's served me well."
There is irony with this story – lots of it.  For one would assume that after traveling with a major league baseball team for 47 years…after a career that saw McCoy honored with his hall of fame enshrinement in 2002, and induction to the National Sports Media Hall of Fame in 2015, there would be a separate wing to his home in Englewood dedicated to comfort and the trappings of his brilliant career.  The rest of us have a den or tricked-out basement, sure enough, but Hal McCoy deserves far, far better.  Right?
McCoy laughs at that notion.
"A few years ago we did build another room on the back of the house,"  he says.  "It was intended to be a room where I could watch a game, smoke my cigars, and work at my leisure.  But when it was done Nadine (his wife) said it was too nice for cigar smoke and writer's clutter.  So that room became her room and I when I retired from traveling with the Reds in 2010 I had to look for another area in the house."
It's not a big house, and the next plausible option for what was to become his familiar catch phrase was to take half of their two-car garage, which was doable because they're a one-car household.  So it was that the garage became McCoy's…'Man Cave'.
It's simple, really.  The 'Man Cave' consists of a leather recliner, a couch, a coffee table for writer's clutter and the ever-present ash tray, a giant flat-screen television, and a refrigerator stocked with Diet Coke and Yuengling Lager – all in the space of 125 square feet.  I measured.  That's it…the 'Man Cave'.  There's no pool table, no bar, no fire place, no air conditioning.  In the winter there's a space heater.  In the summer you open the back door and the garage door at the same time to hopefully catch a breeze from north to south.
Behind the couch there are two giant garbage cans – one for household refuse and one for bottles and cans.  The walls are "decorated" with old posters, a baseball calendar, and a personal appearance announcement for a McCoy book signing at a Books and Company near you.
Regardless of season, it reeks of the smoke from McCoy's favorite cigar, a Monte Cristo White Label.  Cigars have become so much his trademark that one Press Pros reader from Columbus sent him a sampler pack last week in appreciation.  The 'hall of famer' gladly accepted, lit one, and nodded his approval.  "This is a good smoke," he assured.  "How can I thank this guy?"
His work space, in a word, is messy.  In an alternate word, confined, and shared with their two dogs, Paige and Cooper.  He regularly attends Reds home games through the help of personal driver, Ray Snedeker, but when the club's on the road McCoy sits in his tired, but comfortable, recliner with a legal pad and his Apple lap top, alternately taking notes and typing out would-be bits of his story.  In the winter, because the leather recliner is colder, he works from the fabric couch.   There are ashes everywhere, but Hal hardly notices, or cares.
"I've had a lot of people inquire about the 'Man Cave',"  he laughs.  "I imagine that most people believe that it's something very special, some luxurious customized work space.  But this is it, and sometimes a neighbor or two will come by to watch the game with me."
But it's not social.  When the Reds are playing his attention is focused on baseball.  No bull—-, just baseball.  He makes a note on nearly every pitch.
"I have a nice office upstairs in the house," he once showed me.  "But I can't smoke up there.  And besides, I'm just more comfortable out here where I don't bother Nadine.  I actually wrote every word of my book (My Half Century With The Cincinnati Reds) sitting in this recliner.  Not many people know that."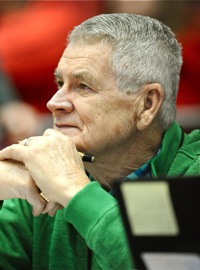 He's done it so long that his favorite neighborhood indulgences cater to him to the extent that they can.  There's a Starbuck's at the Kroger across the street (he walks there every day)…and he has two favorite pizzas.  The Marion's store on route 40 now delivers to his house.  The other is The Keyhole, in Newport, Ohio, but no word on if and when they'll show up a 'Bob Mescher deluxe'.
He is to Dayton, Ohio what Mick Jagger is to London, but with decidedly different tastes.  Jagger doesn't like baseball, and Hal McCoy doesn't like caviar.  Give him his space and the life he's loved for all these years.  And if you send him cigars, please…no Dutch Masters or El Productos.  They won't do.
From my own observations, the 'Man Cave' deserves much, much better!